The trajectory has been mostly down for mining stocks since gold topped out at US$1,900 an ounce in 2011. The bear market has been even grimmer for exploration companies, which are now competing with marijuana and blockchain plays for risk capital. The long downward slide is reflected in the underperformance of the TSX Venture Exchange, which has plummeted from 2,400 in February 2011 to about 600 today.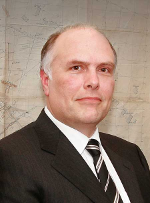 Robert Wares
A wave of consolidation is now sweeping through the beaten-down gold mining sector, with several of the world's largest gold producers joining forces. Newmont Mining and Goldcorp were the latest to announce a combination, with
Newmont paying $10 billion for Goldcorp
to create the world's largest gold miner by annual production and market capitalization. Barrick and Randgold kicked things off five months ago with their mega-merger, with Randgold boss Mark Bristow stepping in as CEO of the combined entity.
Some Power Prospectors, however, continue to make traction and create shareholder value regardless of market conditions. Geologist and serial entrepreneur
Robert Wares
fits the bill, making "Where's Wares investing?" a highly relevant question.
Wares, a co-founder of the original Osisko Mining, bought the Malartic project for $80,000 at a McWatters Mining bankruptcy sale. Osisko was later purchased for $3.6 billion by Agnico Eagle and Yamana Gold; Malartic now churns out 650,000 ounces of gold a year for those two operators. Wares was named co-winner of the PDAC's 2007 Prospector of the Year award for the discovery of Malartic, as outlined in the
March 4, 2014 Power Player
blog when he was buying shares of Bowmore Exploration. Bowmore became Osisko Metals.
His latest buying is a kind of return to Osisko roots for the serial entrepreneur. He has been loading up on shares of zinc play
Osisko Metals (OM)
, which is drilling 100,000 metres at its two flagship zinc projects: Pine Point in the Northwest Territories and Bathurst in New Brunswick. Wares is executive chairman of Osisko Metals (not to be confused with
Osisko Mining (OSK)
, where he is also a director).
Wares, Osisko's executive chairman, has spent more than $500,000 in the past month and $2 million in the past three months buying shares of Osisko Metals, at prices ranging from 50 to 55 cents in the public market. He also bought 1.6 million flow-through shares at 75 cents in a November financing. The dealmaker owns about 10.34 million shares, a 7.6% stake worth about $3.8 million.
On December 6 Osisko Metals released an Inferred resource of 38.4 million tonnes grading 4.58% zinc and 1.85% lead at Pine Point, containing about 3.9 billion pounds of zinc and 1.6 billion pounds of lead. The stock is rated Mostly Sunny based on valuations, insider activity and price direction.
There have been plenty of other successes for Wares since Malartic. The latest was
Richard Warke
's AZ Mining, bought by South32 last year for US$1.6 billion. It was a nice payday for Wares, a director who owned about 7.15 million AZ shares. He was also a steady buyer of AZ shares (and those of predecessor Wildcat Silver) when the stock was trading for dimes; the final takeover price was $6.20 a share.
Wares was also a director of Warke's Augusta Resource Corp., another Warke play that was bought in a bear market. Augusta was purchased by HudBay in 2014 for $555 million, a sweetened offer, for its Rosemont copper deposit in Arizona. The Montreal-based geologist is also a director of Warke's
Titan Mining (TI)
, leading to speculation about synergies if Osisko Metals and Titan were to join forces. Warke has been a heavy buyer of Titan shares, as outlined in the
June 21, 2018 Power Prospector
.
James Kwantes is a former journalist who is now the editor and publisher of Resource Opportunities, an investment newsletter dedicated to identifying junior resource stocks with high upside potential. Visit Resourceopportunities.com to learn more. This post first appeared on INKResearch.com .