Wins, Richard Warke's had a few. The latest for the veteran mining executive was selling Augusta Resource Corp. and its Rosemont copper deposit in Arizona to Hudbay Minerals (HBM) for more than $550 million last year, following a protracted takeover battle. Warke was Augusta's executive chairman.
Lately, he has been purchasing shares of AZ Mining (AZ), another Arizona exploration play formerly known as Wildcat Silver. He has bought more than $317,000 worth of shares in the past 3 months and more than $2.3 million in the past year.
Most recently, on July 10, Warke bought 17,500 shares between 38 and 39 cents, taking his ownership stake to about 24.86 million shares, a 16.1% stake.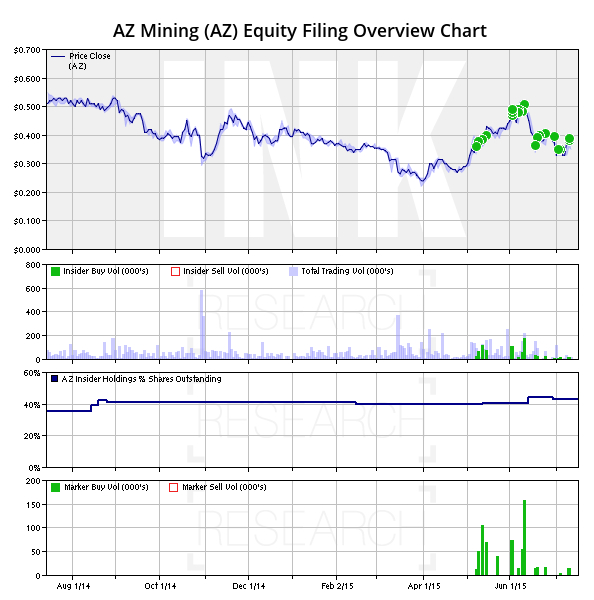 AZ Mining's 80% owned Hermosa property consists of patented and unpatented mining claims in southern Arizona near the Mexico border.
The Central portion hosts a silver-manganese deposit of more than 244 million ounces of silver and 10.3 billion pounds of manganese in the measured and indicated categories, according to a resource estimate. A prefeasibility study done at much higher metal prices (including $23.50/oz silver) shows average life-of-mine cash costs of $4.45/oz silver and 73 cents/lb electrolytic manganese metal, thanks to gold, zinc and copper byproduct credits.
But AZ's Hermona North West extension is now the focus of drilling, and May 6 drill results appear to have been both a game changer and a name changer.
The new name, announced June 4, better reflects the geographic focus and polymetallic nature of Hermosa, according to the company.
One of those drill holes, HDS-330 - a down-dip interval that does not reflect true thickness - intercepted 293 feet of 6.75% zinc, 3.76% lead and 1.5 oz/ ton (42.5 g/t) silver and .15% copper from 1,037 feet to 1,330 feet.
The plan for the North West project is to continue drilling to expand the resource, begin metallurgical studies and initiate a preliminary economic assessment, according to AZ's corporate presentation. The plan is to develop it as an underground mine.
As for Augusta's Rosemont, Hudbay is now working on metallurgy and permitting for the open-pit copper deposit, which could account for about 10% of total U.S. copper production.
Warke's knack for extracting maximum value from his plays - he had described Hudbay's first offer as "grossly inadequate" - was also evident in the sale of Ventana Gold in 2011, the year gold hit almost US$1,900 an ounce. Warke, Ventana's cofounder and executive chairman, sold the company and its La Bodega gold deposit in Colombia for $1.53 billion to Brazilian Eike Batista, after rebuffing the deal maker's initial offer. (Batista's resource empire subsequently went bust, reducing his multibillion-dollar empire to bankruptcy.)
On the boards of both Augusta and AZ Mining is Robert Wares, the Montreal geologist who built the old Osisko's Malartic into Canada's largest gold mine after purchasing it for $80,000 at a McWatters Mining bankruptcy sale. Warke also recently recruited a legal heavy hitter for the board in Poonam Puri, an Osgoode Hall Law School professor and former associate dean.
In addition to purchasing shares in the public market, Warke - along with other insiders - is also building his stake in AZ Mining by lending money to the company. As of Jan. 30, AZ Mining directors and officers had loaned a total of $1.6 million to the company, according to a Feb. 13 news release. The unsecured loans bear interest at a rate of 12% per year.
Warke is president and CEO of Catalyst Copper (CCY), the Mexico-focused copper explorer that counts Ian Telfer and Frank Giustra as directors and 10% holders. Warke owns more than 5.6 million shares, about 18% of S.O.
He is also a major shareholder of junior Armor Minerals (A), formerly known as Rio Cristal Resources. He owns 14.3 million shares, a 45.7% stake, after the settlement of $1.18 million in debt owed to companies controlled by Warke and Robert Pirooz.

An earlier version of this article appeared before the market open for subscribers on INKResearch.com.