Getting long-term rates right is going to be critical for the rest of the year. Higher rates either due to increased Treasury supply or expectations of better economic growth should hurt long-duration assets such as Technology and Utilities sector stocks. I expect that gold could do well or poorly depending on whether rates are being driven by supply or economic growth. On Monday on Real Vision, Larry McDonald, New York Times bestselling author and founder of the Bear Traps Report, makes the case for higher yields, primarily on the back of increased supply.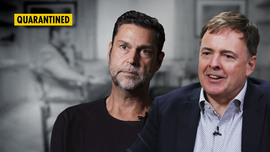 Tech stocks are vulnerable to higher yields
 
Raoul Pal, who is skeptical about higher bond yields, conducts the interview with Larry, and that makes for fantastic dialogue delivering valuable insight into what could unfold in the months ahead.
Today, Mike Green interviews Christina Ramirez, professor of biostatistics at the UCLA Fielding School of Public Health, to discuss COVID-19 data. What comes clear in this interview is that the disease is likely getting less fatal as time goes by either by better medical practices or viral attenuation. Ramirez also provides a hypothesis that young children may help their parents fight off coronavirus infection. Click here to watch the premium interview.