Insider commitment and why it matters
We launched CanadianInsider.com in 2004 as a free alternative to our INKResearch.com premium subscription service to put insider filings in reach of all investors. Over time, we have added more information such news and valuations to help investors put insider filings in context. We were also the first to offer free-to-air, real-time quotes and Canadian insider filings alerts.
Over the years, as a firm we have been sharpening our focus on insider commitment: the amount of publicly-listed stock officers and directors of a company hold and are buying. Insider commitment forms the foundation of the rules-based INK Canadian Insider Index which has significantly outperformed the S&P/TSX Composite since our live launch in November 2014.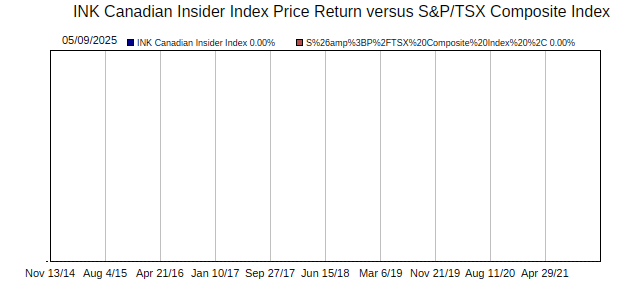 The performance of the INK CIN Index provides solid real-time evidence of the importance that insider commitment plays in determining the creation of shareholder value.
For the Canadian Insider website, we have developed a way for issuers to communicate their commitment to investors through Commitment Statements and the Commitment Centre.
Commitment Statements
A Commitment Statement gives the chance for a company to explain their value proposition to the Canadian Insider community.
Benefits include:
Prime homepage placement when first published
Prime company page placement
Sharing your story and communicating a message to our audience
Archived Statement for 1 year
You can change or remove the statement at any time
Best of all, it's free and always will be.
All an issuer needs is one person with a free CanadianInsider.com Captain's account who can submit a 75 word Commitment Statement. Issuers can also upload one video.
Take a look!
Browse companies who have provided a Commitment Statements on CanadianInsider.com. Read what companies are bringing to the table and their unique stories here.
If you are an issuer, contact us now to submit your free Commitment Statement. One of our team members will walk you through the easy steps and make sure you are 100% satisfied.