2018 déjà vu
April 22nd, 2019
The large-cap S&P/TSX Capped 60 Index set all-time highs last week. However, this move was not confirmed by the mid-cap-oriented INK Canadian Insider (CIN) Index which fell 0.3% for the week. The INK CIN Index remains firmly in correction mode, off about 13% from its all-time high set last June. The surge in large-cap stocks was also not confirmed by the other Canadian mid-cap oriented benchmark, the S&P/TSX Completion Index, which advanced modestly last week (+0.1%) but remains about 5% off its all-time high set way back in 2014.
When mid-cap stocks are lagging the TSX 60, it can reflect poor investor expectations towards global growth. If investors had conviction that growth was sustainable, we would expect to see growth-sensitive small and mid-cap stocks being snapped up. Instead, investors are preferring to bet on the stock market via the safety of more liquid, large-cap names. Large-caps also allow investors with modest return expectations to employ options strategies such as covered-call writing to potentially help gain a few more percentage points in performance. Such strategies are harder to do with smaller names.
Our downbeat take on the relative performance of mid-caps is confirmed by the unimpressive behaviour of insider sentiment. Our 60-day INK Indicator, which tracks insider sentiment towards TSX stocks, has still not resumed a bullish pattern. That would take place once it starts to clearly head back down towards 60% to 80%. A move lower would signal that upward price momentum is returning to Canadian stocks, prompting insiders to take some profits. Instead, the indicator remains stalled, signalling either a period of consolidation or a deeper correction ahead.
We experienced the dangers associated with a stalled indicator last year. In June 2018, our indicator started to languish and put in a floor. That same month, the INK CIN Index peaked at its all-time high. To ease our concerns this time around, we need to see mid and small-cap stocks rally strongly over the next few weeks in combination with a fall in our indicator. Such a scenario would signal that growth-driven momentum has returned and may have some legs heading into the summer.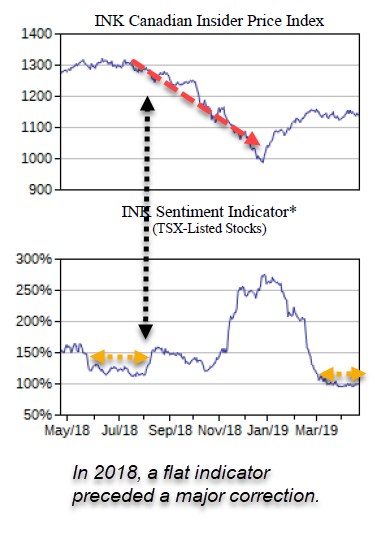 Will it be different this year? Markets have at least two things going in their favour right now compared to last year. First, trade friction between China and the United States seems to be cooling off as opposed to ramping up. Secondly, the Fed has stopped tightening. That said, insiders are not broadly betting that those two factors can push stocks to a sustainable new highs.
On the positive side, Energy stocks had another good week with the S&P/TSX Capped Energy Index up 2.2%. So far this week, the sector is leading the charge up about 3%. For those who are afraid of missing out on further market upside, the oil patch is the place to be.
For those with very high-risk tolerances, we also continue to see stock selection opportunities in the junior mining space, particular in area plays where drilling is now underway and news is likely to soon start flowing (For example see our April 16th morning report).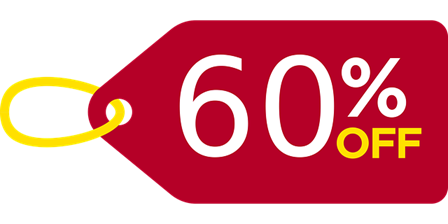 Use Coupon CINCLUB for 60% off our research club membership. Expires midnight Tuesday!
With our indicators pointing to a lacklustre environment ahead for the broad market, stock selection across all sectors is going to be critical. In our latest market report published this week for INK Research subscribers and Canadian Insider Research Club members, we reveal the top 10 INK Edge ranked stocks within the Technology and Healthcare sectors, two groups that have been market leaders so far this year along with Energy. Of course, Healthcare is home to many cannabis-related firms. So, if you follow the marijuana group, this is a must-read report and you can get access to it right away along with INK morning reports by joining the Canadian Insider Research Club. There is no better time than now to join because we are in the final hours of our spring membership drive.
We have slashed the annual Canadian Insider Research Club membership fee by 60% to C$119.88 per year (plus tax). That works out to only C$9.99 per month. The sale was set to end Monday, but we have extended it by one more day. It will now end Tuesday at midnight Eastern time.
To join us by taking advantage of this sale, log in (very important) and enter coupon code CINCLUB right before you complete the upgrade process to the Canadian Insider Club from the basic subscription. Our system will recalculate the price to only $119.88. Click here upgrade now. If you do not have an account with us, join here. 
The auto industry is one area which investors have more-or-less written off over the past year due to trade friction and growth concerns. Perhaps the contrarians were finally moving in last week as the top three INK CIN Index stocks last week all had an auto component to them. Laggards for the week included Bausch Health -10.8% and Alaris Royalty. Bausch sold off with the rest of the US Healthcare sector while Alaris Royalty fell on the back of an analyst report highlighting issues with Providence Industries which is one of 16 private companies in AD's portfolio.
| | |
| --- | --- |
| Top 3 Gainers Last Week | Top 3 Losers Last Week |

Returns are as of the last trading day of the previous week.
Featured Clip
Bob Hoye shrugs off AD line bullish signal
While acknowledging that a rising NYSE advance decline (AD) line may well be leading major indices higher, the market historian is more concerned about what might unfold in the second half of the year. Right now, he is paying attention to other factors:
    General overbought conditions
    Valuations in relation to the economic outlook
    Bullish sentiment
    Credit spreads
As a result, he views any rally as a chance to take money off the table. Listen to the April 17th broadcast by clicking here. He discusses the AD Line and the market outlook in the second part of the interview.
Insider of the Week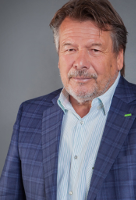 Marcel Bourassa
Savaria (SIS) President & CEO Marcel Bourassa is our insider of the week thanks to his bold move to commit more cash to the company's announced bought deal financing. On April 11th he committed to subscribe to an additional $4 million worth of shares in a bought deal private placement basis at a price of $14.15 per share. Ultimately, subscription allocations will be at the discretion of the underwriters.
The Savaria CEO clearly has a willingness to put his money where his mouth is. That is helping to give the stock a high ranking in terms of insider commitment and sets the stage for a possible short squeeze in the weeks ahead based on INK signals.
INK Canadian Insider Index
1 Year Total Return Performance




Historical Performance

Annualized Total Return as of April 22, 2019 04:49 pm

| | |
| --- | --- |
| 1 Year | -9.04% |
| 3 Years | 6.10% |
| 5 Years | 3.04% |
| 10 Years | 12.47% |
To start receiving a PDF version of this newsletter by email select it in your
alert settings
. If you do not have an account, join us
here
.