As a former director, president and co-CEO of Goldman Sachs (GS*US), John Thornton had presumably developed a thick skin as well as a large wallet.
The uber-profitable U.S. investment bank - famously described as a "great vampire squid wrapped around the face of humanity" by Rolling Stone writer Matt Taibbi - has been a favourite target of critics on Wall Street and beyond even before the financial crisis shook the foundations of U.S. finance. (Thornton retired from Goldman in 2003.)
But Thornton may not have been expecting attacks over compensation when he ventured north of the border in 2012 to become a Barrick Gold (ABX) co-chairman with founder Peter Munk.
First, he had to backtrack two years ago on a lavish US$11.9-million signing bonus that took his pay package to US$17 million.
Then, at Barrick's recent AGM, Thornton was again forced to back down after shareholders - including Canadian pension funds - revolted over his 36% pay hike, voting no on "say on pay" and punishing Barrick directors who sit on the compensation committee.
For his part, Thornton assured shareholders he was aligned with their interests, saying that of the US$12.9 million he was paid in 2014, $7 million of it went to purchasing Barrick shares.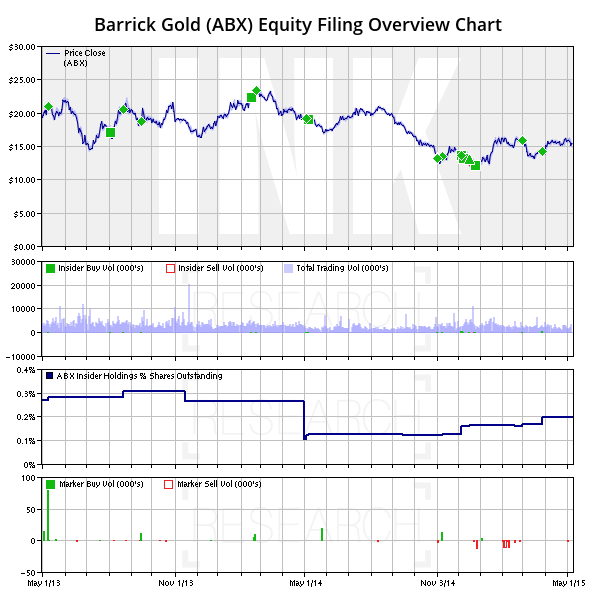 "I am aligned with you. I am one of you. I am you," Thornton told shareholders, according to a Globe and Mail report.
The Barrick boss has pledged to nurture a culture of share ownership at the Toronto-based gold giant, and he has upped his own skin in the game. Thornton has spent $5.16 million in the past 3 months on Barrick stock, about $7.5 million in the past year and $15.9 million in the past 2 years.
He owns, directly and indirectly, 952,600 shares - worth about $15 million - and has control or direction over a further 240,600 through family accounts.
Insider commitment at the Toronto-based company is helping boost its INK Edge outlook rating. The stock has moved into the top 10% of all stocks ranked based on insider activity, valuation and price momentum.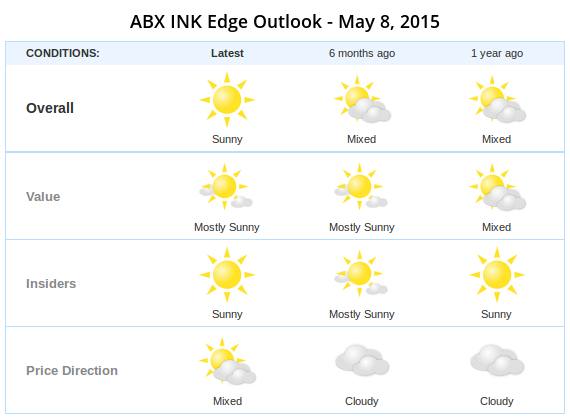 Once touted as a successor to Goldman CEO Hank Paulson, Thornton spent 23 years at Goldman and was brought in to Barrick in part for his international connections, particularly in China (he was chairman of Goldman Sachs Asia from 1996 to 1998).
Thornton, who holds degrees from Harvard, Yale and Oxford, remains a professor at the Tsinghua University School of Economics and Management in Beijing and a trustee of the China Investment Corporation and the China Securities Regulatory Commission.
He is also a longtime
Ford Motor Company (F*US)
director and non-executive chairman of PineBridge Investments LLC, the money manager controlled by Hong Kong billionaire Richard Li.

At Barrick, Thornton has pledged to improve the balance sheet, focus on gold and return the company to its "original DNA" of being a streamlined operator with an entrepreneurial spirit. Like other gold producers, Barrick has wrestled with costly writedowns and falling gold prices in recent years - as well as high debt levels.
Barrick shares have been pummelled, losing more than two thirds of their value, since the start of 2012. But lately, owning the stock has been a more rewarding experience for shareholders, Thornton among them. The stock is up about 23% year-to-date, outpacing both the S&P/TSX composite and rival
Goldcorp (G)
(both up about 3%) as well as the gold price, which is almost flat YTD.

Shares passed an interesting milestone during the May 1 trading session: Barrick surpassed Goldcorp on market capitalization for the first time in several years (the two gold miners have since jostled for the title of world's most valuable gold producer). Fast-growing Goldcorp produced 2.87 million ounces of gold last year, compared to 6.25 million ounces for Barrick.

Operationally, Barrick's challenges continue. First-quarter net income was $57 million, down from $88 million a year earlier, and both sales and earnings missed the average of analysts' estimates.