Sean Roosen wasted no time establishing a gold royalty powerhouse, Osisko Gold Royalties (OR), last year after selling his Osisko Mining and its Malartic gold mine in Quebec to a Yamana Gold (YRI)/Agnico Eagle (AEM) consortium for $3.9 billion.
The Osisko Gold Royalties chairman and CEO added another prize royalty with the friendly takeover of Quebec-focused Virginia Mines. That deal gave Osisko a 2-3.5% NSR on Goldcorp's Eleonore mine in Quebec, which recently went into commercial production.
It's been a flurry of financings and smaller equity investments since then. As of the end of Q1, Osisko's working capital and marketable securities totalled $438.9 million.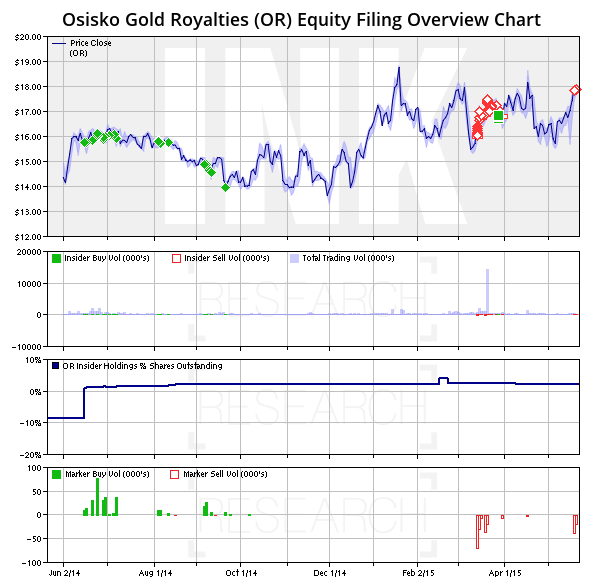 Source: INK Research
But the move that had some analysts and investors scratching their heads was a foray into iron ore announced May 15 along with Q1 financials. Osisko now owns 9.75% of the outstanding shares of Labrador Iron Ore Royalty (LIF), which holds a 15% equity interest in Iron Ore of Canada, Canada's largest iron ore producer (majority-owned by Rio Tinto). Labrador Iron Ore receives a 7% gross overriding royalty and a 10-cent/tonne commission on all iron ore products produced, sold and shipped.
Some observers complained that iron ore diluted Osisko's golden premium -- royalty firms that focus only on gold typically trade at a premium to other royalty and streaming plays. But for Roosen, it was simply a matter of finding value in a high-quality asset at a time when the commodity is out of favour.
"While our focus remains on precious metals, we will continue to seek out opportunities for the Company where we believe Osisko will benefit from domestic, long-life assets with strong cash flow," Roosen said in the news release.
Labrador Iron Ore shareholders aren't among those complaining: the stock has climbed almost 10% since Osisko announced its stake. Shares touched 52-week lows of $10.81 in April, but have since rebounded along with the iron ore price. Still, the stock is down almost 43% from a year ago, and currently yields 6.1%.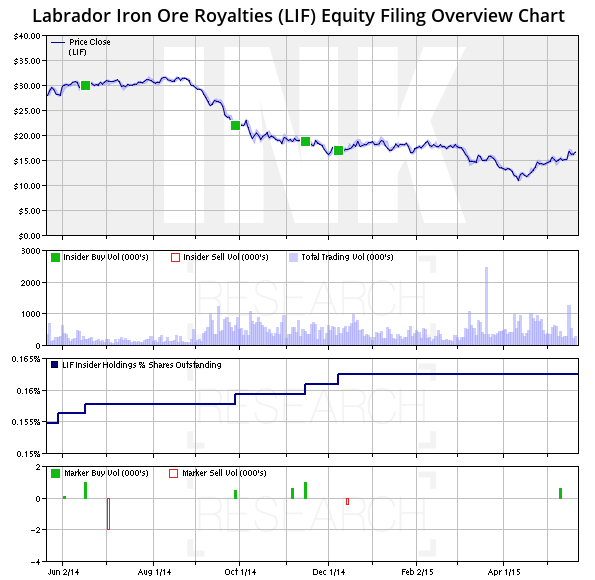 Source: INK Research
Roosen elaborated on his reasoning in a Financial Post interview, telling FP reporter Damon van der Linde that he has learned to differentiate between low commodity prices and low-value assets during his 32-year career. Roosen got his start in the business as an 18-year-old underground base metals miner in Timmins, Ont., he told van der Linde.
"We understand that there are cycles and 'buy low, sell high' is easy to say but hard to do," Roosen told FP. "In this case and time, when everyone is running for cover, that's when we want to wade in. I think we bought it right."
Osisko owns stakes in half a dozen Canadian-based gold junior exploration companies with projects at varying stages. Its largest position is a 20% stake in Abitibi explorer Niogold (NOX) that's worth about $8.8 million.
Roosen has also been active personally building stakes in various public companies. Lately, he has been adding to his position in microcap junior Oban Mining (OBM), buying 2 million shares at 10 cents in a private placement that raised $1.5 million for the cashed-up gold and copper play with exploration projects in Ontario, Quebec and Peru. He owns more than 14.6 million shares, a 14.65% stake in the company.
With a recent market capitalization of $9.5 million, Oban had cash and equivalents of $9.7 million for the three months ended March 31, according to financials filed with SEDAR on May 7.
In addition to exposure to some of Canada's best new gold mines, Roosen also has a hand in trying to revitalize some historic gold districts. He is chairman of Falco Resources (FPC), which purchased much of the Rouyn-Noranda mining camp including the historic Horne mine and is building on a maiden (inferred) resource of 2.8 million oz gold-equivalent at grades of 3.4 grams per tonne AuEq. Osisko also owns a 2.9% stake in Falco, which is undertaking a 16,000-metre drill program this year.
And he's a director of several public companies including Northern Ireland gold developer Dalradian Resources (DNA), which is run by Aurelian cofounder Patrick F.N. Anderson and boasts mining Power Player Ross Beaty as a 10% shareholder. Roosen owns 1.59 million shares, a 1% stake worth about $1.38 million.
Roosen's largest public-company position is Osisko Gold Royalties. Roosen owns 412,634 shares, a .44% stake worth approximately $7.37 million.

An earlier version of this post appeared Friday May 22nd on INKResearch.com