Energy stocks hold the key for Canadian investors this winter
February 11th, 2019
After a good run from the Christmas Eve lows, the Canadian mid-cap stock rally, as tracked by the INK Canadian Insider (CIN) Index, stalled last week as the Index ran into technical resistance mid-week. This is similar to what happened in early January when the Index hit the upper end of its Bollinger Band range which set the stage for a two-week consolidation before moving higher. While there remains a risk that Wednesday's intraday high of 1130.28 represents a significant top, at this point insider sentiment suggests any pullbacks are likely to be temporary.
Our INK Indicator, which measures insider sentiment by tracking the number of companies with key insider buying versus those with selling, appears to have put in a peak at the end of December. Peak insider buying often takes place as a base in share prices is forming. The indicator is now falling from that peak which is a positive sign because it signals that some medium-term upward momentum is broadly beginning to take hold. We use insider behaviour as confirmation of underlying momentum because insiders tend to reduce their buying as stock prices rise. As such, a falling indicator confirms that, broadly speaking, stock prices have the wind at their back.
If we are wrong about the bullish insider sentiment signal, the first clues of us being offside would be a return of sustained outperformance of large-cap stocks over the INK CIN Index. We will be keeping a close eye on that relationship in the weeks ahead. Mid and small-cap oil & gas stocks may well hold the key as to whether the INK CIN can make new 2019 highs this winter and pull decisively ahead of large caps. The S&P/TSX Energy Index is more-or-less flat over the past month, with smaller names in the sector lagging.
Last week, the three INK CIN Index laggards were all Energy sector names with no company-specific news: Calfrac Well Services (Cloudy; CFW) -8.0%, Bonterra Energy (Mostly Sunny; BNE) -10.1%, and Yangarra Resources (Mostly Sunny; YGR) -13.0%. The top gainers were Magellan Aerospace (Sunny; MAL) +12.7%, Dorel Industries (Mostly Sunny; DII.B) +6.1%, and Kirkland Lake Gold (Mixed; KL) +4.7%. Like the laggards, the winners had no company issued news that might explain their relative moves.
INK Edge outlook ranking categories (Sunny, Mostly Sunny, Mixed, Cloudy, Rainy) are designed to identify groups of stocks that have the potential to out- or under-perform the market. However, any individual stock could surprise on the up or downside. As such, outlook categories are not meant to be stock-specific recommendations. For background on our INK Edge outlook, please visit our FAQ #5 at INKResearch.com.
| | |
| --- | --- |
| Top 3 Gainers Last Week | Top 3 Losers Last Week |

Returns are as of the last trading day of the previous week.
Featured Clip
Gold, Gold Stocks, and Gold Miners. Bob Hoye - February 8, 2019
The broadcast opens with Hoye making a compelling case against central bank activism. He then moves on to the outlook for gold and gold miners:
In a post bubble contraction, the real price of gold is likely to rise
Gold miner profits can grow as input costs fall
The value of mining deposits increase which is bullish for junior gold explorers
Insider of the Week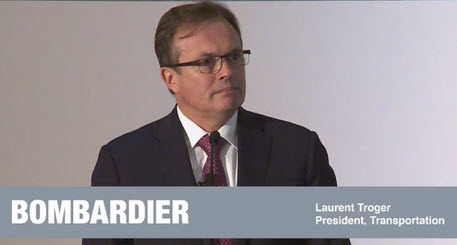 Laurent Troger
A week before Bombardier (No outlook; BBD.B) was scheduled to release its Q4 earnings report on February 14th, the aerospace, rail & defense firm announced that it is losing one of its key executives. According to a company press release, Bombardier Transportation President Laurent Troger has informed the company of his intention to resign and pursue opportunities outside the company.
We will have to see if the resignation foreshadows anything negative about earnings. According to Investing.com, Bombardier is expected to report a Q4 profit of 2 cents per share.
Mr. Troger was part of a group of insiders who entered into an automatic securities disposition plan (ASDP) last August which subsequently received a SEDI filing exemption for the sale of securities under the ASDP. INK Research does not rank any stock where one or more insiders has received a SEDI filing exemption from regulators under ASDP arrangements. In INK's opinion, these filing exemptions, although permitted, are not consistent with best governance practices. As such, Bombardier does not have an INK Edge outlook ranking and is not eligible for inclusion in the INK Canadian Insider Index.
INK Canadian Insider Index
1 Year Total Return Performance




Historical Performance

Annualized Total Return as of February 11, 2019 04:49 pm

| | |
| --- | --- |
| 1 Year | -6.93% |
| 3 Years | 9.56% |
| 5 Years | 3.82% |
| 10 Years | 12.35% |
To start receiving a PDF version of this newsletter by email select it in your
alert settings
. If you do not have an account, join us
here
.