Will optimism win out?
September 30th, 2019
For the past few years, the S&P 500 has been a leader among global indices, but it has been going nowhere in 90 days. The big-cap US benchmark is akin to a car sitting in neutral on a plateau of a mountain. The question is whether it starts to tip downhill under the weight of tightening liquidity as witnessed by upward pressure on US overnight rates, or is pushed further uphill on the back of investor optimism.
The question is highly relevant for Canadian stocks because a contagion of the overnight funding problems seen in the United States money markets over the next few weeks could hit financial markets. On the other hand, if policymaker responses including monetary stimulus out of Europe and the United States start to feed into asset prices this fall, the issue becomes which assets benefit from policymaker largess. While investors, for the most part, continue to cling to what has worked over the past few years, namely bonds, bond proxies such as utilities, and expensive FAANG growth stocks, insiders are taking the opposite side. They are buying value stocks on both sides of the border and dumping FAANG stocks.
Generally, this is shaping up as a fall of caution. There is a school of thought in the marketplace that stocks are about to move higher as we heard from both Ken Grant and Frank Cappelleri on INK Ultra Money last week. That may well happen, but other commentators are taking a more cautious approach. In terms of insider sentiment, we note that our 30-day INK Indicator has dipped below 100%. That means there are more stocks with key insider selling than there are with buying. While it can be quite volatile, the last two times it did that over the past year, Canadian stocks ran into some turbulence. Worryingly, the indicator did not spring back last week even as the INK Canadian Index dropped 1.8%. Although the lack of insider buying could possibly be explained by the arrival of trading blackout periods that may coincide with quarter end, generally we see it as a warning sign. Nevertheless, at this point, we are reluctant to go all-in on a meaningful October rally scenario based on insider signals.
| | |
| --- | --- |
| Top 3 Gainers Last Week | Top 3 Losers Last Week |

Returns are as of the last trading day of the previous week.
Featured Clip
Insider of the Week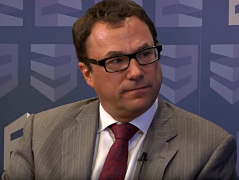 Michael Cooper, President and Chief Responsible Officer of Dream Unlimited (DRM)
Back on July 17, Mr. Cooper spent $4.3 million picking up 550,000 Class A Subordinate Voting Shares at $7.85. By INK estimates, he is the largest insider equity holder at Dream Unlimited with 37.36% of  shares outstanding. On September 17th, Dream Unlimited announced that Blackstone Group (BX*US) would be acquiring Dream Global REIT (DRG.UN) for cash consideration which included $395 million to end Dream Global's asset management contract with Dream Unlimited.
INK Canadian Insider Index
1 Year Total Return Performance




Historical Performance

Annualized Total Return as of September 30, 2019 04:49 pm

| | |
| --- | --- |
| 1 Year | -7.70% |
| 3 Years | 2.03% |
| 5 Years | 3.60% |
| 10 Years | 8.63% |
To start receiving a PDF version of this newsletter by email select it in your
alert settings
. If you do not have an account, join us
here
.