Will it be a G or D bubble market?
June 11th, 2020
While last week was a good one for our G-economy scenario which is characterized by government-led inflation, deflationary headwinds have swept in this week with gusto.
Last week, the inflation-sensitive INK Canadian Insider (CIN) Index was one of the best performing benchmarks in North America, gaining 8.3%. In addition, the downward trend in the gold-silver ratio remained intact. When the indicator is falling, inflation-sensitive silver is outperforming gold which is more deflation-sensitive on a relative basis. The direction of inflation is likely going to be a key driver of asset markets over the next few years.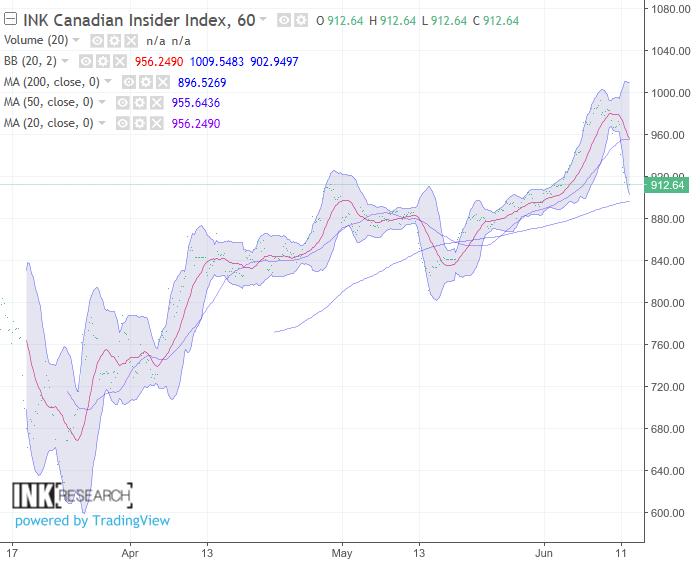 The inflation-sensitive INK CIN Index had a good week but sold-off Thursday
While Canadian insider stocks are expected to do well during an inflationary period, bonds and bond proxy stocks such as software stocks would likely do better in a falling inflation, D-economy environment. We discuss the D versus G economies in our quarterly INK CIN Index presentation available on INK Ultra Money Free. The presentation provides a nice summary of how we are looking at investment opportunities as we move through the COVID-19 world. We still believe the jury is out as to whether inflation or deflation will be the dominant force over the next 18 months. While the G-economy has built up some momentum, there remain risks, including a second wave of the coronavirus.
COVID-19 cases continue to grow globally, and there are emerging worries that cases in the United States have bottomed and could be at risk of moving higher. Consequently, we believe it is premature to start planning an investment strategy based on a core assumption that we are entering a post-COVID-19 world. Eventually, we should get there, but we are not there yet. A key risk to markets would be health authorities potentially having to put much of the US economy back into lockdown mode.
As we are already seeing this week, worries about expected hospital utilization in the United States will be an important factor in guiding health authorities on whether to keep economies open. On that front, despite some states reporting increased hospitalizations due to COVID-19, there remains some room for cautious optimism. In the United States, COVID-19 hospital bed use projections tracked by the CDC still foresee manageable growth in the months ahead. However, we will be watching those numbers closely, particularly in the wake of recent civil unrest and reopenings. A rising rate of hospital bed usage projections heading into the summer would raise the risk of more lockdowns in the fall. Moreover, even if officials do not give lockdown orders, consumers may become more cautious and reduce their activity.
Meanwhile, market action in the wake of the Fed decision is a bit disappointing for the bullish case. Powell delivered a dovish message as was expected. So, perhaps it was a case of selling the news. On the other hand, investors may be contemplating why the Fed sees a need for low rates for an extended period. If the economy is not going to perk up, we could be faced with our dreaded D-economy scenario.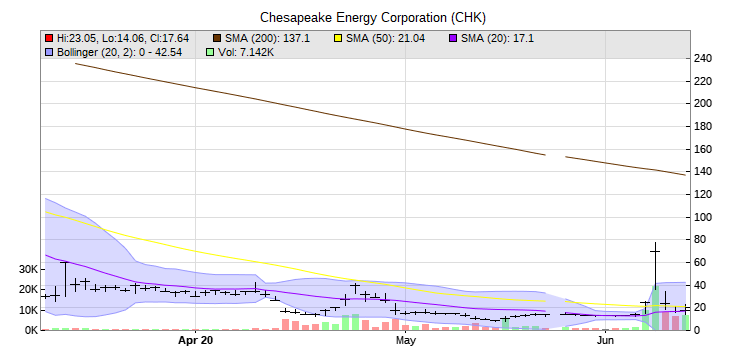 Investors have been bidding up Chesapeake Energy stock despite the company facing financial distress
The D or G question has yet to be resolved in our view. Meanwhile, it is becoming clearer that the Fed has managed to create a stock market bubble. The action we witnessed on Monday in stocks like Chesapeake Energy (CHK) reminded us vividly of the Internet bubble. In our clip of the week, Mark Cuban also seems to recognize some similarities.
The Fed will probably only be able to inflate this broad equity market bubble temporarily. The question is for how long. As it turns out, Monday may have represented some sort of a retail investor blow-off top. If so, following an impending correction we expect either the G or D economy to prevail, likely leaving the loser's assets behind.
| | |
| --- | --- |
| Top 3 Gainers Last Week | Top 3 Losers Last Week |

Returns are as of the last trading day of the previous week.
Featured Clip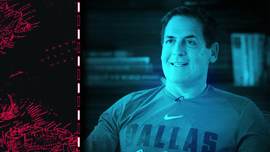 Mark Cuban: This Feels a Lot Like the Internet Bubble
In a Real Vision video on Tuesday, Mark Cuban gave his take on the state of America and markets, arguing that we have entered an internet bubble-like period. Now, if only he would run for president. It is a great and uplifting video, but it does require access to our INK Ultra Money platform (included in a Canadian Insider Club Ultra subscription). If you are not already a Canadian Insider Club Ultra subscriber, you can sign up here or upgrade an existing account here.
Insider of the Week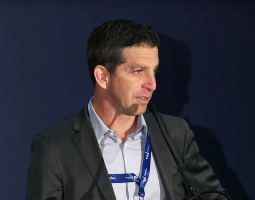 Jamie Levy, CEO of Generation Mining (GENM)
Generation Mining has featured in our Morning Report twice in the past 3 weeks. Generation bucked the Thursday sell-off, gaining a cent on the day to close at $0.38. The firm's Marathon palladium project is in the early stages of the mine development phase of the Lassonde mining life cycle with a feasibility study and environmental assessment underway.
INK Canadian Insider Index
1 Year Total Return Performance




Historical Performance

Annualized Total Return as of June 11, 2020 04:49 pm

| | |
| --- | --- |
| 1 Year | -14.79% |
| 3 Years | -6.16% |
| 5 Years | -1.32% |
| 10 Years | 5.33% |
To start receiving a PDF version of this newsletter by email select it in your
alert settings
. If you do not have an account, join us
here
.