Will inflation be a top 2020 surprise?
November 19th, 2019
The mid-cap oriented INK Canadian Insider (CIN) is one of the best performing North American benchmarks in the 30 days ended November 15th, a period that coincides with the startup of the Fed's T-bill buying program (not QE). This provides some early support to our view that central bank actions may well bring about more inflation that would favour Canadian markets. The Fed is currently undertaking commodity-friendly policies by favouring asset purchases at the short end of the yield curve (securities with less than 2 years to maturity). If commodities in general finally enter a bull market, inflation could move higher.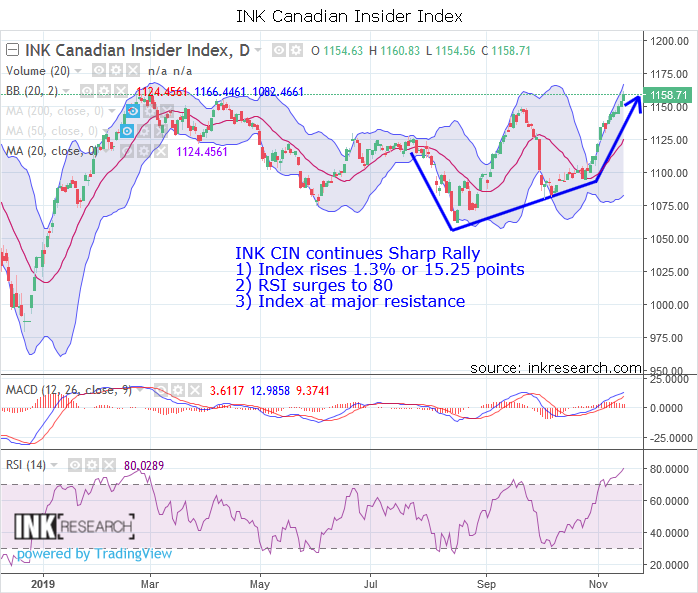 This week, the INK CIN Index faces tough resistance at 1,160
A little bit more inflation, however, may not move the needle on inflation expectations. We agree with Ben Melkman who suggested in his interview with Jim Grant broadcast Friday on Ultra Money that the global financial system is not prepared for a return of meaningful inflation. While he is on the watch for such a return, he does not predict when it might occur or how. Getting the move right will matter as he and other macro investors seem to generally agree that a key to success is to identify such big paradigm shifts ahead of the consensus as they are starting. For example, Melkman cites Abe Economics in Japan in 2013 as a catalyst that served as a market-moving opportunity.
For inflation to really start impacting markets, we need to see inflation expectations move higher. That leads us to ponder the possibility that a surprise move up in crude could jolt inflation higher, leading to a paradigm shift in inflation expectations as we head into the New Year. This is a theme we address in the INK Energy Top 30 report published this week on Canadian Insider (available to Canadian Insider Club members). In a nutshell, the case for higher crude prices is found in declining shale oil well productivity in the United States. If that trend accelerates, current forward prices for crude may be too low. Combine that with an easy money Fed, and conditions are ripe for acceleration in commodity hoarding which could quickly push up expected inflation. The probabilities of this unfolding may not be more than 30% right now, but that is still high enough to make the case for having some exposure to Canadian oil & gas stocks. Tax loss selling, combined with possible seasonal crude oil weakness in December and early January could provide a nice window for investors to pick up oil & gas stocks at attractive valuations. The INK Energy Top 30 report is a great source of stock ideas for those investors who plan to go shopping for Christmas season bargains.
As we head towards year-end, insider sentiment continues to favour Canadian equities over US equities. Within the US equity space, we would tilt towards value stocks. However, we are also seeing sentiment improve in defensive sectors which could reflect growing risks of either a market correction or backup in yields due to geopolitical turmoil or disappointing US growth. If a trade deal between the US and China derails over the next few weeks, stocks could be vulnerable after their recent run. However, given the Fed's recent liquidity injections, a simple kicking the can further down the road may be all that investors need to keep buying.
| | |
| --- | --- |
| Top 3 Gainers Last Week | Top 3 Losers Last Week |

Returns are as of the last trading day of the previous week.
Featured Clip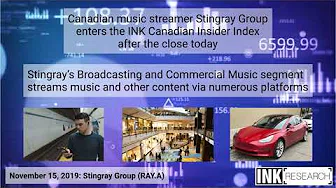 INK Research Morning Report November 15th, 2019
Canadian music streamer and broadcaster Stingray Group (RAY.A) joined the INK Canadian Insider Index after the close on Friday, November 15th. Investors were singing the blues a while back, but INK suggests the stock is now finding its groove.
Insider of the Week
Eric Boyko CEO of Stingray Group
Under the leadership of Eric Boyko, Stingray Group has expanded its footprint well beyond in-store music services and cable TV radio broadcasts. Just over a year ago, he stickhandled the acquisition of Newfoundland Capital Corporation, at which point Stingray got access to Newcap Radio which has millions of listeners, 72 local radio stations, and 29 repeating stations across Canada. Going forward, the company has broad ambitions to reach music lovers in North America and Europe.
INK Canadian Insider Index
1 Year Total Return Performance




Historical Performance

Annualized Total Return as of November 19, 2019 04:49 pm

| | |
| --- | --- |
| 1 Year | 7.91% |
| 3 Years | 3.42% |
| 5 Years | 4.71% |
| 10 Years | 8.47% |
To start receiving a PDF version of this newsletter by email select it in your
alert settings
. If you do not have an account, join us
here
.