Will higher bond rates kill commodities and crypto?
January 16th, 2021
With the coronavirus playing havoc with the global economy again, worries are mounting that commodities, cryptocurrencies and equities are vulnerable to a pullback. Risks of a correction could be compounded if political uncertainty starts to weigh on the fiscal response from the Biden Administration which is set to take office on Wednesday.
We worried in our Wednesday US market report update that American stocks would be vulnerable to a Sanders slip. Under such a scenario, the progressive wing of the Democratic party could hold up stimulus by demanding more funding for pet projects. As things stand right now, the progressives appear to be happy with the initial $1.9 trillion package unveiled by Joe Biden. That could help pave the way for a quick fiscal response that could offset the potential drag in liquidity that is set to arrive later this quarter from significant US Treasury bond issuances.
Speaking of liquidity events, Raoul Pal and Ed Harrison were back on Friday in the Daily Briefing making the case for a rally in bonds, and a pullback in commodities, and potentially equities as investors re-assess the economic outlook.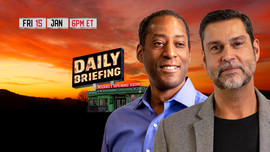 The bond bull twins are back
Indeed, we have already seen bitcoin put in a short-term peak. So, how much more is there to go on the downside? In our view, the inflation trade remains intact and any dips in Canadian stocks should probably be bought, especially if there is a round of panic selling. While we are hearing the case that rising bond rates will provide headwinds for commodities and cryptocurrencies, we believe the bears are looking at the wrong end of the yield curve. Traditionally, commodities are most sensitive to short-term rates and those rates are not going anywhere. If anything, they are likely to fall more in real terms.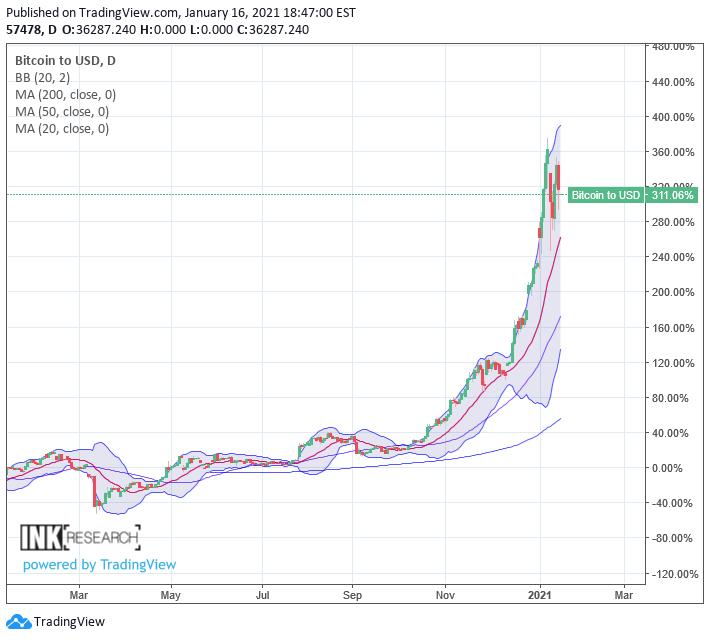 Bitcoin is up over 300% in the past year
Equities, on the other hand, are impacted by long bond yields. Consequently, we expect rising bond rates to hit passive index-based funds very hard over the next few years given their overweight positioning in technology stocks which are sensitive to rising bond yields. While commodity- and cryptocurrency-related stocks should not be as sensitive to rising rates as technology stocks, they will not be immune.
We have been reworking our morning report video summary format and released the new version on Friday. The format is still in continuous-improvement mode but at least we got the first one produced by mid-month! We have other changes coming in the days ahead for Canadian Insider. We have already slimmed down the home page to hopefully make it easier to read and soon we will be adding a bit more Bitcoin content.
We are focusing more on cryptocurrencies because we believe they are disrupting some areas that are important to our users, namely the financial sector and the gold market. In terms of finance, just as 20 years ago when ETFs were a blip on the radar screen, many mutual fund companies ignored their threat. Those that did, which is just about all the major mutual fund companies, paid a big price in terms of missed growth opportunities. In terms of gold, the arrival of bitcoin and other cryptocurrencies mean bullion is not the only game in town when it comes to a hedge against the reset of the current dollar-based financial system.
Ultimately, at INK we look to the insiders to guide us to opportunity. Already, they have shown us some profitable opportunities in cryptocurrency equities. In fact, our January 5th morning report stock focused on bitcoin mining is up 82%.
It may be sometime before we find similar situations, but we will keep our eyes out as usual. Meanwhile, in terms of the resource bull market, it appears alive and well based on our top INK Edge movers of the week which we have posted in the #stock_ideas channel of INK Chat. If you are a Canadian Insider Club member and have not yet registered, check your inbox for an invite or contact us to resend it if the invitation disappeared into SPAM world.
| | |
| --- | --- |
| Top 3 Gainers Last Week | Top 3 Losers Last Week |

Returns are as of the last trading day of the previous week.
Featured Clip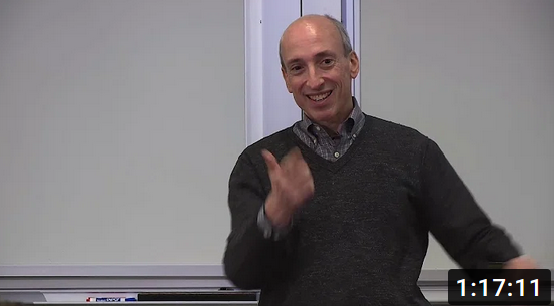 Gensler: Ripple likely a security
Multiple media outlets have reported that former Commodities and Futures Trading Commission chairman Gary Gensler is Joe Biden's preferred choice for SEC chairman. If that is the case, Ripple holders will be interested in this YouTube video Primary Markets, ICOs & Venture Capital, Part 2 from January of last year where he explains his views on the matter of cryptocurrency regulation and answers questions on Ripple, in particular. In the video, Mr. Gensler appears well versed in blockchain developments.
Insider of the Week
Bill Holland
CI Financial (CIX) board chairman Bill Holland bought 150,000 shares of the mutual fund company on January 14th. The stock is down about 28% over the past year. It recently joined the cryptocurrency party by launching the closed-end CI Galaxy Bitcoin Fund (BTCG) which is sub-advised by Galaxy Digital Capital Management of Galaxy Digital Holdings (GLXY).  
INK Canadian Insider Index
1 Year Total Return Performance




Historical Performance

Annualized Total Return as of January 15, 2021 04:49 pm

| | |
| --- | --- |
| 1 Year | 15.95% |
| 3 Years | 3.43% |
| 5 Years | 10.36% |
| 10 Years | 7.09% |
To start receiving a PDF version of this newsletter by email select it in your
alert settings
. If you do not have an account, join us
here
.