Will governments trip us into deflation?
April 13th, 2020
With any luck, the number of new daily COVID-19 cases has peaked in Canada. If true, it would mark an important turning point in the country's containment strategy allowing policymakers to start discussing steps for gradually returning toward more normal economic activity. Unfortunately, a significant amount of uncertainty remains.
We see this uncertainly in our INK sentiment indicator which has yet to put in a clear peak so far this year. A peak would coincide with peak insider buying, an event that often happens near big support levels for stocks. Its refusal to provide us with a clear signal reinforces the risk associated with the current environment. Governments around the world will need to do a better job of dealing with society's return towards normal than they did steering us into the abnormal. At this point, we cannot assume a vaccine will arrive anytime soon. Instead, governments will likely need to adopt a strategy of combining widespread testing with a methodical reacceleration of economic activity.
What this all means for markets is still to be decided. We know that central banks have accelerated money printing, but debate rages as to whether or not it is enough to contain the fallout in debt markets. If the bearish narrative plays out that central banks are incapable of stopping downgrades and defaults, we could end up in a D-economy characterized by deflation. One alternative was articulated by James Aitken this weekend on Real Vision (available on INK Ultra Money). This seasoned global banking veteran sees plenty of US Treasury bond issuance coming down the pipe which could begin to outweigh the initial oil shock and drive inflation. That would lead us into our G-economy world.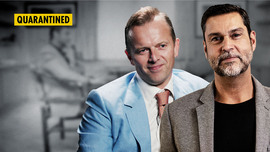 The time to buy toll roads is when they have no cars
Getting the inflation versus deflation call right is going to be critical for investors in the weeks ahead. Real Vision is providing exceptional coverage and insight on that very question. Get full access to INK Ultra Money Real Vision videos by joining us as a Canadian Insider Club Ultra member. Listen to our broadcast of the week below to get the coupon code for 50% off a Canadian Insider Club Ultra membership. Once you have the coupon code, redeem it at checkout to get the 50% savings.
| | |
| --- | --- |
| Top 3 Gainers Last Week | Top 3 Losers Last Week |

Returns are as of the last trading day of the previous week.
Featured Clip
Jim Goddard interviews the INK CEO April 8th
Ted Dixon describes two competing narratives in the market right now. The bears see default and deflation prevailing while the bulls see massive stimulus and reflation. Dixon discusses what INK insider signals are saying about those two points of view. Towards the end of the interview, he also reveals the coupon code which can be used to get 50% off a new Canadian Insider Club Ultra membership.
Insider of the Week
JR Shaw (1934-2020)
On March 23rd, Canada lost a great entrepreneur, JR Shaw, who founded Shaw Communications (SJR). At INK we knew him as an insider who more often than not was buying. He bought so much over the years that he helped inspire the term insider commitment at our firm. Given his founding stake in his firm, he didn't have to buy. But, it was clear to us he bought because he believed. The company has undergone many challenges over the years, including cord-cutting competition. Yet, despite its headwinds, it has managed to outperform the S&P/TSX Composite Index over the past 10 years. We will chalk at least part of that up to the insider commitment that JR personified.
INK Canadian Insider Index
1 Year Total Return Performance




Historical Performance

Annualized Total Return as of April 13, 2020 04:49 pm

| | |
| --- | --- |
| 1 Year | -25.06% |
| 3 Years | -9.07% |
| 5 Years | -3.29% |
| 10 Years | 3.64% |
To start receiving a PDF version of this newsletter by email select it in your
alert settings
. If you do not have an account, join us
here
.