Will Energy now lead the way for the bulls?
September 25th, 2020
Despite all the chatter we hear about asset price inflation and stock market bubbles, the fact of the matter remains that broad market indices remain either flat or down for the year. As of Thursday, the S&P 500 was up 0.8% year-to-date while the S&P/TSX Composite Index was down 6.8%. While Technology stocks have helped to keep US stocks near or above the surface for the year, could those gains be at risk in Q4?
On INK Ultra Money Monday, we heard from Raoul Pal who made the case that the US market is at risk of rolling over as insolvencies start to increase in the wake of the pandemic. He has his eyes firmly on the banks which indeed have had a rough week. At the very least, this interview serves as a good overview of some of the key risks out there. As usual, his point of view is formed by macro economic data which he suggests is rolling over.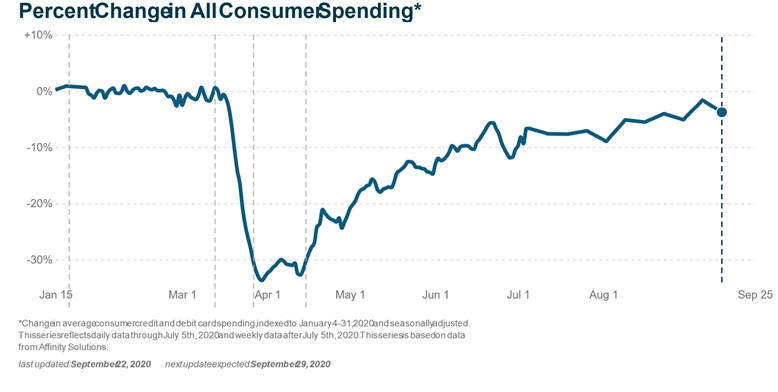 American consumer spending is grinding its way back (click image for larger)
But is a downturn now unfolding? Consumer spending data as collected by Tracktherecovery.org continues to show recovery in the United States. In contrast to Raoul's bearish take, on Tuesday we heard from Tony Greer who made the case in favour of continued asset price inflation. He also has his eyes on the oil patch. He sees some sentiment and technical trends developing that could soon favour oil & gas stocks.
Just to keep us honest, the bearish case for both banks and oil was made on Thursday by Roger Hirst who supported Raoul's view of a dreary outlook for the global economy. A slowing economy would of course be bad for oil.
On balance, we are more inclined to buy stocks in the Energy sector now than sell. As we wrote in our September Top 30 Energy Report, while the timing of the ultimate turnaround in the sector is uncertain, we have a sense that investors have been so focused on pricing in bad news, that the good news has been overlooked. Although the global recovery may be taking place in fits and starts, the bottom in economic activity appears to have been established. If so, the same should hold for Energy which is the most economically-sensitive sector.
Our tilt towards seeing opportunity in the oil patch is reflected in the stocks highlighted in our morning reports this week. Three were from the oil patch, Crew Energy ( CR), Pine Cliff Energy ( PNE) and tiny NXT Energy Solutions (SFD). None of those stocks are for the risk-averse investor.
As we highlight in today's morning report, innovation and improvisation is an emerging theme we are using to identify opportunity. The Energy sector probably does not get a lot of credit for the innovation that is taking place there. Meanwhile, entrepreneurs in the cryptocurrency world are busy trying to disrupt the financial system. Crypto may be one of the greatest opportunities for risk tolerant investors over the next five to ten years. One of the key reasons is the amount of skepticism that established players have shown towards it. However, even mainstream banks are starting to move into the space. By the time they unveil their products, a huge part of the opportunity will be gone.
There is a good primer on decentralized finance this week on Real Vision.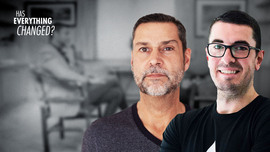 Financial disruption via cryptocurrencies
On Wednesday, Raoul Pal interviewed Alex Saunders to explain the revolution that is happening as different cryptocurrency platforms compete to reshape the financial system. If you are still trying to understand what crypto is all about, this interview is a must watch.
Canadian Insider Club Ultra members have full access to all INK Ultra Money videos. If you are a Club member and want to upgrade to Ultra, you can do that via the membership tab in your account settings.
Basic accounts are closing
By the end of the month, we expect to have closed all free basic accounts on Canadian Insider and Insider Tracking. This newsletter will continue to be available for free on the Canadian Insider website. However, if you would like to continue to receive it by email along with blog alerts, please join us today to beat new membership price increases that are on the way. You can find out more about the benefits of Canadian Insider Club Ultra membership here.
| | |
| --- | --- |
| Top 3 Gainers Last Week | Top 3 Losers Last Week |

Returns are as of the last trading day of the previous week.
Featured Clip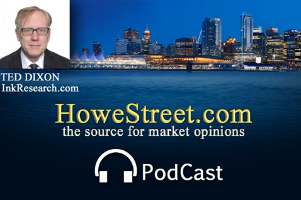 Ted Dixon on HoweStreet.com September 23, 2020
In his latest interview with Jim Goddard, INK CEO Ted Dixon continues to make the case for caution on precious metals stocks as we head into the US presidential debates. He references recent insider selling and the big move of the gold/silver ratio as indicators of concern. In the second segment, he discusses innovation and improvisation as an investment theme as we work our way through the pandemic. In the final section, he talks about decentralized finance and why risk-tolerant investors should consider investment opportunities found in cryptocurrencies and blockchain.
Insider of the Week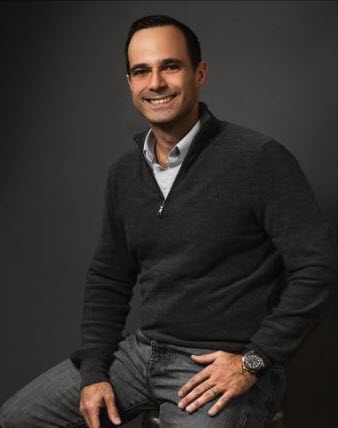 O3 Mining CEO Jose Vizquerra.
As we wrote in our September 21st morning report, O3 Mining (OIII) recently released the results of a preliminary economic assessment of its 100%-owned Marban project at its Malartic property in Val d'Or. While the results seemed encouraging, it was even more encouraging to see CEO Jose Vizquerra buying shares in the public market following the news. Over the past month he has spent almost $350,000 buying shares in the market.
INK Canadian Insider Index
1 Year Total Return Performance




Historical Performance

Annualized Total Return as of September 25, 2020 04:49 pm

| | |
| --- | --- |
| 1 Year | -7.24% |
| 3 Years | -3.16% |
| 5 Years | 2.85% |
| 10 Years | 6.12% |
To start receiving a PDF version of this newsletter by email select it in your
alert settings
. If you do not have an account, join us
here
.