Will the bulls keep up the energy to win the week?
April 8th, 2019
Last week was a good one for the bulls with the mid-cap-oriented INK Canadian Insider Index rising 2.1%, outperforming the large-cap S&P/TSX 60 Index which advanced 1.8% as of Friday. We view INK CIN outperformance over the S&P/TSX 60 as a positive sign as it means investors are preferring smaller stocks that are more tilted towards global growth compared to the perceived relative safety of large-cap stocks. However, the INK CIN is still underperforming on a 1-month basis so we believe it is premature to believe that we can move onto new highs without first having another correction.
Moreover, our 60-day INK Indicator which tracks insider sentiment towards TSX stocks has still not resumed a bullish pattern which would take place once it starts to clearly head back down towards 60% to 80%. The indicator's sweet spot for the bullish case is between 100% and 60% on the way down as it would signal that upward price momentum is returning to Canadian stocks, prompting insiders to take some profits. However, our short-term version of the indicator based on 30 days of data is moving lower. As such, we believe there is a better than 50/50 chance that our 60-day Indicator will soon follow.
This week will be an important one for the bullish case. If the INK CIN Index can maintain its momentum in conjunction with our INK Indicator moving lower, we would have a nice bullish setup for the final few weeks of April. Oil & gas stocks may well be key over the next few days. Canadian Energy stocks have been reluctant to break out higher, preferring to remain in a consolidation pattern over the last two months. That may be set to change. As it turns out, two of the best performing INK CIN Index stocks last week were oil & gas names.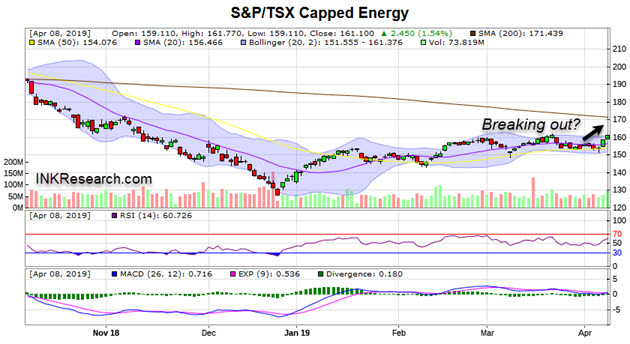 Canadian Energy stocks trying to move higher (click for larger)
With a strong seasonal period in crude oil now upon us, we need to see oil & gas stocks move higher as that would signal recent crude oil price strength has some legs, likely tied to stronger global growth. On the flip side, failure for oil patch names to move higher would be a warning sign that the recent move up in oil prices is likely little more than a seasonal flash in the pan.
On balance, the bulls are well positioned to take control, but they will need lots of energy to help them win the upcoming week. So far so good with the S&P/TSX Capped Energy Index jumping 1.5% and the INK CIN Index advancing 0.6% on Monday.
| | |
| --- | --- |
| Top 3 Gainers Last Week | Top 3 Losers Last Week |

Returns are as of the last trading day of the previous week.
Featured Clip
Sean Brodrick jumps on the Trump trampoline
In his April 1st broadcast, Sean Brodrick describes the Trump trampoline for the markets. Essentially, Brodrick expects stocks will keep bouncing as the US administration pulls out all the stops to support the market, including prodding the Fed to go easy. That should give stocks a bullish bias.
Other topics that he pounced on
Repatriation of cash due from corporate tax cuts is pushing down Treasury yields
Technically gold looks weak, but potential Fed rate cuts could offer support
A nice one-two combination is in play for crude oil
Insider of the Week

Shopify CEO Tobias Lütke*
Shopify (SHOP) stock took a hit late last week following a short-sellers report. However, according to INK short signals, the stock has a potential short-squeeze setup as short-sellers are betting against a stock with relatively high insider commitment. In fact, the stock currently has a sunny INK Edge outlook, placing it in the top 10% of all stocks ranked. That top-notch ranking is thanks to both strong price momentum and insider commitment. One reason the stock ranks so high on insider commitment is due to the large amount of stock that CEO Tobias Lütke still holds. While he has sold some shares recently, the amounts are not enough to move the needle on our screens. Instead, his large holdings dominate. He owns 7,858,504 multiple voting class B shares, 150,104 subordinate voting class A shares.
Of course, INK short signals are not guaranteed to produce profitable trading outcomes. With that said, we believe short-selling strategies are generally best targeted to stocks that do not have strong insider commitment rankings. More often than not, we expect the insiders to come out on top of a short-selling challenge.
INK Edge outlook ranking categories (Sunny, Mostly Sunny, Mixed, Cloudy, Rainy) are designed to identify groups of stocks that have the potential to out- or under-perform the market. However, any individual stock could surprise on the up or downside. As such, outlook categories are not meant to be stock-specific recommendations. For background on our INK Edge outlook, please visit our FAQ #5 at INKResearch.com.
*Image credit: By Union Eleven - Union Eleven, CC BY-SA 3.0
INK Canadian Insider Index
1 Year Total Return Performance




Historical Performance

Annualized Total Return as of April 8, 2019 04:49 pm

| | |
| --- | --- |
| 1 Year | -6.03% |
| 3 Years | 7.18% |
| 5 Years | 3.60% |
| 10 Years | 13.30% |
To start receiving a PDF version of this newsletter by email select it in your
alert settings
. If you do not have an account, join us
here
.