Will 2021 be more fun?
September 14th, 2020
Our INK US Indicator which measures insider sentiment across the US market on an average stock basis ticked up to 45% mid-week. That means there are 45 stocks with key insider buying for every 100 stocks with key selling.
In the United States market, the old Bernanke-Obama-Yellen playbook of buying expensive growth stocks paid off over the past few months for many investors. Generally, based on our American insider indicators, US stocks remain inflated although some pockets of value can be found at the stock level. Oil-related services and equipment is one area we have spotted more stocks with insider buying than selling. However, even in this group, the pickings are slim. There only two stocks with key insider buying over the past 60 days that have better than mixed INK Edge outlooks. They are global giant Schlumberger (SLB) and tiny Forum Energy Technologies (FET).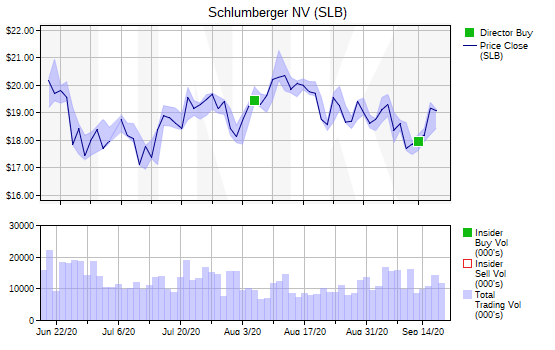 Schlumberger insiders have been buying
Some users will have noticed that we have recently limited the number of visits by non-Canadian Insider Club members to Canadian stock pages to 10 per month due to data costs. However, there is no limit on the number of US page visits.
While US stock market investors have been chasing pricy growth stocks, insiders are sticking to their value strategy of favouring stocks that are cheap relative to their growth prospects. Unfortunately, the value opportunities in the market are rare, limited  primarily in the Energy and Financials sectors. For contrarian bets in those two sectors to pay off, we will need to see economic growth. The Energy sector may get a helping hand from China which appears to be getting some momentum back.
The Financials will have to rely on domestic economic strength. However, the recent run of positive US economic surprises is at risk of losing steam. Meanwhile, stimulus talks are stalled. Nevertheless, within a few weeks, investors will start to look towards 2021 which will offer either a reinvigorated President Trump or a green economy-focused Joe Biden as president. In either case, investors may simply cheer the prospect of a fresh policy start in the New Year. That could finally push a few more dollars out of the safety of Treasury bonds, generating higher bond yields and bank stock returns in the process.
In Canada, insiders are signalling that some value remains in the Canadian market with our INK Indicator ticking up to 89% from 84% last week. Any reading above 100% means there are more stocks with key insider buying than selling. The uptick in sentiment offers something for both the bears and bulls as it was led by REIT insiders. REITs are often seen as a defensive area that could provide some comfort to the Canadian market bears who envision lower rates and a weak economy in the years ahead.
However, we suspect rising REIT insider sentiment relates to the notion that pessimism towards the group is overdone. As of last Friday, the S&P/TSX Capped REIT Index was down 16.1% over the past 6 months on a price basis, compared to a 19.3% gain for the mid-cap-oriented INK Canadian Insider Index. As we work our way through the pandemic, it seems insiders are having more confidence that certain REIT names have been oversold and offer a bargain at current prices.
Meanwhile, in light of relatively strong Chinese growth, we favour industrial over precious metals right now. This is reinforced by a relatively stronger bullish signal seen among the specialty miners compared to the precious metals area based on our indicators. In our view, the gold price may have a hard time rallying until at least the first US presidential debate is done on September 29th. At that point, investors may be able to assess the post-November 3rd political and dollar landscape a bit better. Nevertheless, the elevated level of our Venture Indicator signals that long-term bullish opportunity can still be found within the junior group.
That said, true value is getting harder to find as the indicator is far below its spring high of 859%. Investors speculating in the junior mining space will need to do their best to avoid the inevitable promotions and lifestyle plays that are bound to pop up in the months ahead. As always, we will let the insiders guide us towards opportunity in the space. This week we released our Top 40 September Report for Canadian Insider Club members where the junior mining space is well represented. If you are not a member, join today to get access. Learn about the benefits of membership here.
INK Edge outlook ranking categories (Sunny, Mostly Sunny, Mixed, Cloudy, Rainy) are designed to identify groups of stocks that have the potential to out- or under-perform the market. However, any individual stock could surprise on the up or downside. As such, outlook categories are not meant to be stock-specific recommendations. For background on our INK Edge outlook, please watch our short video or visit our FAQ #5 at INKResearch.com.
| | |
| --- | --- |
| Top 3 Gainers Last Week | Top 3 Losers Last Week |

Returns are as of the last trading day of the previous week.
Featured Clip
Insider of the Week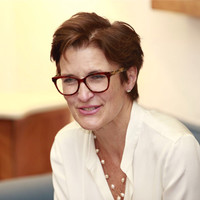 Jane Fraser, President and CEO of Global Consumer Banking at Citigroup (C)
On September 10th, Citigroup announced that current CEO Michael Corbat would be retiring from his position and stepping down from the board of directors in February 2021. Mrs. Fraser has been appointed to take his place and was elected to the board of directors immediately.
INK Canadian Insider Index
1 Year Total Return Performance




Historical Performance

Annualized Total Return as of September 14, 2020 04:49 pm

| | |
| --- | --- |
| 1 Year | -4.14% |
| 3 Years | -1.74% |
| 5 Years | 3.64% |
| 10 Years | 6.53% |
To start receiving a PDF version of this newsletter by email select it in your
alert settings
. If you do not have an account, join us
here
.