Widespread sentiment slump suggests stock rally may stumble
April 15th, 2019
At first glance, last week was a good one for the bulls with broad Canadian stock indices heading higher including the mid-cap-oriented INK Canadian Insider Index which advanced 0.2%. Last week, we said we would be watching to see if the Energy sector could lead the market higher and that is exactly what happened with the S&P/TSX Capped Index up 3.3% on the week.
Some positive lending and money supply data out of China late in the week no doubt helped boost investor enthusiasm towards stocks. Moreover, technically, the INK CIN Index looks to be in good shape according to Nicholas Winton's weekly technical take on things.
However, we believe signals remained mixed at best for the near-term. In particular, insider sentiment is offsetting the positive observations above. Our 60-day INK Indicator which tracks insider sentiment towards TSX stocks has still not resumed a bullish pattern which would take place once it starts to clearly head back down towards 60% to 80%. A move lower would signal that upward price momentum is returning to Canadian stocks, prompting insiders to take some profits. Instead, the indicator remains stalled, frustrating our expectations that it would soon move lower. A stalled indicator is consistent with stalled price momentum. Not surprisingly, a similar situation is playing out at the sector and industry levels.
Currently, 8 out of the 10 top sectors have sagging sentiment with only Energy and Technology appearing to have the wind at their backs in terms of momentum. The absence of price momentum also appears in some key industries, notably pharmaceuticals (home of many cannabis stocks) and gold.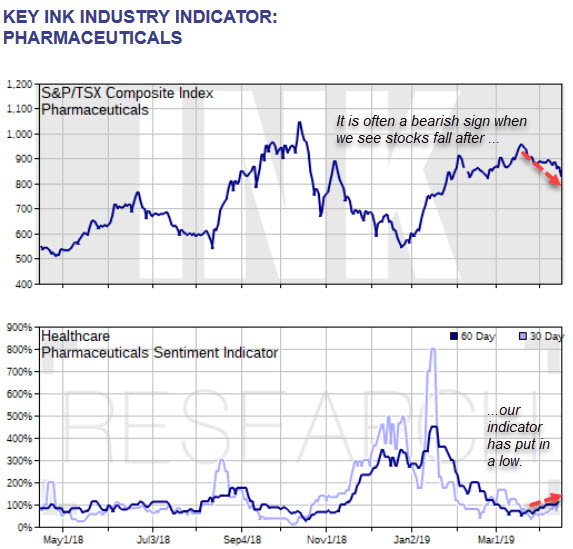 Our pharma stock indicator includes pot stocks, and it is sagging which is a warning sign
Although stalling momentum can often be a bearish sign, it does not necessarily imply an impending severe correction. It could instead be foreshadowing a period of consolidation. Either way, whether faced with a correction or consolidation in the weeks ahead, stock selection is likely to take over from big sector or market bets as the best way to make positive returns. INK Edge Outlook stock rankings which are now updated monthly for free on Canadian Insider can help with assessing a stock's relative attractiveness. We just updated the April rankings on Monday. If you are not familiar with the INK Edge, make sure to watch our Featured Broadcast of the week which is actually a short video introduction on our outlook ranking process.
Having access to high quality and trustworthy stock information and research is also an essential element of successful stock picking. On that front, consider joining our Canadian Insider Research Club which gives members access to premium INK Research PDF reports. The time has never been better to join because during Easter week we are slashing the subscription price by 60% to the equivalent of $C9.99 per month based on C$199.88 (all plus tax) annual membership. Use coupon code CINCLUB when asked right before completing the signup process and our system will automatically recalculate the price to the special Easter rate. Click here to learn more and get started.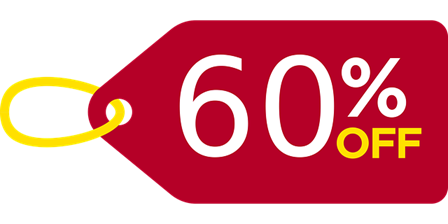 Use Coupon CINCLUB to get 60% off our research club membership
In terms of winning stocks in the INK CIN Index last week, one of the big winners was Bonterra Energy which may well have benefited from a short squeeze, something we have warned about earlier in the year on Canadian Insider, and more recently in the company's short report on INK Research. Another winner was Aimia which appears to have benefited from the April 8th announcement of a Dutch auction share buyback process. Meanwhile, last week MTY Food Group tumbled on earnings and news of its proposed takeover of US pizza chain Papa Murphy's.
 
| | |
| --- | --- |
| Top 3 Gainers Last Week | Top 3 Losers Last Week |

Returns are as of the last trading day of the previous week.
Featured Clip
Watch our 2-minute INK Edge Outlook video on Canadian Insider
When it comes to stock selection, our INK Edge Outlook which ranks a stock on the basis of value, insider commitment, and price momentum can come in handy. Monthly, we update the rankings for free on CanadianInsider.com for over 4,000 North American stocks on our company pages. The next free update will be May 15th.
On INK Research company pages we provide INK Edge outlooks updated every day. Daily updates are also available via INK company PDF reports available on CanadianInsider.com (Canadian Insider Research Club members can download 30 free reports every month).
The video can also be viewed on directly on YouTube: https://youtu.be/9fsp6lvsbMY
Insider of the Week
Midland Exploration CEO Gino Roger
Many mining eyes are focused on the James Bay area of Northern Quebec as Midland Exploration (MD) wraps up a key early spring drilling program on its Mythril project. Company CEO Gino Roger and his team are in the process of completing a 2,000-metre program designed to test geophysical, geochemical and geological targets of surface occurrences and boulder fields over a distance of about 2 kilometres. At stake is whether Midland's recent copper-gold-molybdenum discovery has the potential to be a world class discovery. On Monday, the company received a shot in the arm with a $5.8 million strategic investment from BHP Billiton Canada.
Mr. Roger is no stranger to mining exploration. He was Project Geologist, Senior Geologist, and Regional Geologist for Xstrata, Falconbridge, and Noranda. In 2005, Mr. Roger and his team won L'Association de l'exploration minière du Québec (AEMQ) Prospector of the Year Award in 2005 for the discovery of the West Ansil deposit.
INK Canadian Insider Index
1 Year Total Return Performance




Historical Performance

Annualized Total Return as of April 15, 2019 04:49 pm

| | |
| --- | --- |
| 1 Year | -7.65% |
| 3 Years | 6.52% |
| 5 Years | 3.59% |
| 10 Years | 12.84% |
To start receiving a PDF version of this newsletter by email select it in your
alert settings
. If you do not have an account, join us
here
.