What a Biden presidency could mean for stocks
September 10th, 2020
With late summer workloads and a long weekend catching up with us, we are combining two newsletters into one with this issue. On everyone's minds, of course, is the recent market selloff. Both the large-cap S&P/TSX 60 Index and the mid-cap oriented INK Canadian Insider Index (CIN) tumbled 3.0% last week, with the Technology sector leading the charge. There have been very few places to hide, with long-volatility instruments such as put options being a clear exception. Going forward, we could be in store for more volatility as investors try to get a better sense of the economic impacts of COVID-19 and the US election. At this point, we feel it is easier to get a handle on the latter.
Politics can be an emotionally charged subject, but as investors, we need to confront likely outcomes, not preferred outcomes. Based on a variety of models and polling data, as of today, Joe Biden appears to be headed for victory on November 3rd. The situation could change, but it will mean having greater confidence that Donald Trump can win the key swing states of Florida, Pennsylvania, Minnesota, and Wisconsin. He will probably need to win at least three out of those four to make it across the finish line, and right now that is looking tough for the incumbent.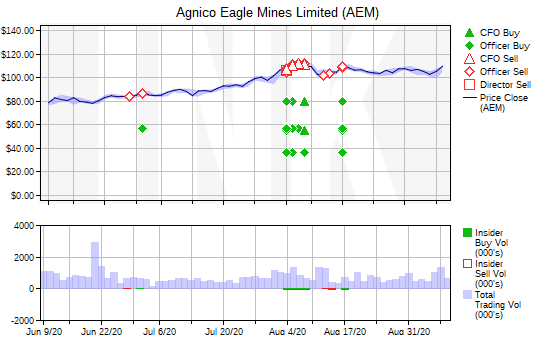 Agnico Eagle (AEM) is one of the gold miners with insider selling
From a Canadian investor perspective, gold mining stocks look vulnerable as the market comes to terms with a potential Biden victory as the Democratic candidate may be seen as more in favour of a stronger dollar than Donald Trump. He is also more amenable to tax increases which could reduce concerns of a spiralling deficit, at least compared to the current administration which has not shied away from borrowing to help juice the economy. Eventually, we suspect that whoever is in the White House will need to err on the side of greater fiscal expansion. Right now, however, insiders in the precious metals area are taking money off the table.
A Biden administration would also be a mixed bag at best for the Canadian oil patch. A Biden administration will face pressure from environmentalists to block the TC Energy (TC) Keystone XL pipeline expansion. However, the company has just cut a deal with major US trade unions which could serve as a counterbalancing political force. Meanwhile, the Pembina Pipeline (PPL) Jordan Cove natural gas project in Oregon stands to benefit from Trump administration fast-tracking. It remains to be seen what the implications for the project might be if Joe Biden takes power in January. In the exploration & production area, a Biden win could help support oil & gas prices if drilling in the United States remains relatively subdued over the next few years even as demand increases. The question about Canadian market access to the United States and beyond remains, however.
On the positive side, green energy and infrastructure stocks could benefit as a Biden administration potentially reengages America in global climate change initiatives. We will be updating our key investment themes this month, and increasing exposure to green energy on selloffs is likely going to be one of our core ideas. In the mining area, we will also likely favour industrial metal companies that have zero net emission strategies to develop battery-related metals or have exposure to metals that China requires to continue down its growth path.
Generally, we expect North American markets to face headwinds over the next few weeks as negotiations in Washington to craft another COVID-19 related stimulus package have stalled. We suspect the delay will soon begin to weigh on market sentiment. The inflation-oriented INK CIN Index has been a big winner since inflation expectations bottomed on March 19th. Since that time, our G-economy scenario has been playing out with governments helping to support consumer demand and inflationary pressures. If we start to get a sense that governments are taking their foot off the fiscal pedal, those inflation expectations could stall. There cannot be a G-economy without the government taking the lead. If policy decisions grind to a halt in Washington over the next few months, it may be hard for inflation-oriented stocks to keep outperforming. A lot will depend on if inflation expectations are already on a sustained path higher. Right now, we have the Canadian market on watch for a possible downgrade to fair-valued as the INK Indicator, which tracks insider sentiment, approaches 80%. At that point, there would be four stocks with key insider buying for every five with selling. For most of the summer, our indicator was above 100%.
While inflation-oriented stocks may have to deal with a cooling-off period driven by political inertia, Healthcare stocks could stand to benefit as investors refocus on COVID-19 and seek refuge from market volatility in defensive names.
We are also spending a lot of time watching the bond market because if its multi-decade bull market is at an end, that will have super-sized implications for Canadian equities. Over the past decade, the iShares Barclays 20+ Yr Treasury Bond ETF (TLT) has advanced 48.4% on a local currency price basis as of Friday compared to 40.2% for the S&P/TSX Composite Index. The mid-cap oriented INK Canadian Insider (CIN) did better, advancing 54.4%. However, all three were left in the dust by the S&P 500 Index which was up 234.3%.
Falling long-term bond yields were likely one of the key factors encouraging global investors into the technology-rich US market. Although some of the widely-held names like Apple (AAPL) have corrected recently, if the bond market breaks down and yields rise much further, pricey technology names could become even less appealing for investors as they reduce the present value of distant future earnings with a higher discount rate. Instead, shorter duration, commodity-oriented names that are more sensitive to short-term interest rates could finally gain sustained traction.
| | |
| --- | --- |
| Top 3 Gainers Last Week | Top 3 Losers Last Week |

Returns are as of the last trading day of the previous week.
Featured Clip
Insider of the Week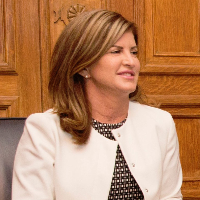 Rona Ambrose, Director at Andlauer Healthcare Group (AND)
We recently featured buying from Mrs. Ambrose at Andlauer in our September 2nd morning report. She was buying following news that she had resigned from the Manulife Financial (MFC) board reportedly to join Toronto-Dominion (TD) as deputy chairwoman of TD Securities.
INK Canadian Insider Index
1 Year Total Return Performance




Historical Performance

Annualized Total Return as of September 10, 2020 04:49 pm

| | |
| --- | --- |
| 1 Year | -5.44% |
| 3 Years | -1.89% |
| 5 Years | 2.86% |
| 10 Years | 6.32% |
To start receiving a PDF version of this newsletter by email select it in your
alert settings
. If you do not have an account, join us
here
.