As we wait for the really big opportunity, cannabis is back
October 12th, 2020
We have recently made some changes at INK Research, operator of Canadian Insider, to protect the value of Canadian Insider Club memberships. For example, Canadian company page visits at CanadianInsider.com are now limited to 10 per month for non-members. Visits remain unlimited for Club members. In addition, expanded insider data history and email alerts are also only available to Club members. Notably, this newsletter which tended to draw on the weekly Canadian market report is now only being emailed to members, although it remains free-to-air on the website.
Given that our Club members all have access to the market report, we are altering the format a bit to make it more useful for our members by focusing on the key emerging themes and findings that we have covered over the past week. INK Research produces about 10 or more written reports and blog posts a week, plus INK Chat entries. In addition, we publish 3 videos a day on INK Ultra Money during the week. We cover a lot of ground, and, in this report, we will try to make sure you do not miss the essence of the key material that can help you navigate unfolding risks and identify emerging opportunities.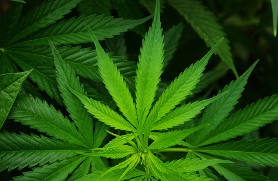 Cannabis comes back
The biggest surprise of last week was the reemergence of the cannabis industry as an area of opportunity. However, unlike the period leading up to pot decriminalization in October 2018 when a rising tide raised all boats, this time around opportunity is more stock-specific. Indeed, on Wednesday in our morning report, we warned about ongoing risks at Aurora Cannabis and even posted a free video summary on INK Ultra Money. Insiders are generally not pointing us to big Canadian pot growers. Instead, we are being guided to some US-focused opportunities, two of which we highlighted in the morning report on Thursday. One of those stocks was also featured by Real Vision in a Club Ultra member video.
On October 8th, we published our INK Top 40 for October and suggested that investors seem to be getting primed for a Biden presidency with the increasing chance of a Democratic-controlled Congress. While that outcome is not baked in the cake, our Top 40 list this month appears to be tilting in that direction. Three Biden stocks in the clean energy area make the list this month. Moreover, insiders seem to be signalling that it is not just clean energy that will win under Biden. Cannabis stocks with the right business models could also benefit from tailwinds.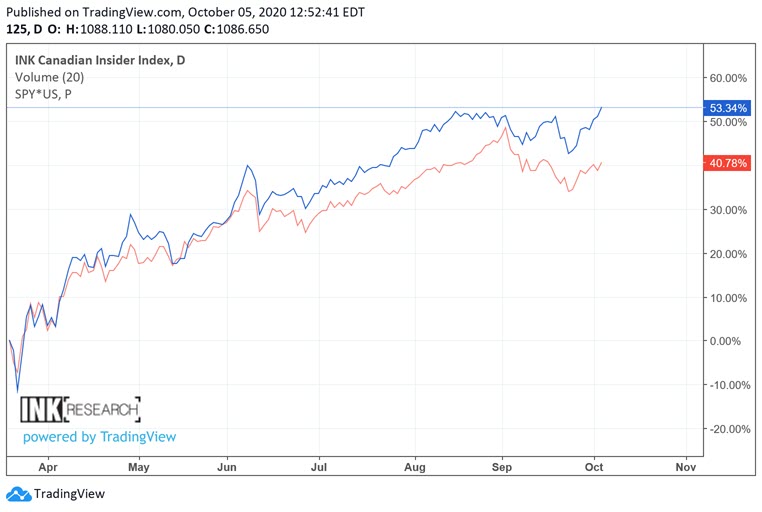 INK CIN (blue) vs S&P 500 ETF (red) - click for larger
On the critical issue of deflation versus inflation, in INK Chat on October 5th, INK's Ted Dixon commented on David Rosenberg's assessment in a Real Vision interview that inflation is a key risk in light of the massive amounts of stimulus. Ted goes on to point to the large outperformance of the inflation-sensitive INK Canadian Insider Index since inflation expectations bottomed on March 19th. Despite the Index being up more than 50% since that time and outpacing both the S&P 500 and S&P/TSX Composite by about 10% and 20% respectively in the process, assets in the Horizons Cdn Insider Index ETF (HII) remain low (INK is eligible to receive a royalty for index services from Horizons ETFs). That may be something to think about if you are looking for an uncrowded trade.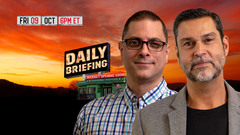 Raoul Pal on bitcoin and Gundlach
Finally, in the free Friday Real Vision Daily Briefing, Raoul Pal applauds recent regulatory moves towards bitcoin derivatives. He makes the case that some Bitcoin regulation is required to attract institutional money to the cryptocurrency space, and that should ultimately help prices. He also reviews the Club Ultra member interview with Jeffrey Gundlach who believes everything right now is all about scoring alpha, and he is waiting patiently for the next big beta trade opportunity. It is a great interview and if you do not have access, Raoul does a nice job summarizing the highlights.
| | |
| --- | --- |
| Top 3 Gainers Last Week | Top 3 Losers Last Week |

Returns are as of the last trading day of the previous week.
Featured Clip
Ted Dixon on Howe Street October 8th
In his latest Howe Street Interview, INK CEO Ted Dixon reviews our three core investment themes highlighted in the Monday market report. He hits them off in order and most of the material will not be new to regular readers of the report. In the second section on innovation and improvisation, he adds a little colour about the cannabis area.
Insider of the Week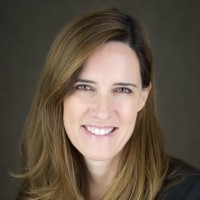 Jennifer Bath, CEO of ImmunoPrecise Antibodies (IPA)
ImmunoPrecise CEO Jennifer Bath was on Fox News on Sunday, October 4th to discuss antibody treatment. The company has a number of antibody treatments in development that target COVID-19 and other diseases. The interview focuses broadly on the potential role of antibodies in fighting COVID-19 in relation to President Trump's use of experimental antibody therapy treatment REGN-COV2 from Regeneron (REGN). Jennifer also appeared on BNN Bloomberg on October 7th.
INK Canadian Insider Index
1 Year Total Return Performance




Historical Performance

Annualized Total Return as of October 9, 2020 04:49 pm

| | |
| --- | --- |
| 1 Year | 4.82% |
| 3 Years | -1.35% |
| 5 Years | 3.89% |
| 10 Years | 6.51% |
To start receiving a PDF version of this newsletter by email select it in your
alert settings
. If you do not have an account, join us
here
.