Watching for crude clues after tariff Thursday
August 6th, 2019
While Canadian mid-cap stocks had their mid-week recovery cut short on Thursday after the Trump administration threatened more tariffs on China, it may be too soon to throw in the towel on the notion that they can outperform US mid-caps for the rest of the year. We will continue to watch crude oil as a signal of the health of the overall global economy. If crude can hang in there despite the trade war heating up, Canadian stocks would likely benefit from inflationary forces, driven by a rush of global central bank easing. Interestingly, while the INK Canadian Insider Index fell 0.9% last week, it outperformed the large-cap S&P/TSX 60 Index which dropped 1.8%.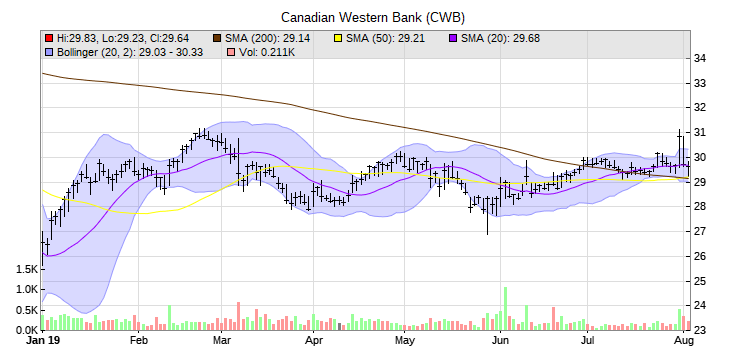 Along with crude, we will be keeping a close eye on Canadian Western Bank (CWB) which has exposure to both the oil patch and the Canadian consumer, two key drivers of the Toronto market. The stock jumped above $30 on July 31st only to give back those gains on tariff Thursday. If the bank can regain its steam, it would be supportive of a relatively bullish case for Canadian mid-caps in our view.  In an early encouraging sign, the stock closed up four cents Tuesday to finish at $29.68.
In what can only be described as a stunning development, precious metals stocks grabbed 17 spots in our monthly Top 40 report. We believe that is a record. The strong showing of gold stocks and other defensive names suggests that investors should have exposure to precious metals and safety in their portfolios as we wait for confirmation from crude oil that the global economy, at least in nominal terms, is going to be alright.
While gold and defensive stocks were big winners in the Top 40 allocation, Energy stocks continue to punch below their weight with only two stocks on the list.
| | |
| --- | --- |
| Top 3 Gainers Last Week | Top 3 Losers Last Week |

Returns are as of the last trading day of the previous week.
Featured Clip
Tariff threats a treat for gold
On August 1st, Ted Dixon was interviewed by Jim Goddard of HoweStreet.com. In the interview, Ted notes that continued trade uncertainty, particularly with regard to a US-China deal, could be good news for gold as Fed Chairman Powell has indicated that trade uncertainty could be something that triggers more rate cuts.
Insider of the Week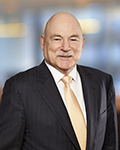 Alan Hill, Chairman at Teranga Gold (TGZ)
Before becoming CEO of West Africa-focused Teranga Gold in 2010, Alan Hill spent 5 years in hurry-up-and-wait mode at Gabriel Resources (GBU). The Romania-focused miner fought a losing battle against environmentalists who have to this day successfully blocked the development of the Rosia Montana Gold mine in Transylvania. However, the long-time industry veteran did not have to wait long at Teranga to achieve some production success. In 2010, the year Teranga held its IPO, it produced 16,267 gold ounces at its Sabodala Gold Mine in Senegal. That production had grown to 214,130 ounces in 2012, the year he transitioned to Executive Chairman of the company. He is currently non-Executive Chairman.
INK Canadian Insider Index
1 Year Total Return Performance




Historical Performance

Annualized Total Return as of August 6, 2019 04:49 pm

| | |
| --- | --- |
| 1 Year | -13.65% |
| 3 Years | 1.27% |
| 5 Years | 1.76% |
| 10 Years | 9.29% |
To start receiving a PDF version of this newsletter by email select it in your
alert settings
. If you do not have an account, join us
here
.