A warning sign from precious metals
July 18th, 2021
Jared Dillian of the Daily Dirtnap is not giving up hope on the inflation trade. When he appeared on the Daily Briefing Thursday he said, "The inflation trade worked for about six months, and now it's correcting."  As for why bond yields are falling even as inflation is soaring, he is rolling with the punches, saying, "The markets tend to do what screw the most people, most of the time". That seems to be the case over the past few months as the market grapples with competing forces of inflation and deflation fears. In fact, the inflation-sensitive INK Canadian Insider (CIN) Index is essentially flat over the past 90 days.
Last week, the INK CIN Index retreated sharply, off 3.6% as deflation fears jumped. Much of the pullback happened Friday, the same day that the Gold/Silver Ratio advanced to close at 70.57, the highest closing level since January 28th. However, in the winter, the ratio was falling which signalled that deflation fears were also falling. As the ratio falls, growth-oriented silver is outperforming gold. The ratio put in a 2021 low of 62.78 on February 25th and a high of 71.84 on March 31st. Right now the ratio is near the top of that range and sending a warning sign for inflation and growth-oriented assets.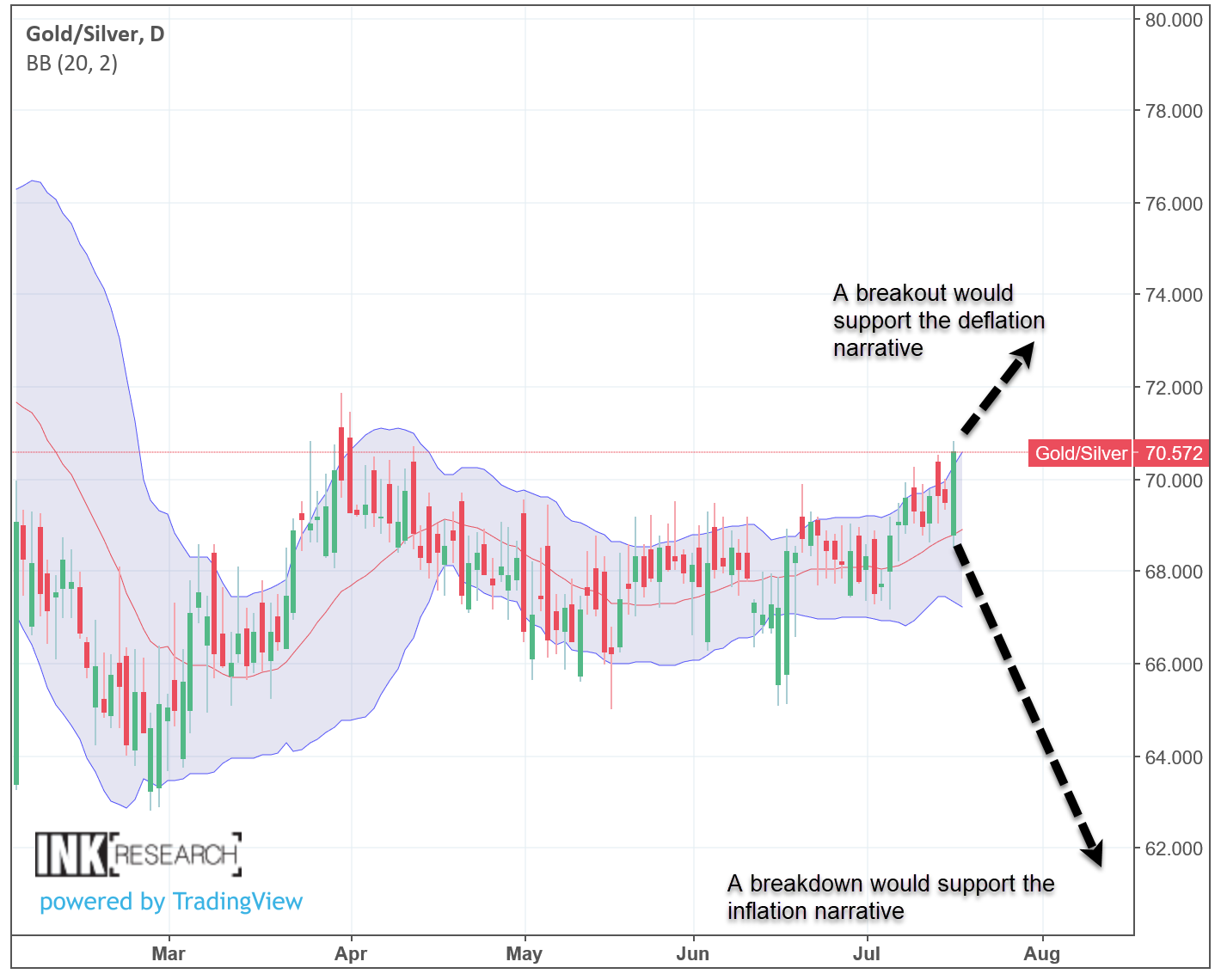 The Gold/Silver Ratio is at precarious heights (click for larger)
We have heard plenty of deflation narratives over the past year. The pandemic was supposed to be the straw that broke inflation's back for good. Of course, anyone who bet on that narrative a year ago lost their shirt. But, COVID-19 is back in the deflationist spotlight as cases jump on the back of the spreading delta-variant. Indeed, the worst-performing INK CIN Index stock last week was Turquoise Hill Resources which tumbled Friday on news that COVID-19 restrictions had hit production in Q2.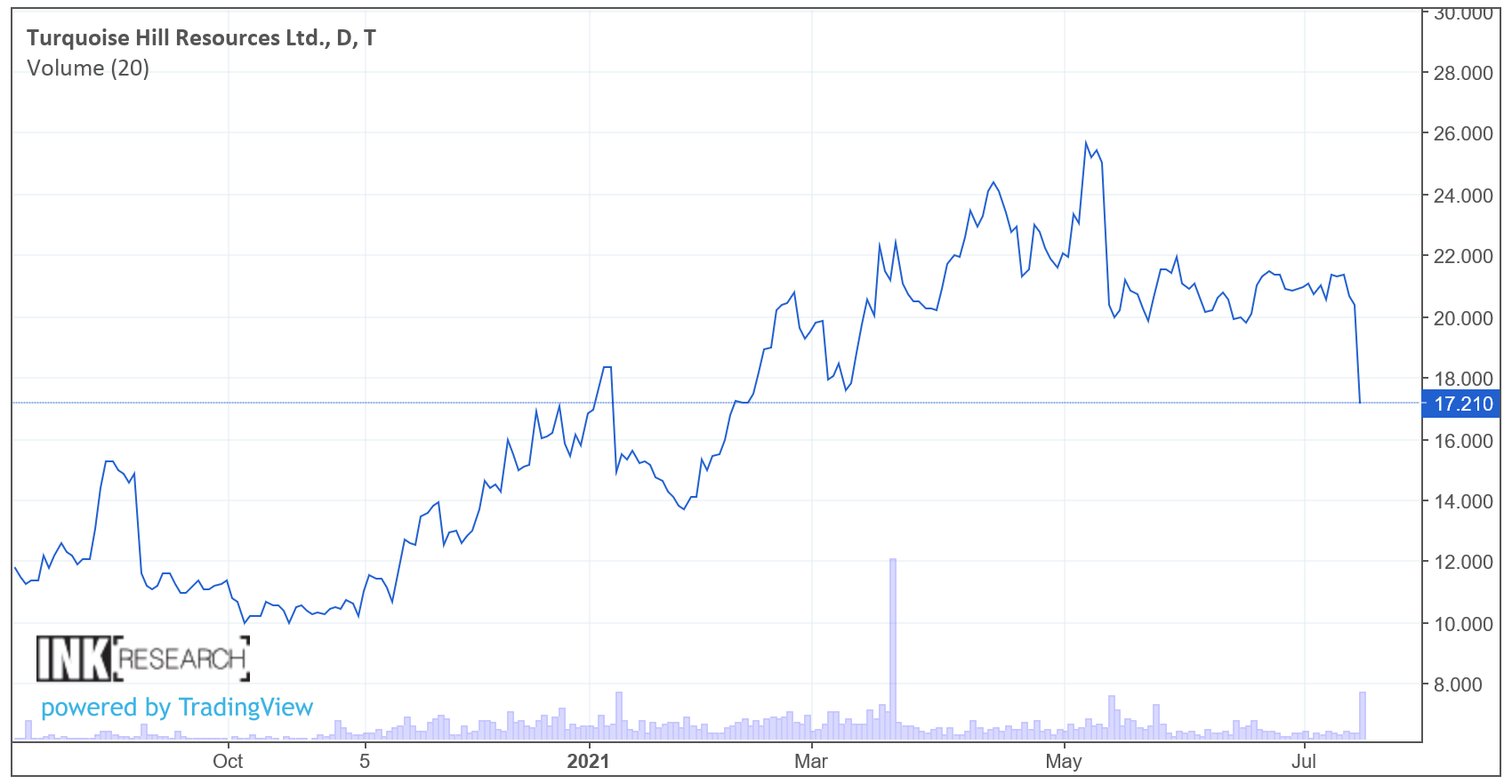 Turquoise Hill Res. stock was hit with a bad case of COVID-19 jitters on Friday (click for larger)
So, will COVID-19 finally vindicate the deflation camp? On its own, we doubt it. India, which was an epicentre of the delta-variant, has seen its cases drop back to levels seen last fall according to OurWorldinData.org. Nevertheless, we have some sympathy with the argument that lingering COVID-19 variants may be a factor in lowering growth expectations as governments let stimulus programs lapse.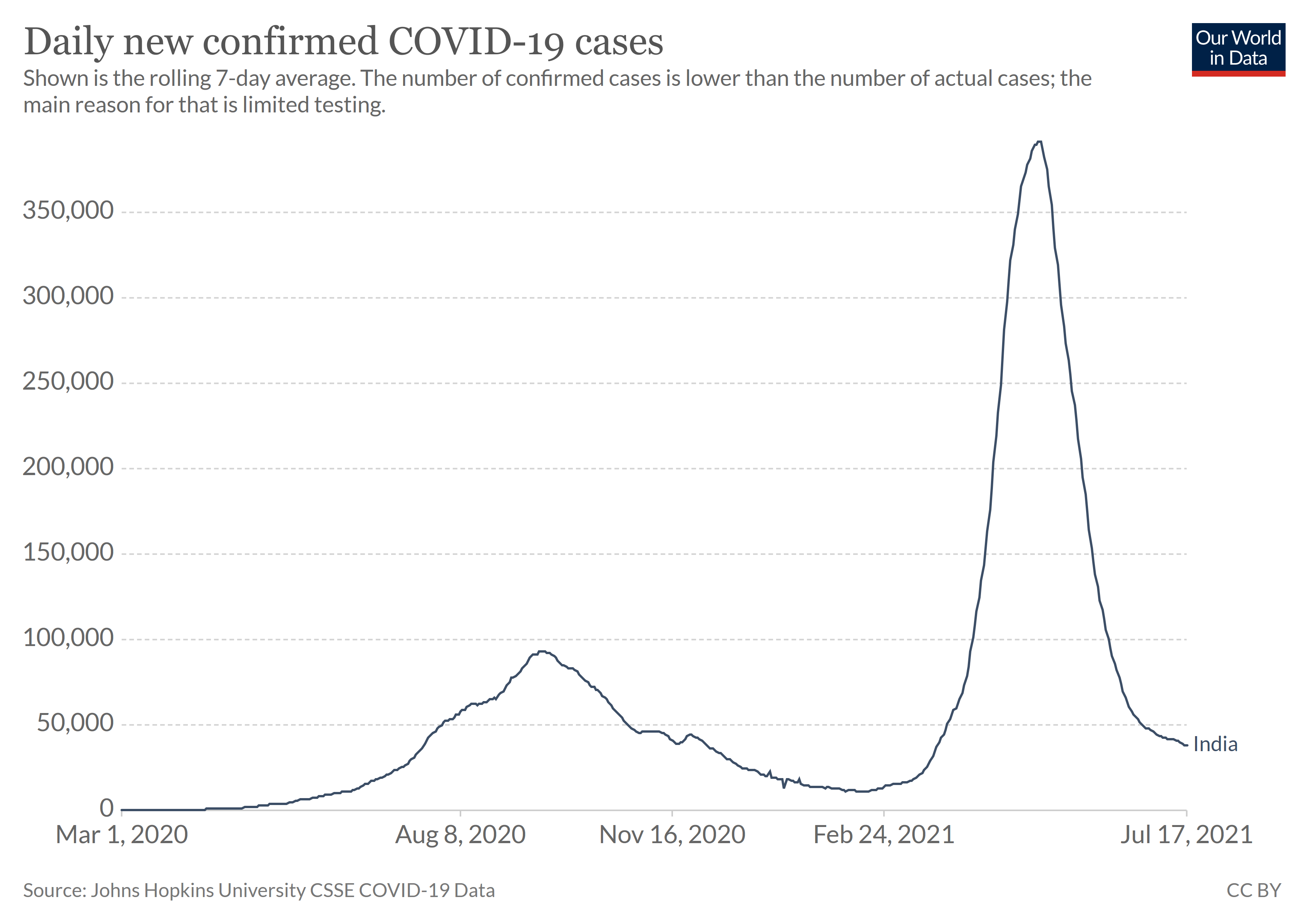 COVID-19 cases have plunged in India
Unfortunately, the strong oil price may also be whipping up a brisk headwind for the growth bulls. While consumer spending is on the rise, consumer confidence appears to be dropping in tandem with rising gasoline prices. Going forward, the direction of the oil price may be just as important as the trend in COVID-19 for global markets. The world is in no shape to stomach higher interest rates due to huge debt loads, and the same may also be true of higher oil prices.
Should the gold-silver Ratio move above 72.00 for most of next week, we would be concerned that deflation or serious stagflation is on the horizon. In that scenario, we would start to aggressively re-assess our outlook for the fall and early winter. However, as we will address in our Monday market report, we still believe the foundation remains in place for a resumption in the bull market for inflation-sensitive Canadian stocks, despite the tremors of the past week.
Meanwhile, in the INK Edge Top Movers Report for the week ended July 17th, we have seen some constructive insider activity in the crypto-equity area. That said, we would need to see significantly more bullish activity before we start to have conviction that medium-term bottoms have been formed for bitcoin and other cryptocurrencies.
| | |
| --- | --- |
| Top 3 Gainers Last Week | Top 3 Losers Last Week |

Returns are as of the last trading day of the previous week.
Featured Clip
Insider of the Week
Sheldon Inwentash
Sheldon Inwentash has been a familiar face in Canada's Venture and junior markets for more than two decades. We have noticed that he has been showing up in our insider trading reports as a buyer recently and we featured some of his activity in our July 16th morning report. His notable involvement in the junior markets over the past year should provide some inspiration for those speculators who are hoping that this decade will belong to Canadian microcap stocks. On that front, so far so, good. Since the end of 2019, the S&P/TSX Venture Index is up 57% versus 34% for the S&P 500. Given the performance gap, perhaps we should not get too concerned about a summer lull in the junior markets.
INK Canadian Insider Index
1 Year Total Return Performance




Historical Performance

Annualized Total Return as of July 16, 2021 04:49 pm

| | |
| --- | --- |
| 1 Year | 62.20% |
| 3 Years | 8.64% |
| 5 Years | 9.66% |
| 10 Years | 8.76% |
To start receiving a PDF version of this newsletter by email select it in your
alert settings
. If you do not have an account, join us
here
.