Waiting for Washington
March 12th, 2020
With the Saudi Arabia-Russia crude oil price war erupting along with the increasing number of COVID19 cases emerging in the United States, the global economy is facing the biggest challenge since the great financial crisis (GFC). As we wrote in our market report for INK subscribers and Canadian Insider Club members on Monday, we believe the key issue for Canadian equities would be what  type of policy response we get from the United States.
However, unlike the GFC, we said we would need to see both a public health and economic response. The health response will be necessary to drive down the number of new cases which is likely to grow. While we cannot predict what will be required, we suggested it may involve quarantines of entire areas such as what is taking place in Italy, and prohibitions of attending popular sporting events such as March Madness basketball. On the economic side, we said we expect interest rates will head quickly towards zero combined with a significant fiscal stimulus package. The Fed will also have to get its act together on its inflation targeting strategy.
Once those measures take shape, we expect a similar scenario to unfold as we witnessed in the wake of the GFC where international and economy-sensitive equities will lead the way higher. We are not there yet, but since our Monday report, some elements have started to come into place. Sporting events are being postponed or played without spectators and the Fed is injecting billions of dollars into the financial system to help their pals on Wall Street.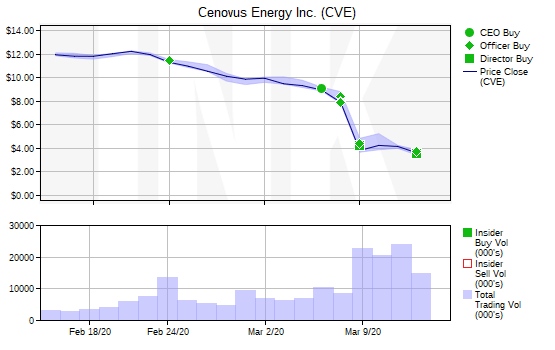 Cenovus Energy is one of many stocks with insider buying during the sell-off
Based on our experience in the GFC, the key signal we will be monitoring is our INK Indicator which measures the number of stocks on the TSX with key insider buying versus those with selling. Insiders are buying and once we see peak insider buying, we expect a major support level for Canadian equities will have been established. Given the likely pro-inflationary policy response coming from Washington, we expect that Canadian stocks may be one of the eventual early winners. However, if it does play out as we expect, the timing is uncertain.
| | |
| --- | --- |
| Top 3 Gainers Last Week | Top 3 Losers Last Week |

Returns are as of the last trading day of the previous week.
Featured Clip
A near million-dollar bet on healthier days
In a free Ultra Money video, we look at Teck Resources (TECK) where insiders have spent more than  $1 million picking up shares. Teck Resources (TECK) could perform well if China gets back on its feet quicker than expected and the world manages to dodge a potential pandemic. Canadian Insider Ultra Club members have access to both premium and free content. If you are not a Canadian Insider Club Ultra member, now is a good time to join us to get full access to Real Vision and INK Research premium videos. Use coupon code SPRING20 for a $100 discount off a new 2020 membership (renewals will be at the regular price unless cancelled before the end of term which is easy to do). Stay on top of what insiders are signalling about the direction of stocks and markets, join us today.
Insider of the Week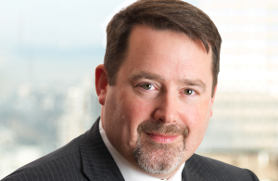 Alex Pourbaix, CEO of Cenovus Energy (CVE)
As we noted in our March 6th Morning Report, Mr. Pourbaix spent more than $500,000 picking up Cenovus shares in the public market last week. He led other insiders at the firm who have spent at least an additional $900,000 or so picking up shares after he bought, including this week as the stock fell further due to the crude price war.
INK Canadian Insider Index
1 Year Total Return Performance




Historical Performance

Annualized Total Return as of March 12, 2020 04:49 pm

| | |
| --- | --- |
| 1 Year | -27.39% |
| 3 Years | -9.46% |
| 5 Years | -3.57% |
| 10 Years | 3.46% |
To start receiving a PDF version of this newsletter by email select it in your
alert settings
. If you do not have an account, join us
here
.