Venturing into the summer
June 25th, 2020
Our INK Indicator which tracks insider sentiment towards TSX-listed stocks appears to be bottoming out which often coincides with share price highs. However, these are not normal times so we will have to see if the cautious signal is little more than a false alarm. Moreover, our indicator remains at an elevated level, well above 100% meaning there are still more stocks with insider buying on the TSX than there are with selling. This is in contrast to the United States where there is more insider selling than buying. At the very least, we remain upbeat about Canadian stocks over the next few months even if they might be due for a short-term correction or consolidation.
Meanwhile, our G-economy scenario of government-led inflation received a lift last week as Treasury Inflation Protected securities in the United States as tracked by the iShares Barclays TIPS Bond Fund (TIP) rallied to reach levels not seen since April 15th. While short-term measures of inflation are low or even negative, more investors are starting to hedge greater inflation down the road. Our inflation-sensitive INK Canadian Insider Index also had a good week, advancing 1.6%, edging out the S&P/TSX Composite Index, up 1.4%.
The big winner last week was the Canadian junior market as measured by the S&P/TSX Venture Index (+2.2%) which is finding some momentum on the back of junior mining stocks. Junior market insider sentiment as tracked by our Venture Indicator remains in a bullish pattern on both short and long-term bases. For those with high risk tolerances, venture stocks with bright INK Edge outlooks could provide opportunity as part of our fourth core investment theme: preparing for a monetary reset with exposure to hard asset and cryptocurrency opportunities.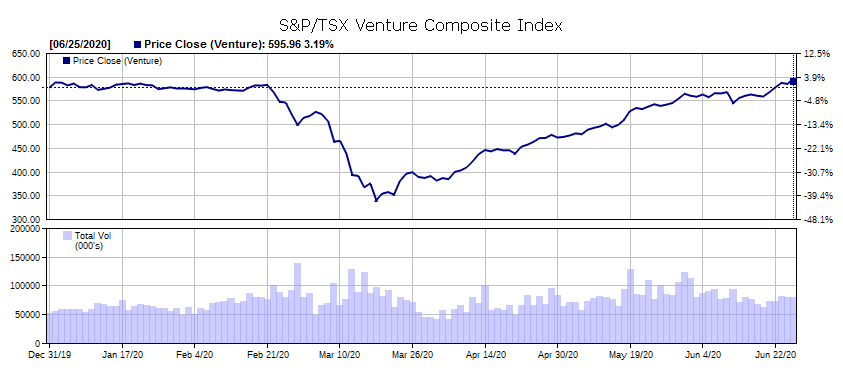 The Venture Index's rally has continued this week, setting a year-to-date high Thursday.
The Canadian Insider Club is a great place to source junior stock opportunities. Every trading day using our quantitative insider screens, we highlight an actionable trading idea. We cover the entire Canadian market in the daily report, from dividend payers to junior mining. Check out our membership page to see some of our recent quick wins such as Teranga Gold (TGZ) which more than doubled after first mention earlier this year. As a reminder, we are member supported and do not accept payments for stock coverage.
Risk-tolerant investors should also keep an eye on developments in the cryptocurrency space. Blockchain development has continued following the 2017 Bitcoin blow-off, and a race is now on among the different cryptocurrency systems to see which ones will prevail. In Monday's morning report, we highlighted TAAL Distributed Info (TAAL) which is working on industrial applications using the Bitcoin SV network. Meanwhile, competing Ethereum network-based developers have developed financial applications that offer lenders deposit rates well above US LIBOR. Like LIBOR, crypto deposits are not insured. In addition, crypto deposits have their own distinct set of risks and are not easy to obtain. However, they are emerging as a high-yield alternative that will likely attract more capital the longer central banks leave administered interest rates near or below zero and yields on junk bonds remain suppressed due to Federal Reserve market intervention.
Between gold, miners, and digital assets, our fourth core investment theme may have some legs in the weeks ahead. See the INK market report for the complete list of our core investment themes. The report is included in a Canadian Insider Club membership or can be purchased from the Canadian Insider store.
| | |
| --- | --- |
| Top 3 Gainers Last Week | Top 3 Losers Last Week |

Returns are as of the last trading day of the previous week.
Featured Clip
Insider of the Week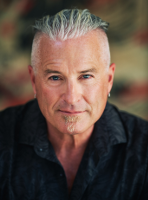 Calvin Ayre, 10% holder of TAAL Distributed Information Technologies (TAAL)
In May, TAAL announced that Canadian-Antiguan billionaire Calvin Ayre had converted his debentures into 9,256,763 TAAL common shares and would be joining the company's advisory board. The Saskatchewan-born entrepreneur made his fortune in online gaming but has now turned his attention to the development of Bitcoin SV. He is the largest insider equity holder at the firm. We featured TAAL in our June 22nd morning report.
INK Canadian Insider Index
1 Year Total Return Performance




Historical Performance

Annualized Total Return as of June 25, 2020 04:49 pm

| | |
| --- | --- |
| 1 Year | -12.77% |
| 3 Years | -4.94% |
| 5 Years | -0.84% |
| 10 Years | 5.69% |
To start receiving a PDF version of this newsletter by email select it in your
alert settings
. If you do not have an account, join us
here
.