A V-shaped recovery already?
March 29th, 2020
During the COVID-19 crisis, we are keeping focused on what insiders are signalling with respect to a potential floor for stocks. We will have the signal once the INK Indicator which tracks the number of stocks with key insider buying versus those with key selling peaks. Such a peak indicates peak insider buying which tends to take place near significant support levels for stocks. The signal worked out well during the great financial crisis as it peaked in the late fall of 2008, coinciding with a floor in junior and emerging market stocks.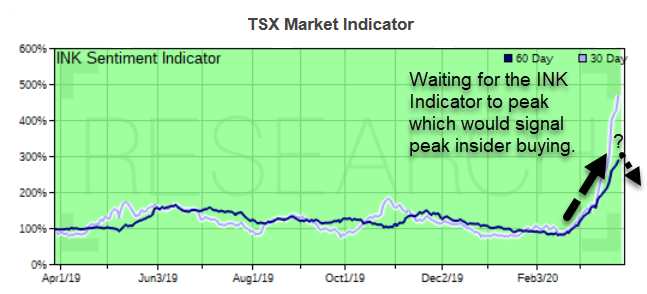 Still no insider confirmation of a floor in stocks
As of Friday morning March 27th, we did not yet have our peak. However, with the indicator above 260%, we appear to be getting very close. At 260% there are 2.6 stocks with key insider buying for every one with selling. As we wait for a peak in insider buying, we are also eagerly awaiting a peak in new reported COVID-19 cases in Canada. The country recorded a new high of 898 daily reported cases on March 28th according to the University of Toronto. Given the slowing growth of new cases in BC which was one of the first provinces hit with the pandemic, there may be room for some optimism as other provinces are employing similar containment strategies.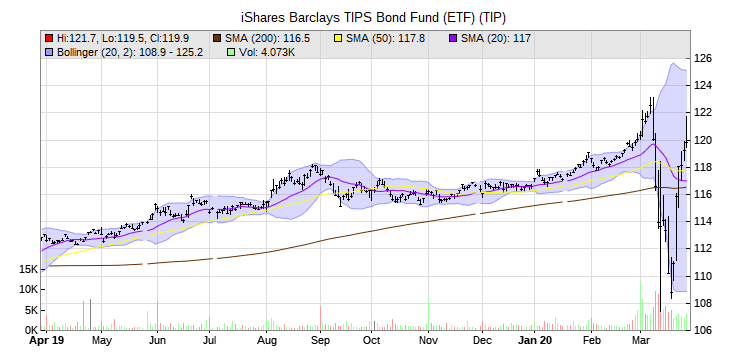 The demand for inflation protection has recovered quickly
Meanwhile, investors are trying to assess what the landscape will look like once the virus is under control. There is plenty of economic damage being done. One area that seems to be recovering is inflation expectations, or at least the demand for insurance against it. The iShares Barclays TIPS Bond Fund ETF (TIP) which holds US government inflation protected bonds has recovered 11% since hitting a flash-crash low on March 12th. Its V-shaped recovery strengthens the case for a G-economy outcome which we discussed in last week's newsletter.
| | |
| --- | --- |
| Top 3 Gainers Last Week | Top 3 Losers Last Week |

Returns are as of the last trading day of the previous week.
Featured Clip
Insider of the Week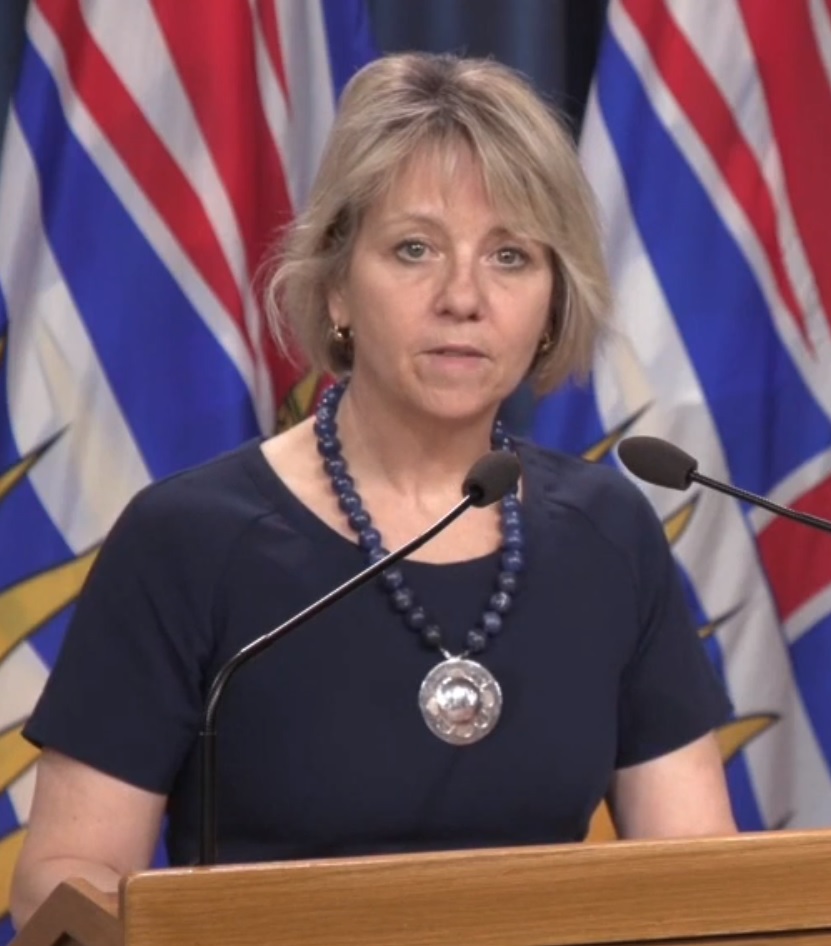 Provincial Health Officer for British Columbia
For insider of the week, we have picked Dr. Bonnie Henry the provincial health officer of INK's province of British Columbia. In fact, it we could have picked any provincial or state health officer as this group of health insiders will have a major impact on our mutual well-being in 2020 and beyond. The BC strategy of stay-at-home social distancing plus strategic testing is showing some tentative signs of success. The 10-day growth rate of new cases in the province appears to have peaked on March 19th at just over 50%. It is now approaching 10%. 
INK Canadian Insider Index
1 Year Total Return Performance




Historical Performance

Annualized Total Return as of March 27, 2020 04:49 pm

| | |
| --- | --- |
| 1 Year | -33.58% |
| 3 Years | -12.54% |
| 5 Years | -5.58% |
| 10 Years | 2.41% |
To start receiving a PDF version of this newsletter by email select it in your
alert settings
. If you do not have an account, join us
here
.