Uranium and Solana sizzle
September 12th, 2021
Last week, uranium was on just about everyone's radar screen, from newsletter writers to Real Vision. Fission Uranium (FCU), which was the previous week's top INK Edge mover, soared from its Tuesday open of 82 cents to close the week at $1.00. We did our part at INK by releasing our full uranium coverage list for members in our #stock_ideas-mining channel.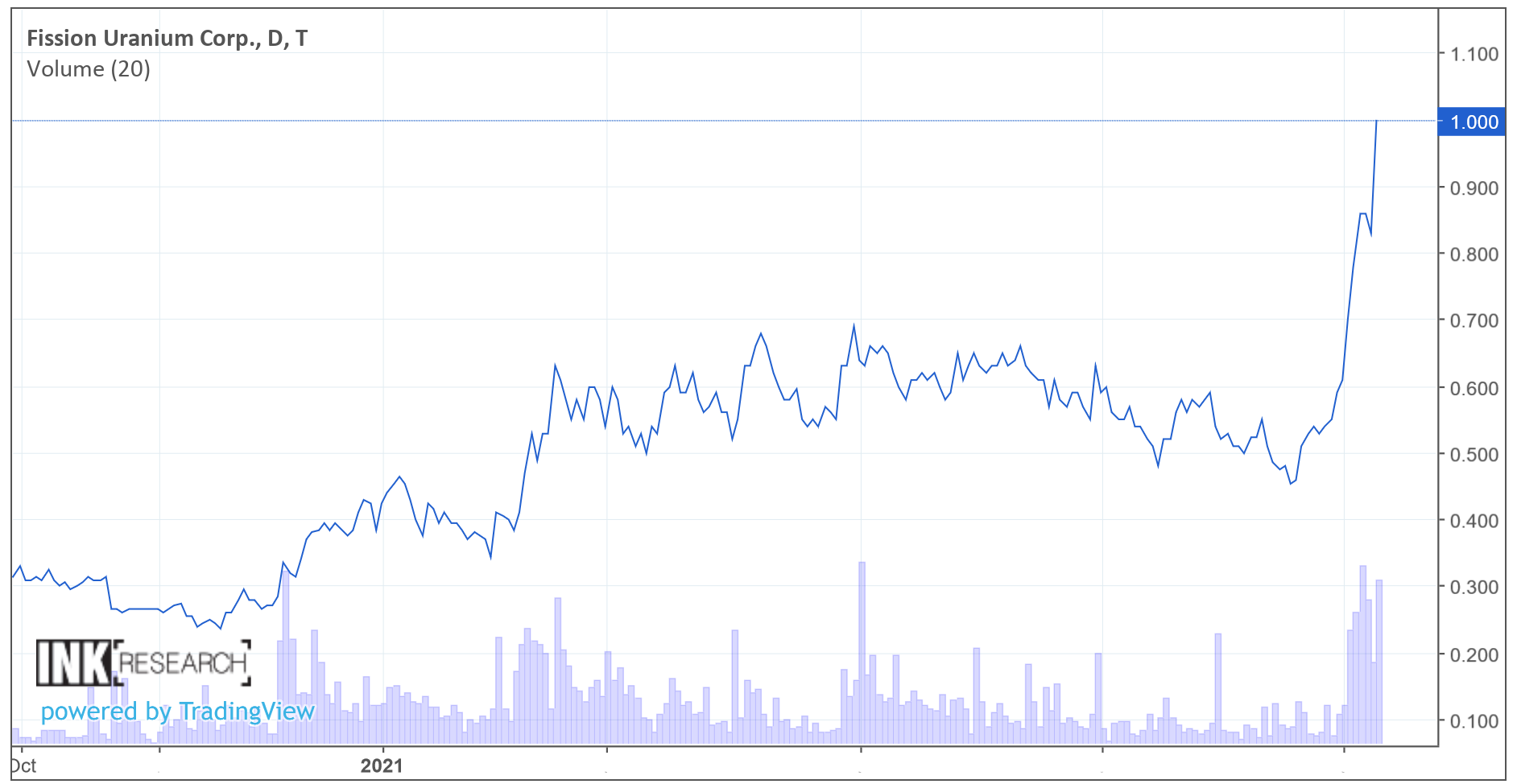 Fission Uranium was the September 4th Top INK Edge Mover
Unfortunately, the top mover's list for the week ended September 11th is not quite as inspiring as the one from September 4th. Nevertheless, a uranium stock was once again the top mover and you can find out who it was here.
If there is one asset that has received more attention than uranium over the past week it is cryptocurrency Solana (SOL). In fact, SOL is up about 300% against the US dollar since we discussed it in our #Innovation-cypto_blockchain channel on June 8th.

Unfortunately, Solana is hard to buy in Canada as it is not currently available on most local exchanges. The Coinbureau provided an update on Solana Saturday along with a suggestion on how it can be bought. Please remember that all cryptocurrencies are very risky and 100% loss is possible.
That said, we are focusing on Solana a lot because we believe it has the potential to disrupt the traditional rent-seeking stock exchanges. For example, the TMX Group (X) charges burdensome fees for data and those fees are even protected by the OSC! Meanwhile, Solana and other blockchains also have the potential to destroy the business models of the oligarchs in the payment system, namely Mastercard (MA) and Visa (V). While both network giants continue to squeeze small businesses with high fees, the great credit card premium fee party may be ending. Mastercard stock is off about 6% since we warned about it here on July 8th. Over the same period, the S&P 500 Index rose about 3%.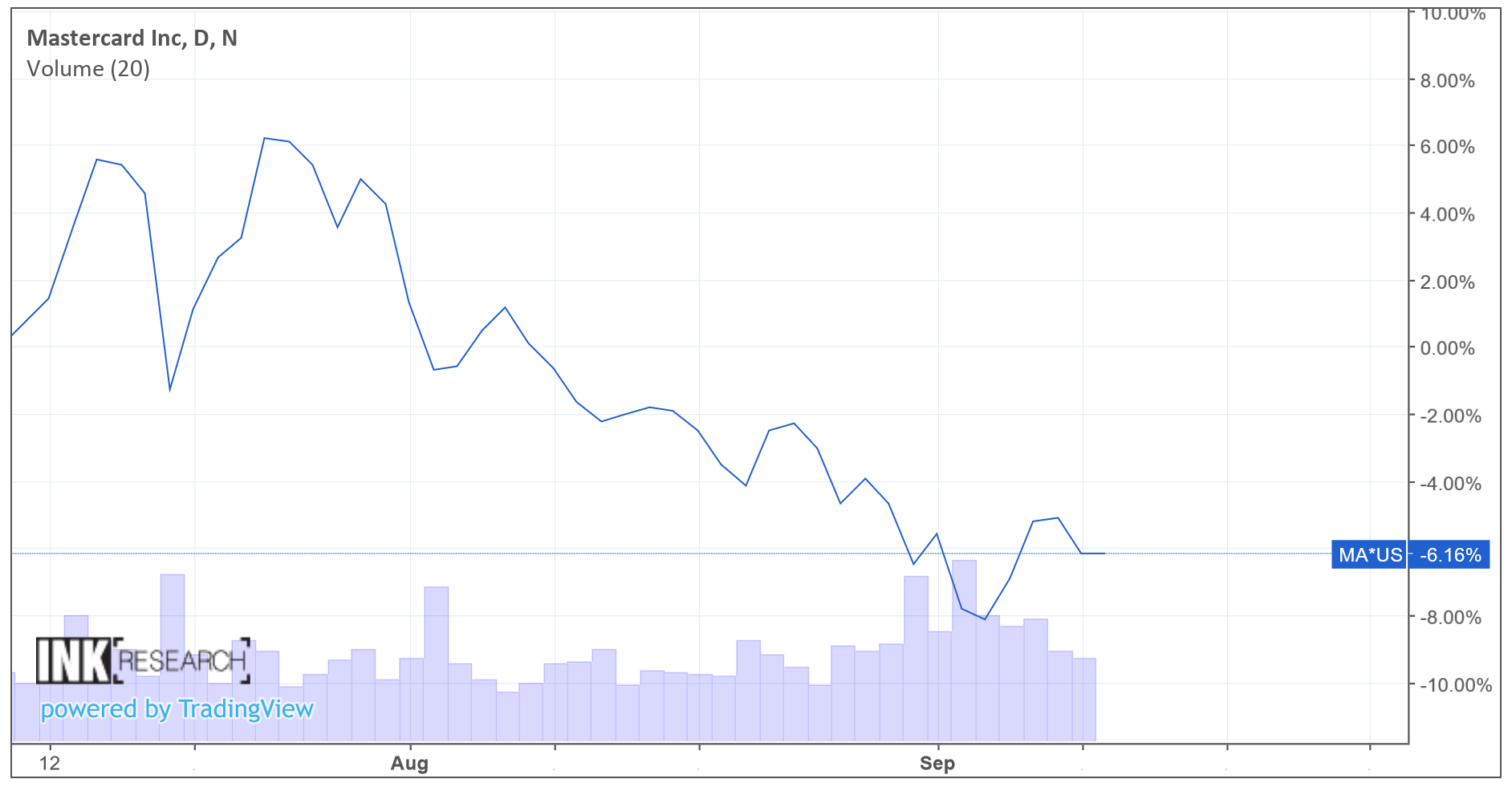 Mastercard has dropped 6% since we warned about it here on July 8th
Our overriding mission at INK extends beyond reporting on insiders. If we only wanted to be an insider data company, we would not have invested in fundamental data, Real Vision video feeds, INK Chat and live quotes for retail investors. Our big mission in life is to help our individual members build and protect wealth.
We are on this journey through a global capital market that has been commandeered by vested interests including the passive index fund industry and machines. Later this week, we will be explaining how we are going to provide our complete Canadian INK Edge universe for all our members in INK Chat. It is taking some time because we want to reduce the ability of algorithm-based machine shops from simply grabbing the data and outrunning everyone else to trade on it. Meanwhile, if you are a member and have not registered for INK Chat, please do so today. If you are not a member, you can join us today via Canadian Insider for as little as one Litecoin.
Finally, while the media is focused on non-fungible token (NFT) mania, Real Vision released a series of videos last week focusing on community tokens starting on September 6th. We believe community tokens are going to emerge as the cornerstones of most websites in the years ahead. Stay tuned for more from Real Vison on community tokens in the weeks ahead on INK Ultra Money.
| | |
| --- | --- |
| Top 3 Gainers Last Week | Top 3 Losers Last Week |

Returns are as of the last trading day of the previous week.
Featured Clip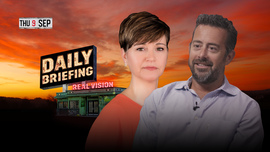 Tony Greer still bullish on commodities
In the September 9th Daily Briefing, Tony Greer makes the case for Bitcoin, industrials metals, financials, and oil even as he acknowledges that FANG stocks have the wind at their back.
Insider of the Week
Jeremy Sewell
Blockchain infrastructure company Bitfury has been reducing its stake in HUT 8 Mining (HUT), However, the former CFO of Bitfury has been doing just the opposite. On September 2nd, he spent $2 million buying HUT shares in the public market. That was big enough for us to only make him our insider of the week, but also to be highlighted in our weekly Globe and Mail Who is Buying and Selling feature this weekend.
INK Canadian Insider Index
1 Year Total Return Performance




Historical Performance

Annualized Total Return as of September 10, 2021 04:49 pm

| | |
| --- | --- |
| 1 Year | 60.95% |
| 3 Years | 12.26% |
| 5 Years | 10.25% |
| 10 Years | 10.64% |
To start receiving a PDF version of this newsletter by email select it in your
alert settings
. If you do not have an account, join us
here
.