Uncertainty remains about durability of the rally
April 20th, 2020
Investors piled into stocks last week with the inflation-sensitive INK Canadian Insider (CIN) Index now up 24% over the past month, outpacing in local currency terms even the S&P 500 which is up 19.9% over the same period. That type of relative performance supports our G-economy case which describes a world dominated by government-led inflation. Moreover, the advance has taken place even as oil languishes. At some point, oil will find a bottom, and it will start contributing to inflation.
Meanwhile, we see glimmers of price excitement in some non-oil parts of the resource sector. Natural gas jumped on Monday as crude oil slumped. In the wake of the WTI crude spot price plunging into negative territory, natural gas stocks benefited. Tourmaline Oil, which is actually a natural gas producer, was the top INK CIN Index gainer last week and it also led the index higher on Monday. The INK CIN Index advanced 0.85% even as the S&P 500 fell 1.8%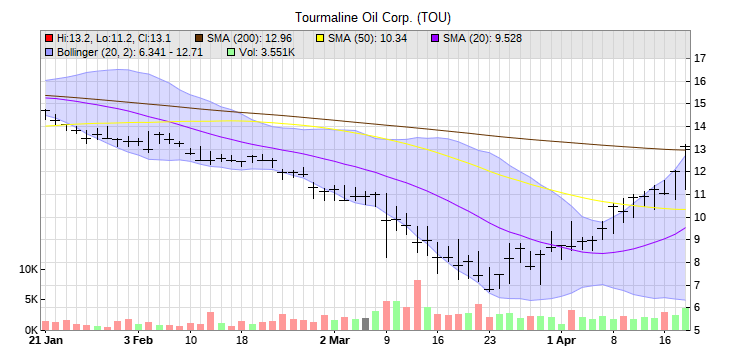 Tourmaline Oil jumped 9.1% on Monday on hopes of less competing US shale production
The case for some exposure to Canadian mid-caps right now makes sense based on a rebound in inflation expectations fueled in no small part by massive fiscal and monetary stimulus in North America. However, we would not go all in at this point.
Our INK Sentiment Indicator, which often peaks near significant share-price bottoms, has yet to confirm that March 23rd was a significant low for stocks. While the indicator could simply be late, we continue to maintain a healthy degree of skepticism towards the durability of this rally. Perhaps the back-to-work excitement that helped propel stocks forward last week will end up being justified, and we hope that is the case. However, the wall of worry that stocks must climb from here remains high. A setback to back-to-work plans in the United States, Germany, or even Austria could give investors second thoughts, even if last week's sad setback in Singapore has been ignored by algorithms. AI-driven trading may still be in the process of learning a thing or two about this crisis, just like the rest of us.
Nevertheless, the amount of stimulus suggests to us that an eventual G-economy outcome remains likely. The big question that we believe has yet to be answered is whether we will have to experience more of the D-economy first. Two months of stock market weakness seems like a very short time.
As you look for opportunities during periods of market weakness, let the insiders help. Join us as a Canadian Insider Club Ultra member for access to INK premium insider reports and Real Vision videos. Tuesday is your last day to save 50% annually on a Club or Club Ultra membership. Listen to Ted Dixon's April 8th Howe Street interview for the coupon to use at checkout to save 50% every year until you cancel.
| | |
| --- | --- |
| Top 3 Gainers Last Week | Top 3 Losers Last Week |

Returns are as of the last trading day of the previous week.
Featured Clip
COVID-19 contrarians: Corus Entertainment jumps up the INK charts
In our April 13th morning report video, we looked at Corus Entertainment (CJR) which was making strides up our INK Edge ranking charts, in part due to significant insider buying by our insider of the week.
Insider of the Week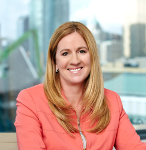 Heather Shaw, Non-Independent Executive Chairman of the Board of Corus Entertainment (CJR)
Ms. Shaw has been the Executive Chair of Corus since the firm was founded in 1999. Previously, she has also been a director of Shaw Communications (SJR) and Shawcor (SCL). She has carried on the Shaw family culture of insider commitment, buying a significant number of shares in Corus Entertainment which we featured in our April 13th morning report and the featured broadcast.
INK Canadian Insider Index
1 Year Total Return Performance




Historical Performance

Annualized Total Return as of April 20, 2020 04:49 pm

| | |
| --- | --- |
| 1 Year | -22.91% |
| 3 Years | -8.35% |
| 5 Years | -2.64% |
| 10 Years | 3.92% |
To start receiving a PDF version of this newsletter by email select it in your
alert settings
. If you do not have an account, join us
here
.