Tax-loss selling season should have lots of energy
November 28th, 2020
The gift-giving season of tax-loss selling is just around the corner as investors sell their losers in the year to harvest tax losses. This type of selling can provide short-term buying opportunities as many of the sales transactions are motivated by tax considerations instead of the fundamentals. In terms of tax-loss selling in Canada, according to the TSX, the last trading day with a settlement day in 2020 is Tuesday, December 29, 2020 (please consult a tax professional before making any tax-related decisions).
The trick in taking advantage of the tax-loss selling season is to identify the stocks that are likely to rebound once tax loss selling ends. At INK, we let the insiders guide us towards tax-loss selling opportunity. Last December, we highlighted several stocks that our insider screens identified as potential tax-loss selling related buying opportunities, and most of them delivered above-average returns in the month after tax-loss selling ended. They are listed here:
Millennial Lithium (ML) +28.6%
Osisko Metals (OM) +22.0%
Sleep Country (ZZZ) +3.8%
Taseko Mines (TKO) +3.3%
Nutrien (NTR) -10.3%
INK Canadian Insider Index -0.1%
In the chart below, by the end of the first two weeks of January, all five stocks had positive returns and had outperformed the INK Canadian Insider Index since the end of tax loss selling which was December 27, 2019.
Returns of Millennial Lithium and other 2019 INK Tax-Loss Selling Stocks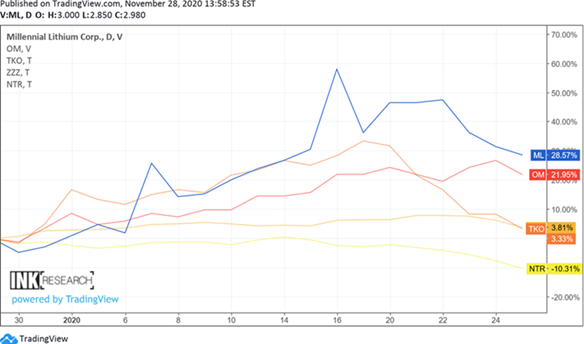 Returns of tax-loss selling insider stocks, December 27, 2019 to January 27, 2020 (click to enlarge)
Following the first two weeks, clear winners had emerged, with Millennial Lithium delivering the highest returns. In four out of five cases, subsequent one-month returns from the last day of tax-loss selling were higher than the Index.
While oil & gas stocks have rallied recently, the S&P/TSX Capped Energy Index remains down 37.4% so far this year.  As such we expect oil patch names to be among the stocks with tax-loss selling in the weeks ahead. On Friday, in the INK morning report Insiders bet on a Total Energy turnaround, we set the stage for the tax-loss selling season. We noted that while Total Energy Services (TOT) stock had rebounded sharply over the past month, it remained down more than 50% for the year, which should bring some tax loss sellers out.
While we expect insiders to point us towards plentiful tax-loss related opportunities in the oil patch, we are mindful that macroeconomic and political factors could dominate returns should events take a turn for the worst. This is a particular concern in the oil market. Consequently, we will also be keeping our eyes open for opportunities in other sectors where insiders are buying the tax-loss selling dips. 
We will be posting our INK Edge top movers for the week later this weekend in the INK Chat #stock_ideas channel. Canadian Insider Club members and INK Research subscribers are eligible for an invite. If you do not have your invitation link, please request one via the contact us form.
| | |
| --- | --- |
| Top 3 Gainers Last Week | Top 3 Losers Last Week |

Returns are as of the last trading day of the previous week.
Featured Clip
John Kaiser digs into the Paulson power play at Midas Gold (MAX)
In the opening segment of the November 25th edition of Discovery Watch, John Kaiser assesses John Paulson's proposed restructuring of Midas Gold (MAX). Paulson, who is our insider of the week, wants to see a strategic shift at the company and it is one that John Kaiser believes is misguided. Kaiser also provides an important overview of how to approach mining investments depending on whether we are in a benign or heightened inflationary environment. This is an issue that we believe will once again be of the utmost importance for gold mining investors in 2021.
Insider of the Week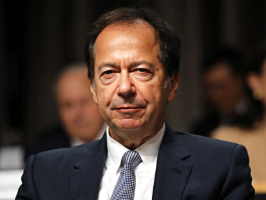 John Paulson, founder of Paulson & Co. Inc.
On November 20th, Paulson & Co. made waves when it sent a letter to Midas Gold employees in which it indicated that it wants to reconstitute the company's board by replacing 5 existing directors with US and Idaho-based replacements with the goal of making Midas a US-listed company focused on critical metals. According to Paulson & Co., it manages funds holding 209.4 million, or 44.1% of Midas shares outstanding.
INK Canadian Insider Index
1 Year Total Return Performance




Historical Performance

Annualized Total Return as of November 27, 2020 04:49 pm

| | |
| --- | --- |
| 1 Year | 8.87% |
| 3 Years | 1.32% |
| 5 Years | 6.77% |
| 10 Years | 7.07% |
To start receiving a PDF version of this newsletter by email select it in your
alert settings
. If you do not have an account, join us
here
.