Slipping greenback stokes Canadian stock gains
June 24th, 2019
The positive setup for Canadian stocks we observed in last week's letter remains in place as we head towards quarter end. The Fed's dovish policy statement on Wednesday helped shake out some of the bullish positioning in the US dollar which helped boost the prospects for commodities. The mid-cap-oriented INK Canadian Insider (CIN) Index advanced 2.3%, ahead of most major indices including S&P/TSX 60 and the S&P 500.
The move against US blue chips is even more impressive in light of the Canadian dollar's strong week, gaining more than 1 US cent last week. With Canadian and American inflation diverging in favour of Canada, talk of divergent interest rate policies is now tilting back in favour of the loonie.
In addition, Canada's long-suffering oil patch received a boost last week with the carbon-shy Federal government approving the Trans Mountain pipeline expansion. While shovels are not yet in the ground, at least the approval was a small step in the right direction. Meanwhile, we are beginning to have more confidence that Canadian Energy sector insiders are signalling a turn of fortunes for the group. Our Energy Indicator appears to have peaked which signals peak insider buying. Such peaks often coincide with share price lows. At this point, it appears the sector has formed a base this month to take a run at its 200-day moving average. Looking further ahead, we will have to see if there is enough momentum for the group to enter a long-term uptrend.
While stocks still face another test at the end of the month as China and the United States meet to talk tariffs, short of a major breakdown, Canadian stocks could surprise. If markets respond positively to the Trump-Xi summit planned for the G20 meeting in Osaka at the end of the month, Canada should benefit from continued confidence in the US economy. If markets start July off on an edgy footing based on the outlook for China-US trade, Fed chatter should remain dovish, helping to suppress potential US dollar strength.
Last week, resource and defence stocks led the INK CIN Index. Meanwhile, the laggards were Gran Tierra Energy, which dropped -7.6% on June 19th news of operational issues impacting production, along with consumer stocks Alimentation Couche-Tard and Dorel Industries.
| | |
| --- | --- |
| Top 3 Gainers Last Week | Top 3 Losers Last Week |

Returns are as of the last trading day of the previous week.
Featured Clip
Junior mining looking good, Facebook coin not so much
Listen to INK CEO Ted Dixon review recent insider buy signals in the resource area in his latest interview with Jim Goddard.
He also makes the case for why inflation may have hit its lows as central banks scramble to pump up the system with new tricks, likely to include modern monetary theory.
The interview ends with the INK CEO giving a thumbs down to the proposed Facebook coin due to the market power of the project players.
Insider of the Week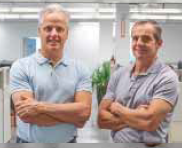 Evertz Tech's Magarelli & DeBruin
This week's insider of the week is a duo from Evertz Technologies (ET). CEO Romolo Magarelli and  Executive Chairman Douglas DeBruin each hold 24,167,000 shares, representing 31.57% of all shares outstanding apiece.
Importantly, the two have led the television and streaming media-focused technology firm to some impressive growth over the past year. We featured the stock in our June 24th morning report. We have produced a short streaming video of own summarizing the report, watch it via YouTube here. The full report is available to Canadian Insider Club members and INK Research subscribers. If you are not a Club member or INK Research subscriber, consider signing up so that you don't miss out on insider opportunities.
INK Canadian Insider Index
1 Year Total Return Performance




Historical Performance

Annualized Total Return as of June 24, 2019 04:49 pm

| | |
| --- | --- |
| 1 Year | -12.64% |
| 3 Years | 4.41% |
| 5 Years | 1.83% |
| 10 Years | 10.75% |
To start receiving a PDF version of this newsletter by email select it in your
alert settings
. If you do not have an account, join us
here
.