Rotating from robots to Robin Hoods
June 5th, 2020
This week, in Real Vision's Daily Briefings, Roger Hirst has been making the case that the influence of robotic passive strategies such as automatic retirement savings contributions into passive index funds is waning due to layoffs. Meanwhile, the impact of retail investors is growing as many of those laid off and furloughed investors use some of their unemployment benefits to speculate in the stock market during the lockdown. While that remains only a theory, we see some corroborating evidence supporting the idea.
Take the price action in INK Canadian Insider Index member Magellan Aerospace (MAL) which jumped 25% in sympathy with surging airline stocks in the United States on news that American Airlines (AAL) was expanding its July flight schedule. Airline stocks have been a favourite with retail investors with the US Global Jets ETF (JETS) being one of the top holdings on American discount broker Robin Hood. The ETF was up about 11% Thursday.
So, perhaps that explains the big Magellan move. However, Heroux-Devtek (HRX), another INK CIN Index aerospace stock, was only up 8.6%. So, what gives Magellan the power boost? As it turns out, Magellan stock was indeed on retail rocket fuel. Popular investing site Fool.com wrote a piece Thursday on the back of the weekend Space X launch to highlight stocks involved in the space industry. Magellan received its own section as a Canadian Leader. Enough, it seems, to encourage some investors to hitch a ride on Magellan stock.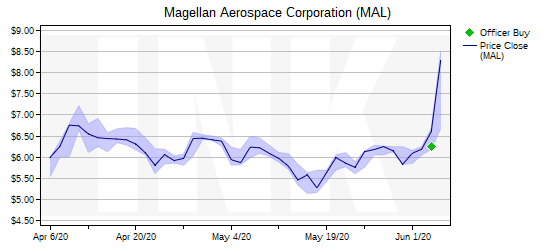 Magellan Aerospace takes flight fuelled by retail optimism
Up until Thursday, we had been watching for a rotation out of software and other D-economy tech stocks that benefit under deflation and into G-economy stocks that could benefit under inflation. It seems there may be another type of rotation we have to keep an eye on. The rotation from stocks favoured by robots to those favoured by Robin Hoods. However, we are not sure how long that rotation will persist as some of the key benefits under the Cares Act in the United States are set to end in July. That could force some of the Robin Hoods to take profits on any high-flying gains. Assuming, of course, that the invisible hand of the market does not grab them first.
While the ultimate flight path of Robin Hood retail stocks remains to be seen, the direction of market volatility is a bit easier to predict. After coming down from its March highs, we expect volatility should heat up again this summer. As such, we would be more inclined to be buying puts than writing them as we head towards July and August.
Meanwhile, the case for a government-led, inflationary G-economy got a little stronger over the past week, supported by several indicators that we keep an eye on. Firstly, the INK Canadian Insider (CIN) Index gained 2.2% on the week, ahead of the S&P/TSX Composite Index, up 1.9%. As we note in our Spring rebalancing presentation, the Index provides leverage to an inflationary G-economy. Secondly, the gold-silver ratio has remained below 100 and continued to decline. Moreover, late last week digital currency Ethereum started to outperform Bitcoin. Ethereum is typically perceived as having industrial applications via smart contracts compared to Bitcoin which is seen more as a store of value. These signals all favour a G-economy, although it remains too early to tell if governments will ultimately succeed in bringing about that outcome, particularly given the headwinds of global debt, geopolitics, and now civil unrest in the United States.
Last week, the top gainers in the INK CIN Index were G-economy names, while the three laggards last week were all gold-related: While we expect gold stocks to do relatively well under both D and G-economy scenarios, many investors may have flocked to them as a defensive strategy and be tempted to lighten up on signs of economic optimism. As such, we expect gold stocks to be volatile as the D versus G-economy tug-of-war plays out.
| | |
| --- | --- |
| Top 3 Gainers Last Week | Top 3 Losers Last Week |

Returns are as of the last trading day of the previous week.
Featured Clip
INK CEO Ted Dixon: Inflation heats up
In his June 3rd interview with Jim Goddard, INK CEO Ted Dixon explains how Canadian insider stocks can help investors make money if inflation picks up. He suggests that insider stocks can play an important role in a balanced portfolio by providing a hedge against an inflationary outcome which would hurt bonds and D-economy oriented positions such as expensive software stocks. Listen »
Insider of the Week
Elon Musk, SpaceX CEO
For at least a few moments on Saturday, Elon Musk's successful Space X launch grabbed the attention away from social unrest in America. As the first-ever SpaceX crewed mission successfully made it into orbit, the world could once again consider American excellence. The achievements of the Tesla (TSLA) CEO's SpaceX in the sky contrasted sharply with the social chaos unfolding on the ground. That success over the weekend continued to resonate with investors this week as they bid up space exploration stocks including Magellan Aerospace (MAL) on the TSX.
INK Canadian Insider Index
1 Year Total Return Performance




Historical Performance

Annualized Total Return as of June 5, 2020 04:49 pm

| | |
| --- | --- |
| 1 Year | -8.36% |
| 3 Years | -4.19% |
| 5 Years | -0.14% |
| 10 Years | 6.00% |
To start receiving a PDF version of this newsletter by email select it in your
alert settings
. If you do not have an account, join us
here
.