The reflation trade needs the monetary winds to keep blowing its way
October 21st, 2019
Over the weekend, INK Ultra Money published a hard-hitting Real Vision interview with David Rosenberg, chief economist at Gluskin Sheff & Associates, where he made the case for staying defensive until at least the 2020 US presidential election. His gloomy take on things is in contrast to some of the Canadian insider signals we have seen which suggest that reflation may be on its way, although the timing remains uncertain. As we discussed in the October Top 30 Energy Report released Monday, back on August 21st, we asked Are Suncor insiders ringing a bell? In that morning report, we leaned into the idea that oil patch stocks were at a positive turning point. So far, so good. The S&P/TSX Capped Energy Index 52-week low was set on August 27th.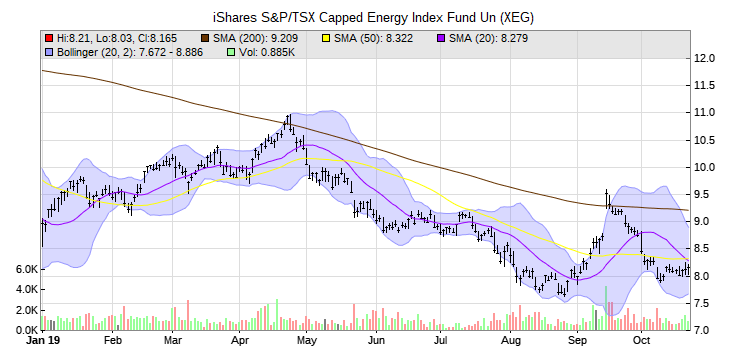 So far the S&P/TSX Capped Energy Index ETF August lows for the year have held
 
This rebound in Energy sector stocks supports the view that investors are starting to anticipate higher inflation around the corner. That said, we believe for the reflation trade to get traction, the Federal Reserve will have to keep surprising markets with dovish policy like it did earlier this month with its T-bill buying program. In addition, Christine Lagarde will need to strap on her dovish wings as soon as she takes over the ECB on November 1st, and her flight path will have to go beyond negative interest rates and more standalone QE. She will need to demonstrate that she can lead EU governments into a pro-growth era.
That does not leave much room for error. As a result, the downbeat scenario Rosenberg paints leading up to the November 2020 US presidential election has a significant chance of playing out. We should have a better handle on which way the economic winds are blowing by the second week of November. Between now and then, we expect volatility to remain buoyant.
| | |
| --- | --- |
| Top 3 Gainers Last Week | Top 3 Losers Last Week |

Returns are as of the last trading day of the previous week.
Featured Clip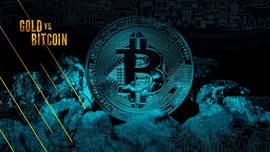 Free Real Vision video: bitcoin vs. gold
This video summarizes two October 16th premium interviews with Robert Breedlove, CEO and CIO of Parallax, who supports the case for bitcoin over gold in a winner-takes-all scenario and Simon Mikhailovich, founder of The Bullion Reserve, who argues that only gold is a true safe haven against financial calamity and surveillance.
Insider of the Week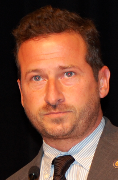 Yves-Francois Blanchet, Bloc Quebecois Leader
With the 2019 election out of the way, this may well be the last time for at least a couple of years that we have a politician as insider of the week. Yves-Francois Blanchet, leader of the Bloc Quebecois gets the nod this week, not only due to his party's surprise showing in the election, coming in third and holding the balance of power, but also because he has essentially given the green light to the Trans Mountain Expansion. On Wednesday, he indicated to the Globe and Mail that although he is firmly opposed to any new pipelines going through Quebec, he would not block the Trans Mountain project. Essentially, he does not want to get involved in BC and Alberta politics. 
INK Canadian Insider Index
1 Year Total Return Performance




Historical Performance

Annualized Total Return as of October 21, 2019 04:49 pm

| | |
| --- | --- |
| 1 Year | -3.74% |
| 3 Years | 1.13% |
| 5 Years | 3.59% |
| 10 Years | 8.06% |
To start receiving a PDF version of this newsletter by email select it in your
alert settings
. If you do not have an account, join us
here
.