Rebuilding a COVID-19 scarred world
August 27th, 2020
After a seven-week winning streak, the INK Canadian Insider (CIN) Index took a break last week, falling 0.3%. The pause came as Treasury breakeven inflation rates stalled with implied 10-year US inflation ending the week at 1.64%, down from 1.65% the week before. It could be said that the D-economy deflationary forces finally showed up with a counterattack last week, weakening not only inflation-sensitive insider stocks but also pressuring precious metals with gold remaining below US$2,000 per ounce.

We could see more weakness ahead for inflation-oriented assets if we get more disappointing economic data from some key global economies. However, we are not prepared to throw in the towel on the G-economy just yet as we expect the underlying trends set in motion by massive monetary stimulus will not be so easy to stop. Indeed, while precious metals prices were weak last week, the Gold/Silver ratio edged down a notch.
We would expect to see a strong rebound in the ratio if deflation risks start to reassert themselves in a meaningful way. As such, we will be keeping a close eye on the indicator to see if it heads back towards 80 which would be bullish for D-economy assets such as government bonds. Alternatively, if it can break below 70, that would be bullish for G-economy assets such as the Horizons Cdn Insider Index ETF (HII) which uses the INK CIN Index (under license with INK Research).
The Index continues to have a pro-inflationary tilt as of the quarterly rebalancing that took place on Monday before the open. The big surprise this rebalancing was a shakeup within the Basic Materials sector. Precious metals miners Barrick Gold (ABX), NovaGold Resources (NG), and Pan American Silver (PAAS) are out while lumber stocks Interfor (IFP) and West Fraser Timber (WFT) are in. Lumber stocks are highly-geared towards a reflationary US economic recovery. In addition, base metals miner HudBay Minerals (HBM) is also heading into the index, a stock which is geared towards global recovery. A full list of Index constituents is available at Index.INKResearch.com.
While we have little doubt that there will be turbulence ahead in the economic data, insiders are becoming more confident that the world will be hungry for resources as it builds its way out of the economic damage left by the pandemic.
| | |
| --- | --- |
| Top 3 Gainers Last Week | Top 3 Losers Last Week |

Returns are as of the last trading day of the previous week.
Featured Clip
Insider of the Week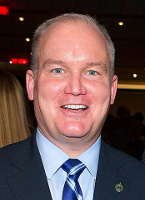 Erin O'Toole, Leader of the Conservative Party of Canada
The Member of Parliament from Durham pulled an upset victory in the Conservative Party of Canada leadership contest which ended last weekend. According to INK CEO Ted Dixon in his latest Howe Street Interview, O'Toole has already started the groundwork needed to get the Energy East pipeline going if he becomes Prime Minister.
INK Canadian Insider Index
1 Year Total Return Performance




Historical Performance

Annualized Total Return as of August 27, 2020 04:49 pm

| | |
| --- | --- |
| 1 Year | 2.52% |
| 3 Years | -0.84% |
| 5 Years | 3.57% |
| 10 Years | 7.01% |
To start receiving a PDF version of this newsletter by email select it in your
alert settings
. If you do not have an account, join us
here
.