A real rally requires some Energy
April 1st, 2019
Canadian Insider company pages received a major makeover last week. Now, over 4,000 Canadian and US stocks have our INK Edge outlook ranking. We believe this makes us the first financial website to offer free quantitative stock rankings. If not the first, certainly we are the only one to include insider commitment as a core element in the ranking process. We have also made many small layout improvements and added short-selling data. To get a quick summary of the major improvements, check out our March 31st post New value-added features on Canadian Insider.
In terms of what insiders are signalling about the broad stock market outlook, the current bright spot is upbeat sentiment in the oil patch. In particular, the INK US Exploration and Production (E&P) sentiment indicator remains in a bullish formation near 100%. At that level, there are as many stocks with key insider buying as there are with selling. Anything near 100% is a rare exception in a US market that has been dominated by insider profit-taking in the QE and post QE periods.
Relatively strong insider sentiment in the E&P industry is welcome news for the bullish case for stocks given the group's sensitivity to the global economy. In fact, bullish oil patch sentiment is a key theme we discuss in the INK April Top 40 stock report which will soon be distributed to INK subscribers and Canadian Insider Club members. Insiders seem prepared to bet on decent economic growth to support oil & gas consumption and the prices of the underlying commodities.
However, if E&P insider bullishness foreshadows stronger oil & gas prices, profit margins of transportation companies could come under pressures. As we wrote in a post on March 28th, such a development could see transport stocks lag oil & gas stocks. So far this year, the iShares Dow Jones Transportation ETF (IYT) has lagged the SPDR S&P Oil & Gas E&P ETF (XOP). We would put decent odds on that trend continuing, particularly of crude oil can continue to gain strength later in the year during a period that is traditionally weak on a seasonal basis.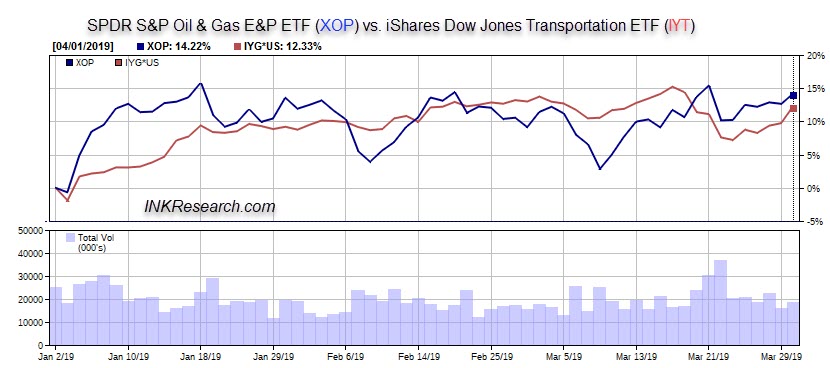 American oil & gas stocks are edging out transports so far in 2019
More generally, as we head into the second quarter of the year, our key signals remain mixed. Our Canadian market focused INK Indicator is trying to resume a bullish pattern, but it is not quite there yet. We will have conviction that Canadian stocks can get back on track to make new highs once the INK Indicator starts to clearly head back down towards 60% to 80%.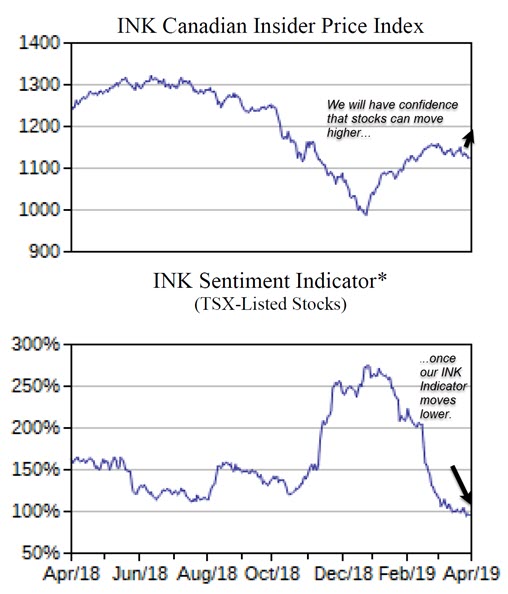 A falling INK Indicator would signal that stocks have some upside steam (click for larger)
The indicator's sweet spot for the bullish case is between 100% and 60% on the way down as it would signal that upward price momentum is returning to Canadian stocks, prompting insiders to take some profits. Below 60%, we would start to worry that the rally has become excessive. At that point, there would only be 6 stocks with key insider buying for every 10 with selling.
Meanwhile, the mid-cap-oriented INK Canadian Insider (CIN) is struggling to outperform the large-cap S&P/TSX 60. Over the past month as of Friday, the INK CIN Index has fallen 2.7% versus a flat performance for the S&P/TSX 60. When the INK CIN is lagging the TSX 60, it can reflect poor investor expectations towards global growth. Over the weekend, China manufacturing data came in better than expected. While that is a welcome development, we expect it will take more than one month of Chinese purchasing manager data to resolve the issue of whether the global economy can regain its strength enough to entice investors back into Canadian mid-cap stocks.
At INK, we are keeping a hopeful eye on the price of crude to confirm that global growth has regained some spark. In the meantime, we will maintain a cautious stance towards stock market exposure.
| | |
| --- | --- |
| Top 3 Gainers Last Week | Top 3 Losers Last Week |

Returns are as of the last trading day of the previous week.
Featured Clip
Gerald Celente provides his outlook on markets, gold, and pot legalization in America
In This Week in Money from March 30th, hear Gerald Celente's outlook for
the global economy
US short-term interest rates
gold
pot legalization in the United States
His segment takes place shortly after the 10-minute market, right after Ross Clark's weekly technical round-up of markets.
Insider of the Week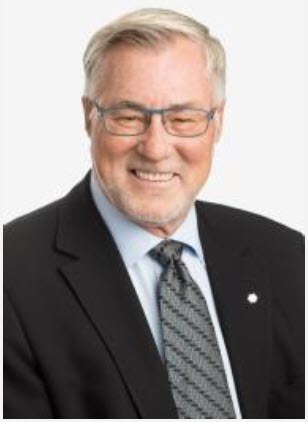 Retiring Kirkland Lake Gold Chairman, Eric Sprott
The Kirkland Lake Gold share price dropped last week on news that venerable mining investor and investment industry entrepreneur Eric Sprott would be retiring as chairman of the board of directors after the company's upcoming annual general meeting scheduled for May 7th.
Mr. Sprott has been making frequent appearances on the pages of Canadian Insider over the past month. In particular, he has reported selling just over $23 million worth of Kirkland Lake shares. Meanwhile, he has been putting at least some of those proceeds into the junior mining area, picking up just over $1 million worth of Wallbridge Mining (WM) and almost $700,000 worth of Amex Exploration (AMX) shares in the public market over the same period.
INK Canadian Insider Index
1 Year Total Return Performance




Historical Performance

Annualized Total Return as of April 1, 2019 04:49 pm

| | |
| --- | --- |
| 1 Year | -7.83% |
| 3 Years | 6.14% |
| 5 Years | 3.20% |
| 10 Years | 13.22% |
To start receiving a PDF version of this newsletter by email select it in your
alert settings
. If you do not have an account, join us
here
.