QE euphoria is likely misplaced
October 7th, 2019
Last Friday, news came that the US Federal Reserve would be extending its daily and longer-term repo operations into November to assist banks looking for liquidity. According to Reuters, the move will remain in place until "at least the next Fed meeting, when policymakers are expected to discuss a more permanent solution." We will take that as code for the resumption of quantitative easing. While the Fed will probably call it by some other name, QE is coming back, and the initial reaction of the stock market was euphoria as the S&P 500 jumped 1.4% on the day of the news. Optimism on the trade front may have also helped push stocks higher. Nevertheless, stocks finished lower for the week with the S&P 500 off 0.3% and the global growth-sensitive INK Canadian Insider Index off 3%.
A good chunk of the INK CIN underpeformance last week was due to Index dog Dorel Industries which has been failing to successfully deal with the challenges posed by rising tariffs and has suspended its dividend. Dorel may be one of the first corporate tariff victims, but we expect it will not be the last. We note that on Wednesday, US chemical company Kranton (KRA) stock collapsed 30% as it warned that Q3 results were impacted by slowing global demand and tariffs.
On balance, we believe any investor happiness with the expected return of QE as signalled by the Fed is likely to be fleeting. Unlike when QE1 started back in the fall of 2008, this time the Fed is not expected to flood the system with extra liquidity. Instead, now the Fed is struggling to simply get enough liquidity into the banking system to keep things under control.
We believe the optimists expecting a breakout in stocks may be in store for disappointment given the anemic insider behaviour with our 30-day Indicator remaining below 100%, meaning there are still more stocks with key insider selling than buying on the TSX over the past 30 days. Meanwhile, in the United States insider sentiment remains relatively steady with our INK US Sentiment Indicator resting a touch above 50% at which point there are two stocks with key insider selling for every one with buying.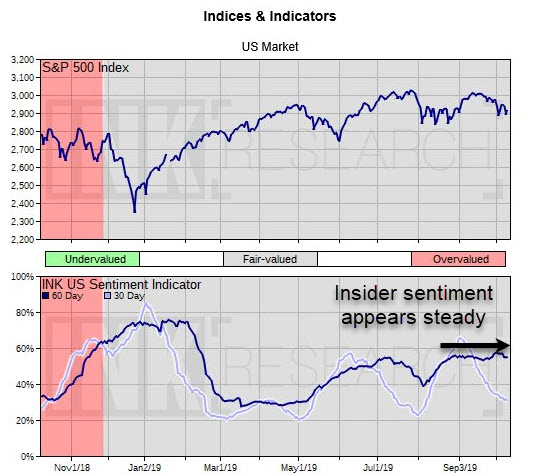 Nothing to see here?
Generally, that is not a bad level for the US market as insider profit-taking tends to be the norm, particularly in the high-flying Technology sector. However, the calm on the surface likely masks some turbulence beneath.
As the Federal Reserve struggles with its next policy move and communication challenges surrounding the surprise liquidity shortage that has sprung up among big banks, the old playbook of simply buying expensive growth stocks may not pay off as smoothly as it did in the past. Risk is rising as can be seen in the advance of volatility measures such as the VIX. This development is relatively new and will provide a headwind to the FAANG trade.
Interestingly, we see that insider buying remains relatively strong in stocks with low or relatively reasonable valuations while insider profit-taking is generally in full force in popular widely held FAANG and other growth stocks. Perhaps a trade deal between China and the United States will turn overall sentiment around and set stocks on course to climb the wall of worry to new all-time highs. However, we would not put a lot of money on such an outcome in the short-term.
We continue to believe it is time to be very picky when it comes to deploying new money into the market as investors deal with rising risks, both in terms of the Fed and politics. At the very least, we would prefer a balanced approach between growth and value stocks, while having some cash ready to deploy during periods of market weakness.
| | |
| --- | --- |
| Top 3 Gainers Last Week | Top 3 Losers Last Week |

Returns are as of the last trading day of the previous week.
Featured Clip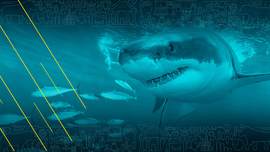 Snider: The monetary system was not fixed in 2008
In this free overview of a premium Real Vision video with Jeff Snider of Alhambra Investment Partners, AK looks at the recently roiling repo market and asks what it means for the economy at large. The full length interview "The Monetary System is Broken" is available on INK Ultra Money. For access, join the Canadian Insider Club as an Ultra member. Existing Canadian Insider Club members can upgrade to Ultra status via the Membership Status tab after logging in for the special rate of $99.99 (plus tax) per year.
Insider of the Week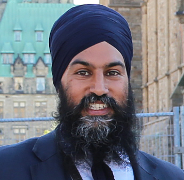 NDP Leader Jagmeet Singh
At the start of the federal election campaign, the last person we would have expected to be an insider of the week was NDP leader Jagmeet Singh. We had written off the NDP as ready for the trash heap, likely replaced on the left by the Green Party. Instead, we are left eating some humble pie after Mr. Singh's mild-mannered and effective performance in the leaders debate Monday. The surprising comeback of the NDP may increase the odds of a minority government. If it becomes an effective Liberal-NDP coalition, that could have negative implications for big telecom stocks such as BCE as Ottawa turns its sights on trying to reduce cell phone bills to win favour with voters. If there is a Liberal-NDP coalition, big banks may be next in line for special policy treatment. Investors who have long assumed that big is better in Canada may need to reassess after October 21st.
INK Canadian Insider Index
1 Year Total Return Performance




Historical Performance

Annualized Total Return as of October 7, 2019 04:49 pm

| | |
| --- | --- |
| 1 Year | -8.33% |
| 3 Years | 1.70% |
| 5 Years | 3.46% |
| 10 Years | 8.31% |
To start receiving a PDF version of this newsletter by email select it in your
alert settings
. If you do not have an account, join us
here
.