Peak panic?
November 28th, 2021
It was shaping to be just another bad week for US president Joe Biden as crude oil rebounded mid-week on the back of his gamble to release oil from the US strategic petroleum reserves. However, as Americans were settling in for Thanksgiving, news broke of the new Omicron variant of the coronavirus identified by South African scientists. The UK government promptly sprung into panic mode and instituted an almost-immediate travel ban on visitors from southern Africa. EU countries, Canada, and the United States followed with similar bans. The government and media panic clobbered the oil price, with WTI slumping below US$69 a barrel at one point late in the week.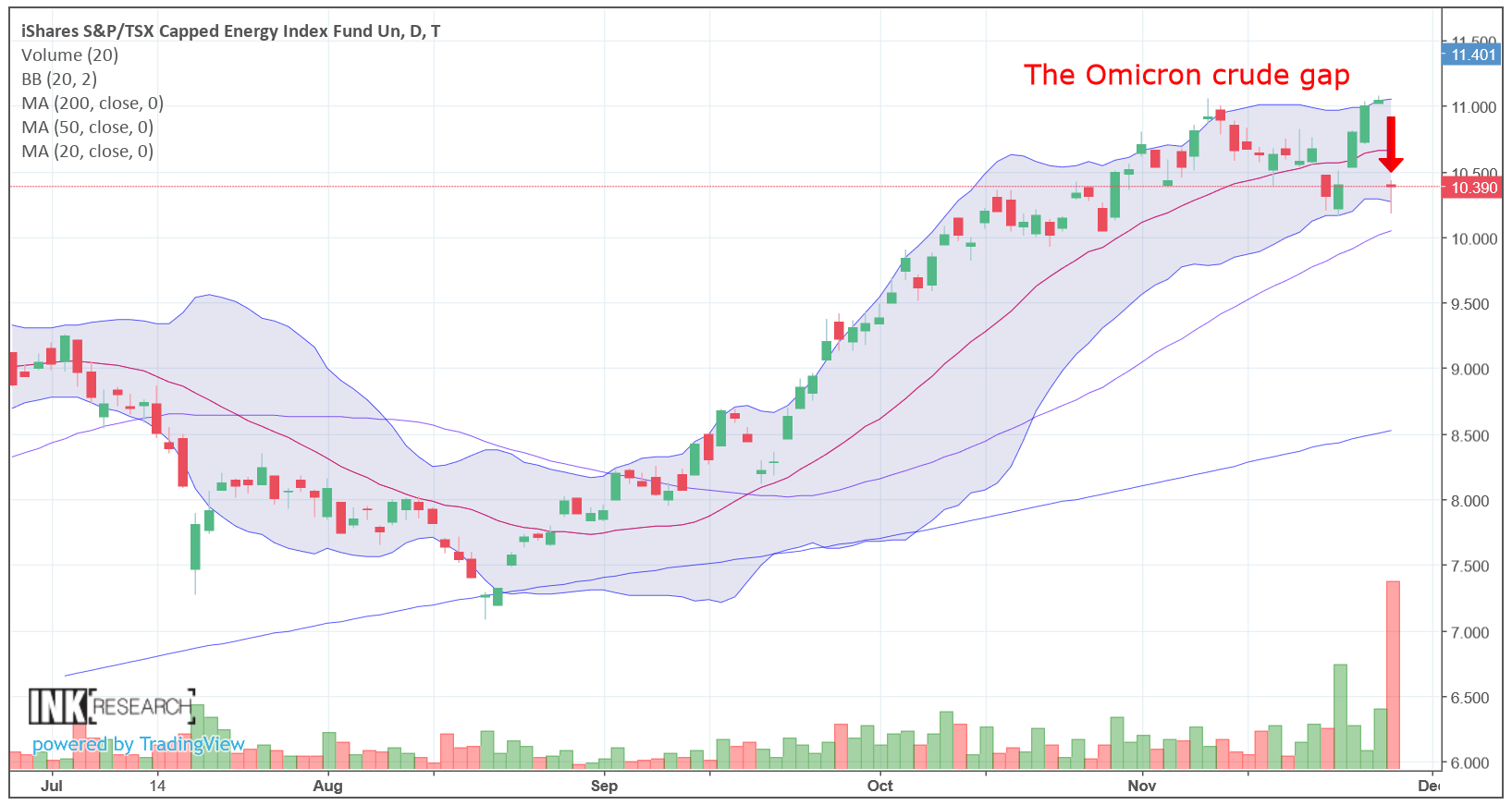 Canadian energy stocks dived on Friday on virus panic
This all seems a little much for a variant we know very little about except that it has many mutations. That has led to all sorts of conjecture about potential bad outcomes without any evidence yet to support a scenario of rising hospitalizations and deaths. While we cannot rule out the possibility that Omicron may end up prolonging the pandemic, it may also end up being less impactful than is being suggested by the post-Thanksgiving media and market panic. If so, the current pullback in oil & gas stock prices may provide a buying opportunity, so keep an eye out for our November Top 30 Energy Report which we will be publishing on Monday.
Crypto and other exponential age themes dominated the INK platform last week. Raoul Pal provided us with a 2-hour overview of his complete macro framework that leads to Bitcoin, Ethereum, other cryptocurrencies, and investment themes such as AI. It is our video of the week. Pal also talked to contrarian investor Scott Galloway, a professor of marketing at the NYU Stern School of Business. Galloway is skeptical of the metaverse, instead favouring select crypto infrastructure opportunities. Meanwhile, INK had its own exponential age feature on Friday when we highlighted Canada Nickel (Mostly Sunny; CNC) which is striving to become a net-zero battery metals producer.
In terms of the macroeconomic outlook, make sure to listen to Tony Greer's interview with Darius Dale. The two have a lot in common on their outlook, but some key differences also emerged which can be boiled down to different investing approaches.
Viva update
INK's 3.0 project work continues, with an expanded focus on potential NFT applications for research publications. Join us in the #Viva_roadmap channel if you are a newsletter writer or researcher and want to explore with us ways to make NFTs work for your craft.
| | |
| --- | --- |
| Top 3 Gainers Last Week | Top 3 Losers Last Week |

Returns are as of the last trading day of the previous week.
Featured Clip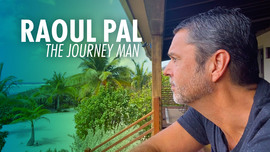 Raoul Pal on the long road to the exponential age
Raoul Pal ties together the golden thread for why our economic and political worlds are where they are today. He then looks at how this ties into the Exponential Age. Raoul looks back at history: from the fall and decline of the British empire through the Industrial Age, World War I, World War II, and up to the modern era. He then shifts to the new world and the Fourth Turning, "when society passes through a great and perilous gate in history." He explains that the American Dream as we know it is dead, and a new world is emerging made up of robots and AI, and where there is no cost in producing energy (spoiler: it will take a long time to get there).
Insider of the Week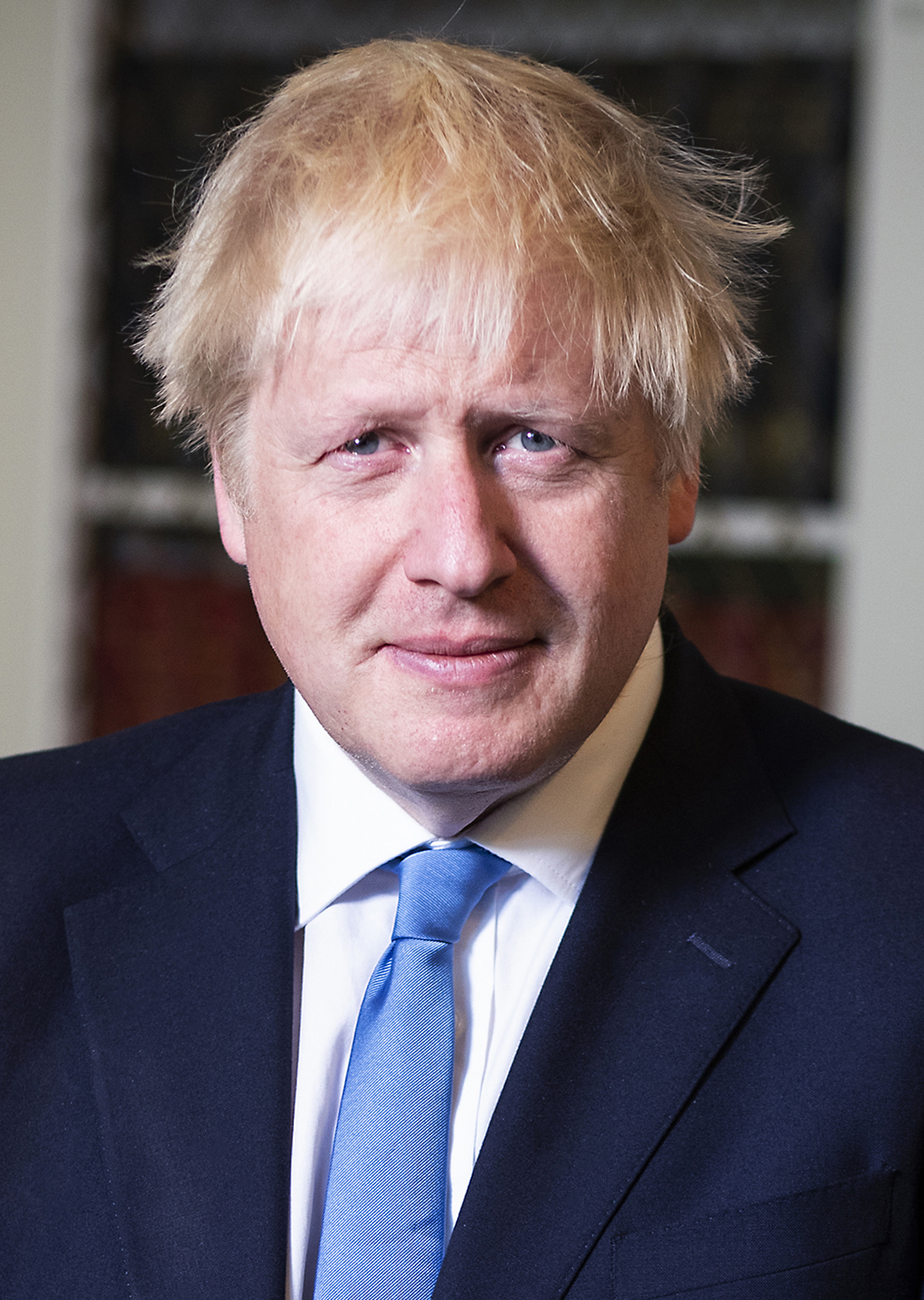 PM Panic (official portrait)
When South Africa alerted the world to the Omicron variant, the UK government was the first big horse out of the panic gate. Boris Johnson's government  quickly imposed a travel ban on visitors from southern Africa, putting pressure on other wealthy countries to follow. The immediate effects included a 12% drop in the price of crude oil in one day and a jump in stock market volatility. The longer-term impact could be much greater if countries that detect new variants in the future choose to keep their mouths shut rather than being hit economically by the G7. We can only hope last week represented peak coronavirus panic.
INK Canadian Insider Index
1 Year Total Return Performance




Historical Performance

Annualized Total Return as of November 26, 2021 04:49 pm

| | |
| --- | --- |
| 1 Year | 45.42% |
| 3 Years | 20.43% |
| 5 Years | 11.57% |
| 10 Years | 11.40% |
To start receiving a PDF version of this newsletter by email select it in your
alert settings
. If you do not have an account, join us
here
.