Our declared winner on election day is cannabis
November 7th, 2020
On Monday, Tommy Thornton president of Hedge Fund Telemetry set the post-election stage for investors on the Real Vision Daily Briefing. He pointed to US-focused cannabis stocks as something that had caught his attention. As it turned out, voters in at least four states got the show underway.
According to CNN on Thursday, Montana, Arizona, New Jersey and South Dakota were set to approve marijuana legalization ballot measures. Meanwhile, the NY Times reports that Mississippi voters also passed a medical marijuana measure. That had US pot stocks flying, with the AdvisorShares Pure US Cannabis ETF (MSOS) up about 11.8% since November 3rd, setting a new high Friday in the process. We highlighted US-focused marijuana stocks in the INK morning report on October 8th and October 27th, and all three are up double digits since publication.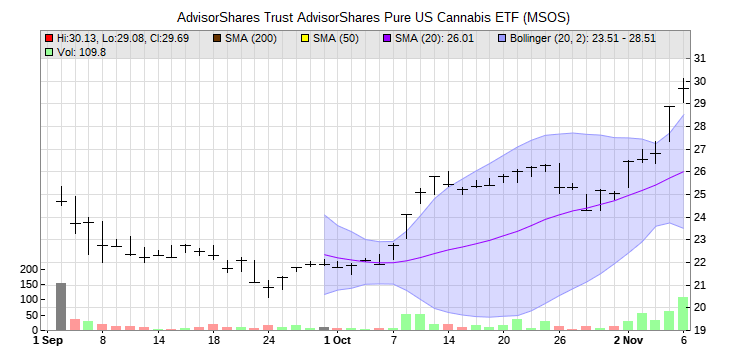 The AdvisorShares Pure US Cannabis ETF is on the rise
In our November 4th Howe Street interview, which is our Featured Broadcast below, we looked at US-focused pot stocks right off the top. Our attention then turned to our cautious outlook for gold miners in the event of a Biden White House and GOP Senate US election outcome. Our preference at this point is to focus on polymetallic miners that have some potential leverage to the recovery in China. On November 3rd, we wrote about a micro-cap junior that is focusing on two early-stage polymetallic projects, one in Manitoba, the other in New Brunswick. This highly speculative stock has been consolidating and could be poised to break out should the reflation trade get going.
At this point, despite a big rally in the inflation-sensitive INK Canadian Index over the past week (+6.8%), we agree with Real Vision's Ed Harrison who on Friday suggested that the jury is still out on whether the economy can sustain its recovery in the wake of the fall wave of the coronavirus. For clues on the economy's staying power, we will be watching to see if Canadian oil & gas stocks can hold their recent lows. This is a topic we also covered on Howe Street and in our November 4th and 5th morning reports which looked at Yangarra Resources (YGR) and MEG Energy (MEG) respectively. If Canadian Energy stocks can hold their own during the expected flood of COVID-19 headlines over the next few weeks, it could be signaling a bullish case for risk assets as we head into year-end.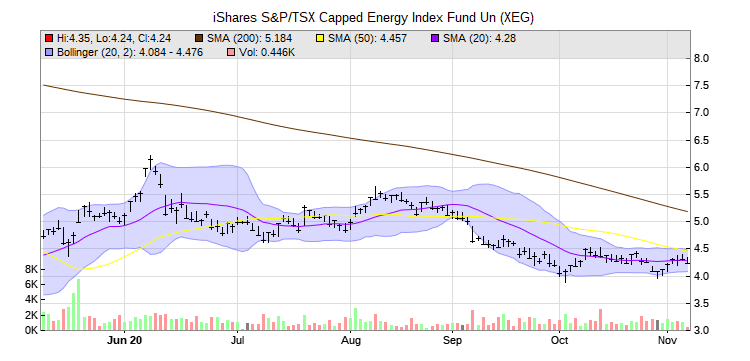 Watching to see if the iShares S&P/TSX Capped Energy Index ETF will hold its October low ($3.89)
On Thursday, we heard the case for an overall pro-commodities and bullish value stock setup from Jay Pelosky who on INK Ultra Money in June called the summer rally and subsequently warned in August of possible fall weakness. Jay's bullish take provides a counter-argument to the gloomy case laid out by Raoul Pal at the start of the week. He sees a weaker economy, and lower bond yields ahead followed by higher gold prices as policymakers attempt to revive growth. He continues to like bitcoin now on growing adoption and as a call option on the future. Pal makes some compelling points and that is one reason why we will be keeping a close eye on Canadian oil patch stocks. If Pal's winter of discontent scenario is unfolding, we would expect oil & gas stocks to stumble to new 90-day lows relatively soon. If they hold, another Pelosky bullish call could end up prevailing.
| | |
| --- | --- |
| Top 3 Gainers Last Week | Top 3 Losers Last Week |

Returns are as of the last trading day of the previous week.
Featured Clip
Pot, gold and oil: Howe Street November 4th
US-focused pot stocks are in focus as one of the big winners on November 3rd. In the second section, the discussion centres on how miners could perform if we end up with a Democratic White House and GOP Senate. The third section looks at how the oil patch may help tell us if we are heading for a global boom or gloom this winter.
Insider of the Week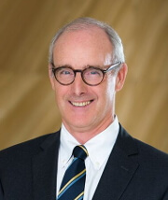 MEG Energy's Derek Evans
The oil patch is in the spotlight and the CEO of oil sands producer MEG Energy (MEG) has caught our eye. He has been buying over the past two weeks in amounts that suggest to us he believes more in the Pelosky boom case than Pal's winter gloom.
INK Canadian Insider Index
1 Year Total Return Performance




Historical Performance

Annualized Total Return as of November 6, 2020 04:49 pm

| | |
| --- | --- |
| 1 Year | 1.69% |
| 3 Years | -1.76% |
| 5 Years | 4.44% |
| 10 Years | 6.04% |
To start receiving a PDF version of this newsletter by email select it in your
alert settings
. If you do not have an account, join us
here
.