The Olympic challenge facing markets
February 28th, 2020
As the coronavirus disease (COVID-19) continues to infect market sentiment, inflation expectations are stumbling as concerns mount that the virus could spread meaningfully beyond China. 10-year breakeven yields (a measure of long-term inflation expectations) are now back to where they were when the Fed started not-QE T-bill buying last fall.
Inflation expectations can be an important driver for Canadian mid-cap stocks and the recent breakdown likely helps to explain a good part of the INK Canadian Insider Index swoon over the past few days. However, once the broad market finds its base of support that takes into account coronavirus risk, attention returns to the Fed's plans to boost inflation back to its 2% target. While we cannot predict the short-to-medium term implications for the coronavirus, we are starting to have more confidence in our view that the Federal Reserve will start taking its 2% inflation target more seriously beginning later this year.
If we are right about an upcoming reflation policy regime change at the Fed, the move will have a more lasting impact on Canadian stocks and investment strategy than the coronavirus. If the Fed strengthens its commitment towards inflation by the end of June, Canadian mid-cap stocks could start to enjoy policy tailwinds by the second half of 2020. That could have a big impact on portfolio strategy.
Following the financial crisis, investors started to invest heavily in bonds and perceived safety stocks that offered attractive dividend yields. That worked as the Fed stuffed its balance sheet with long-dated bonds and mortgage-backed securities. In the future, the Fed's playbook is likely to be different. At some point, investors may want to start thinking about adjusting their playbooks as coronavirus-related selloffs could provide an opportunity to reposition by taking profits on bonds and bond proxies and picking up relatively cheap pro-inflation stocks such as Canadian mid-caps.
Unfortunately, we cannot predict when that point will be. There are some potential signposts that could provide a signal markets have completed their adjustment. In particular, if the 2020 Olympics move forward as planned, it will be a sign that Japan which is hard hit by the virus contagion is more-or-less back in normal operation. That could provide some stability in markets even if it is from a lower starting point than we were at the start of the year.
| | |
| --- | --- |
| Top 3 Gainers Last Week | Top 3 Losers Last Week |

Returns are as of the last trading day of the previous week.
Featured Clip
INK CEO Ted Dixon appears on the HoweStreet.com podcast
In his latest interview with Jim Goddard, the INK CEO highlights junior mining as one area where investors may want to consider potential buying opportunities during the recent sell-off. In contrast, it is probably better to wait and see when it comes to the oil patch and cryptocurrencies. He also makes the case that the Conservative party needs to get serious about developing a climate change strategy that it can offer to Canadians in the next election.
Insider of the Week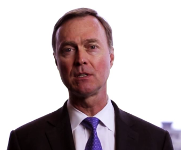 Donald Lindsay, President and CEO of Teck Resources (TECK)
On Sunday night, Teck Resources CEO shocked the Canadian business and political world by announcing that the company would be withdrawing its billion dollar plus Frontier oilsands project. Just another blow to the Canadian oil patch, as if shale oil and the coronavirus were not enough!
INK Canadian Insider Index
1 Year Total Return Performance




Historical Performance

Annualized Total Return as of February 28, 2020 04:49 pm

| | |
| --- | --- |
| 1 Year | -2.48% |
| 3 Years | 0.03% |
| 5 Years | 2.18% |
| 10 Years | 6.95% |
To start receiving a PDF version of this newsletter by email select it in your
alert settings
. If you do not have an account, join us
here
.