Mining's green revenge
December 5th, 2020
The objective of our weekend newsletter is to highlight the developments that have taken place across our INK Research platform during the past week that we expect have a good chance of shaping the direction of our investment themes and ideas in the weeks and months ahead. Last week we talked about tax-loss selling which has the potential to serve up opportunity in the coming weeks. This week we turn our attention to Robert Friedland's vision for the ESG benchmarking of metals which John Kaiser brought to our attention in his December 3rd Discovery Watch broadcast.
Friedland is promoting a bold green accountability agenda which has the potential to change not only the mining industry, but also almost every conceivable consumer product that we can touch. He describes his vision for the future of mining in a captivating hour-plus interview in the inaugural episode of Erik Townsend's Smarter Markets podcast. Essentially, he sees a future where every mineral mined can be graded by how much greenhouse gas was emitted during production along with other factors such as social responsibility to the local community.
Will Musk's Tesla need to make the Friedland green grade?
What makes this vision so compelling is the global commodities exchange vehicle that he is promoting to help make it happen. The Abaxx Commodity Exchange (ACX) is developing new global energy and metals ESG benchmark contracts that will allow commodities such as nickel to trade at different grades based on its ESG ranking. The theory is that a pound of nickel produced with net-zero emissions should be more valuable than a pound of nickel that is a net emitter of greenhouse gases.
This potentially has implications far beyond mining as once basic manufacturing inputs can be graded on ESG content, the next logical step is to use those input grades to help calculate an ESG grade for the end consumer product. In the interview, Friedland describes brilliantly what he believes lies ahead:
But the whole system is going to have to be revolutionized and people underestimate the role of the miners. I would call this the revenge of the miners. You don't like crude oil. You don't like coal. You want the world to be green. Well, then we're going to, you know, we're going to see the revenge of the miners. We're going to need much higher metals prices to stimulate the exploration and production process. And if you want that process to be truly green and truly sustainable, you really want to build schools and hospitals around the people that live where the mines are. Then we're going to have to pay for it. You know, there's no free lunch.

- Robert Friedland, Smarter Markets Episode 1
If Friedland's vision starts to unfold, EV carmakers like Tesla (TSLA) will not be able to simply claim they make clean energy vehicles. They will also have to prove it with their ESG grades. Meanwhile, the implications for mining are enormous. Feasibility studies will need to give significant attention to ESG scenarios for mining plans in terms of how they would likely impact assumed commodity prices. Indeed, one could even make the case that there will be different gold prices, such as ESG gold and legacy gold.
Let us think about that for a moment.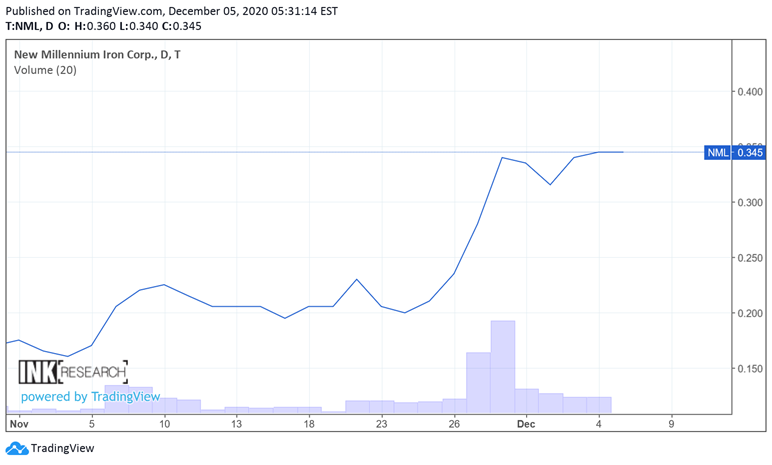 New Millennium Iron (NML) since the October 30th INK morning report (click to enlarge)
We first introduced ACX to our readers in the October 30th morning report when we featured insider buying in New Millennium Iron (NML). We explained that that the company was proposing a reverse takeover with Abaxx Technologies which controls the ACX. The deal looks close to closing and if all goes to plan Abaxx Technologies should trade on the NEO exchange before the end of the year. The transaction overview was explained in a September 18th press release and includes a 12:1 rollback. We will try to post a summary of the transaction in the #stock_ideas-mining channel of INK Chat over the next couple of days.
The Friedland interview likely helped push up the price of NML stock over the past few days, as well as the share price Scandium International (SCY). Friedland sees scandium as one of the big winners as the world transitions to a greener economy, with nickel, aluminum, and copper as the other three. There will be many other winners according to Friedland such as rhodium and even silver. While Friedland has kind words to say about gold, it does not make his winners list.
The idea that there will be a range of metals winners fits nicely with the theme in our November Top 20 Gold Stock Report which we released Monday. We also discussed the breadth of opportunity ahead in the Canadian market in our December 4th Howe Street interview with Jim Goddard. As it turns out, the top INK Edge mover for the week was a materials stocks that focuses on serving the battery market. Get your copy of the report in the #stock_ideas channel of INK Chat.
Meanwhile, our big G-economy theme continues to unfold nicely with the INK Canadian Insider Index hitting new 52-weeks in the past week along with inflation expectations as measured by 10-year Treasury breakeven yields. That trend could continue if Peter Boockvar is right. On INK Ultra Money Free Tuesday, the Bleakley Advisory Group CIO made the case for more inflation in 2021. On the same day, Teddy Vallee, founder and CIO of Pervalle Global, made the case for higher oil prices in 2021 in a premium INK Ultra Money Real Vision interview.
Macro guru Lyn Alden also makes the case for commodities and a weaker dollar on Monday, while on Friday Hugh Hendry tries to convince her of the dollar's underlying strength in an entertaining interview where Alden manages to keep her cool despite Hendry's best efforts to knock her off her game.
Finally, for those still unsure about the investing case for green energy, GMO founder Jeremy Grantham takes on a skeptical Mike Green in a premium INK Ultra Money interview on November 30th. 
Disclosure: One or more INK employees holds New Millennium Iron.
| | |
| --- | --- |
| Top 3 Gainers Last Week | Top 3 Losers Last Week |

Returns are as of the last trading day of the previous week.
Featured Clip
Insider of the Week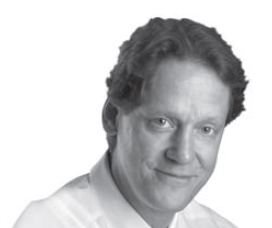 Robert Friedland
The Canadian-US mining billionaire is probably best known for his role in the Voisey's Bay nickel mine and subsequent global mining ventures. He is now determined to make his mark in bringing the mining industry into a greener place through his promotion of the concepts behind the Abaxx Commodities Exchange where he is an investor.
INK Canadian Insider Index
1 Year Total Return Performance




Historical Performance

Annualized Total Return as of December 4, 2020 04:49 pm

| | |
| --- | --- |
| 1 Year | 11.17% |
| 3 Years | 2.10% |
| 5 Years | 7.20% |
| 10 Years | 7.07% |
To start receiving a PDF version of this newsletter by email select it in your
alert settings
. If you do not have an account, join us
here
.