Litecoin, Ottawa's Mastercard and is Binance BC bound?
July 8th, 2021
As of today, INK is accepting litecoin for payment on INKResearch.com and CanadianInsider.com. Before we explain how it works at INK, here is some background on the rationale and why we believe crypto payments will be a growing trend with some significant implications for certain stocks in the Financials sector.
INK is now accepting litecoin at Canadian Insider
Like many businesses, INK has relied on Visa (V), Mastercard (MA), and American Express (AXP) for the bulk of its payments. The card networks have been able to dictate most of the commercial terms as they have been holding all the cards.
But no longer.
The final straw for us came this spring when we caught the Mastercard network hitting us with monthly transaction fees that approached 5%. A good chunk of those fees goes to paying for branded loyalty and cashback programs. We understand that many of those loyalty cards are popular but there is a general problem with the loyalty credit card equation. While the card network and cardholders may benefit, the merchant is stuck with extra costs and no extra benefits.
Until crypto, credit card networks held all the payment cards
There are other painful fees and requirements that the card networks impose, but we will spare the details. Suffice it to say, the card networks have been doing very well and credit card company stock prices show it. For example, Mastercard stock is up more than 300% over the past 5 years.
Going forward, stay long and be wrong. We expect that cryptocurrencies will be a roadblock to those kinds of returns. Instead, we envision a period of either share price retrenchment or consolidation as credit card networks reduce fees to stay competitive or invest more into their networks to squeeze out inefficiencies. As it turns out, insiders at Mastercard are selling, even as passive investors flood into the stock via ETFs (hat tip to Mike Green at Real Vision).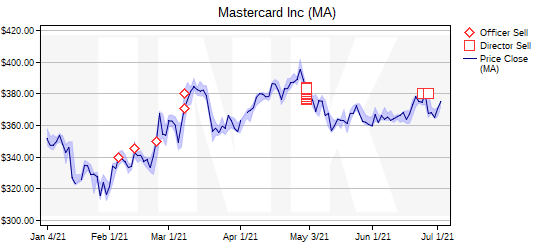 .
Mastercard insiders are selling as crypto threat looms
Starting today, we have rolled out a new annual litecoin subscription plan for the Canadian Insider Ultra Club. For those unfamiliar with the service, Ultra Club benefits include access to key INK Research PDF reports, expanded data sets on the Canadian Insider website, an alert service, and access to INK Ultra Money videos including essential and crypto content delivered from Real Vision (read more here).
The cost for an annual Canadian Insider Ultra Club litecoin subscription is 1 litecoin plus tax and it does not automatically renew. Like all our subscription prices, it is subject to change. You can still pay by Visa, Mastercard, or American Express if you want, but our litecoin option is cheaper. Please note that these changes do not impact existing members with existing membership plans (if you want to renew using litecoin, please let us know).
Mastercard has enjoyed Canadian political support
We hear a great deal in the media about crypto-related crime, and politicians are often quick to jump on the bandwagon. A good recent example is US Senator Elizabeth Warren who, in a recent address to the senate banking committee, said, "crypto has become a haven for illegal activity. Online theft, drug trafficking, ransom attacks, and other illegal activity have all been made easier with crypto." Yet, we seldom hear from politicians about the fraud committed on credit card networks.
However, one big political exception comes to mind on the topic of credit cards and cybersecurity. Last year, Canadian taxpayers learned that we would be handing over $49 million to Mastercard to help it secure its antiquated network. At the last Davos World Economic Forum in 2020, the Canadian government announced its multi-million-dollar handout to the big business payment giant. In justifying the expenditure, industry minister Navdeep Bains proclaimed, "This will make Canada a world leader in cybersecurity." The most generous response we have to that statement is our gratitude that Mr. Bains is no longer in the Canadian cabinet.
Canadian industry minister N. Bains (2nd from right) announcing a $49 million handout to Mastercard at Davos
While cryptocurrencies are a threat to powerful credit card networks, they are not the only threat. As we heard from Ben Savage in our video of the week, non-crypto fintech is also seeking to disrupt the status quo. Change is happening and opportunity continues to present itself. In a democracy, politics cannot stop technology. At INK, we are doing our small part to offer a compelling choice to the status quo and hopefully helping our members make some money in the process.
Will Binance seek registration in BC or Quebec?
Late last month, Binance announced it was pulling out of Ontario. The move came after the Ontario Securities Commission on March 29th told cryptocurrency platforms to contact them by April to discuss getting registered. The OSC guidance came on the back of the release of a joint Canadian Securities Administrators and IIROC staff notice describing a regulatory framework for cryptocurrency platforms which was released on the same day.
A few days later, the BC Securities Commission (BCSC) published a clarification to the staff notice. Notably, the BCSC said,
If the platform is not based in Canada but it is dealing with Canadians, it should reach out to the Canadian jurisdiction that it has the most significant connection with...BCSC remains flexible and will consider a range of potential regulatory solutions to find an appropriate solution for each platform. One option is pursuing membership with IIROC; the BCSC will also consider other regulatory arrangements where warranted, such as tailored exemptive relief, that do not require IIROC membership.
In the clarification, the BCSC is offering the hope to cryptocurrency platforms that, if they register in BC, they may be able to avoid IIROC membership. This is potentially a huge deal. While IIROC may be well suited for traditional centralized exchanges, cryptocurrency platforms such as Binance can be a mixture of centralized and decentralized operations which IIROC has no expertise in overseeing. We can see how the requirement of IIROC membership could be a show-stopper for many global cryptocurrency players. The BCSC seems to have recognized this. Other provincial jurisdictions may also have come to the same conclusion.
However, there is one problem confronting Binance if it wants to list in BC. That is the part about registering in the jurisdiction where it has the most significant connection. If most of its customers are in Ontario, it would be hard to register in BC. However, with Binance pulling out of Ontario, that roadblock would appear to be removed.
CZ has lived in Vancouver and Montreal
In addition, according to Wikipedia, Binance CEO Changpeng Zhao ("CZ") has roots in Vancouver and Montreal. That would likely strengthen the case for Binance registering in BC or even Quebec for that matter. While this is all speculation on our part, the April clarification by the BCSC is significant in our view as it opens the door to potential registration without having to join IIROC. It may also open the door to the establishment of another self-regulatory organization to oversee the operation of cryptocurrency platforms instead of IIROC.
| | |
| --- | --- |
| Top 3 Gainers Last Week | Top 3 Losers Last Week |

Returns are as of the last trading day of the previous week.
Featured Clip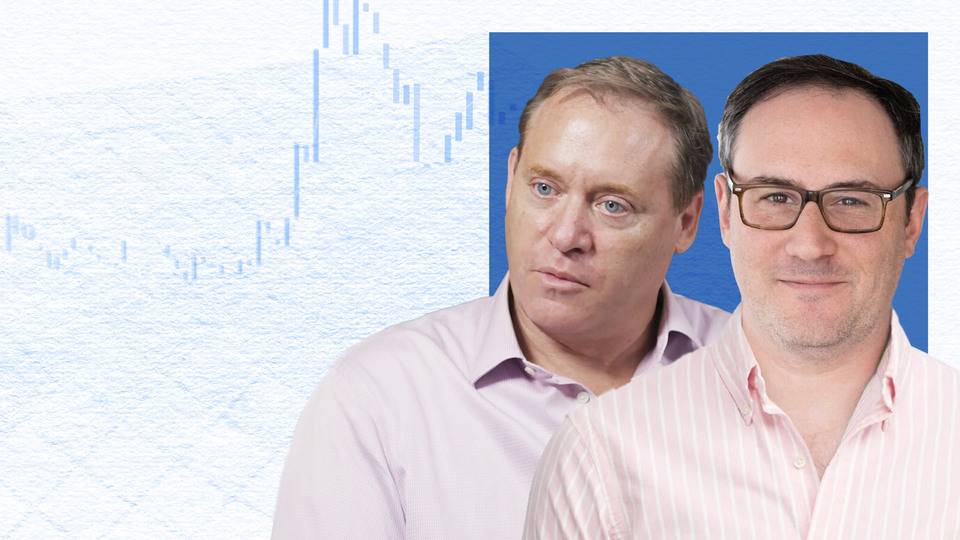 Beyond Crypto: How Centralized Fintech is Driving Innovation
In this interview with Mike Green, Ben Savage of Clocktower Ventures explains why he believes that fintech is on its way to closing the gap with tech and other industries in terms of its contribution to productivity gains.  He discusses how Clocktower is positioning toward technologies that reduce friction and bring previously inaccessible and, in some cases, novel services to consumers and businesses around the world.
Insider of the Week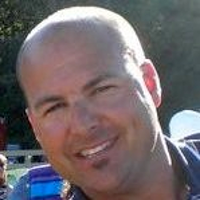 Ryan Hamlin, CEO of POSaBIT Systems (PBIT)
We featured POSaBIT Systems in Friday's morning report. The stock has more than doubled year-to-date, and, under his leadership, the company has given cannabis merchants the capabilitiy to run their businesses without Visa and Mastercard.
INK Canadian Insider Index
1 Year Total Return Performance




Historical Performance

Annualized Total Return as of July 8, 2021 04:49 pm

| | |
| --- | --- |
| 1 Year | 69.26% |
| 3 Years | 9.79% |
| 5 Years | 10.48% |
| 10 Years | 9.03% |
To start receiving a PDF version of this newsletter by email select it in your
alert settings
. If you do not have an account, join us
here
.