The investing game is changing
July 28th, 2020
The old BOY playbook of the Bernanke, Obama and Yellen years is quickly being made obsolete by the forces of COVID-19, politics, and the debt-saddled global economy. On the pandemic front, the virus continues to threaten economic activity around the world. The United States continues to be hard hit which is forcing politicians to scramble to finalize another stimulus package. As we started the week, the gold/silver ratio was toying with 80, down from about 93 a week ago. The outperformance of silver is telling us that the next round of stimulus is likely to be pro-inflationary, supporting our G-economy scenario (see INK Ultra Money: Our framework for the current environment: D versus G).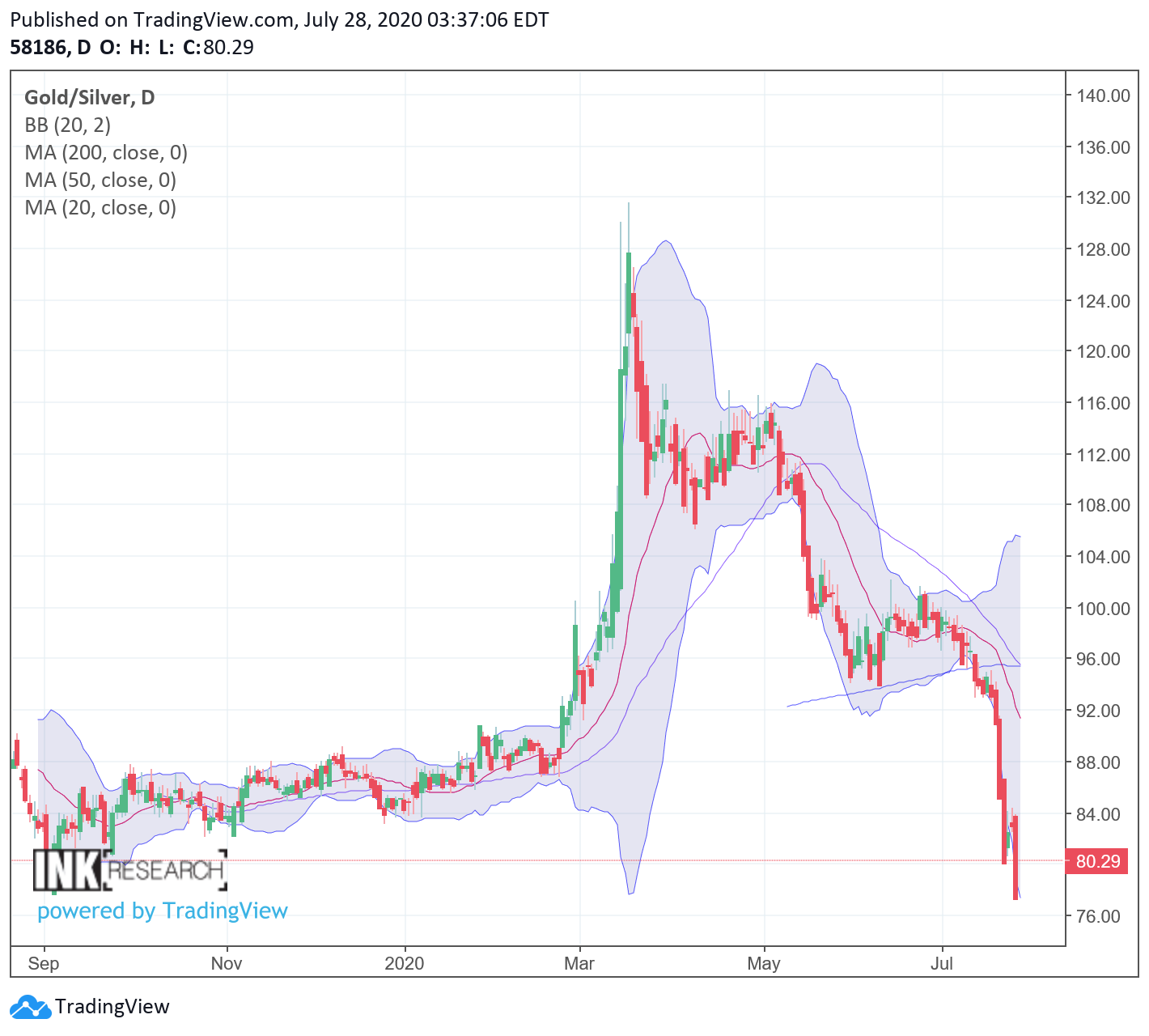 A plunging gold/silver ratio is pointing to more inflation down the road
For more on the gold/silver ratio, check out the Real Vision episode Tuesday with Lyn Alden of Lyn Alden Investment Strategy which makes the case for stronger gold prices and a weaker dollar ahead (Club Ultra membership or INK CIA Interactive subscription required).
Indeed, with governments, corporations, and households globally holding so much debt, policymakers have little choice but to try and produce inflation to make those debt levels serviceable. In the old BOY years, inflation primarily showed up in asset prices. Going forward, we believe that it will be a mistake to believe pro-inflationary policies will lift all assets equally. In fact, some of the assets that were most favoured last decade may be left behind, at least on a relative basis in an inflationary world.
For example, yield-chasing strategies that paid off so handsomely last decade could end up disappointing over the next few years. We are already seeing some potential signs of a changing of the guard in terms of thematic leadership. Since 10-year inflation expectations bottomed on March 19th, the iShares S&P/TSX Cdn Dividend Aristocrats ETF (CDZ) is up 25.1%, trailing the S&P/TSX Composite, up 31.4%, and the Horizons Cdn Insider Index ETF (HII), up 38.4% (ETF performance based on NAV as of July 24). The HII seeks to track the mid-cap oriented INK Canadian Insider (CIN) Index. If policymakers are successful in generating price inflation, inflation-sensitive stocks are likely to outperform interest-rate sensitive names. That is indeed what happened last week with the INK CIN Index managing a small again of 0.4% compared to 1.0% loss for the large-cap S&P/TSX 60 Index which is dominated by the interest-sensitive big banks.
Canadian junior mining stocks have also been flying recently with the S&P/TSX Venture Index up 19.7% year-to-date. While we have seen a pickup in insider selling in the junior market, the selling is being led by biotech and technology names. Nevertheless, junior stocks are prone to summer setbacks, and that is something to keep in mind in the weeks ahead. That said, we would likely view any major setbacks as an opportunity for speculators to add to their positions. To make the most of potential buying opportunities, let the insiders guide you as they can deliver some big wins such as Canada Nickel (CNC). The stock doubled within 3 weeks after we highlighted it in our July 10th morning report. So do not miss another INK quick win. Join us today.
If you are not a member of the Canadian Insider Club which provides access to core INK reports and so much more, now is a great time to join because you can get the first year of a Club membership for only C$200+tax or a Club Ultra membership with access to INK and Real Vision videos for only C$299+tax. Use coupon code SAVE99 at checkout. Act now, because the coupon will expire soon and significant price increases are coming for new subscriptions later this summer.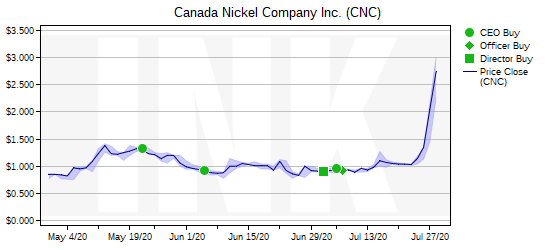 Canada Nickel stock doubled within 3 weeks of it being featured in our July 10th INK Report
The one caveat to our bullish junior outlook would be if US policymakers fail to deliver another round of stimulus. However, we believe that a package will be forthcoming, and the US dollar should remain under pressure as we head towards November. That should help support inflation-oriented stocks, including speculative junior names and Canadian mid-cap stocks as tracked by the INK CIN Index.
Disclosure: The INK CIN Index is used under a license with INK by the Horizons Cdn Insider Index ETF.
| | |
| --- | --- |
| Top 3 Gainers Last Week | Top 3 Losers Last Week |

Returns are as of the last trading day of the previous week.
Featured Clip
Is Galaxy Digital leading a cryptocurrency breakout?
In our July 23rd morning report, we highlighted Galaxy Digital Holdings (GLXY) which had set a new 52-week high on the 22nd and pondered whether cryptocurrencies could be the next to break out. In the time since the report, Ethereum jumped more than 15% to set a new 52-week high of $3.30 on Monday, while Bitcoin has climbed from a little more than 9,100 to north of 11,100 Tuesday.
Insider of the Week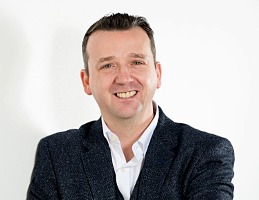 Darren Rowles, former CEO of Sona Nanotech (SONA)
Sona Nanotech has had quite a year. Over the last twelve months, the stock has traded as low 1 cent and as high as $16.05. In a July 9th press release, Sona Nanotech announced the appointment of David Regan to the position of CEO as part of a plan to prepare for a NASDAQ listing application. Mr. Rowles will continue to serve as President and Chief Scientific Officer. Sona Nanotech is working on a test for COVID-19 which has undergone in-house validation studies but has yet to receive FDA or other regulatory approval. The test is now in field trials and investors are anxiously awaiting the results (the stock was halted three times on Tuesday after circuit breakers kicked in).
INK Canadian Insider Index
1 Year Total Return Performance




Historical Performance

Annualized Total Return as of July 28, 2020 04:49 pm

| | |
| --- | --- |
| 1 Year | -6.78% |
| 3 Years | -2.46% |
| 5 Years | 1.78% |
| 10 Years | 6.32% |
To start receiving a PDF version of this newsletter by email select it in your
alert settings
. If you do not have an account, join us
here
.