Intellabridge doubles and the inflation trade gets some help from the consumer
July 11th, 2021
The bond bulls charged into the third quarter on the back of a stunning Treasury rally which saw the 10-year US yield break through the key 1.40% level to trade as low towards 1.25% before ending Friday around 1.36%. For the bond market, such volatility would be a rarity in the years before COVID-19. These days, all asset classes are bitcoin, in their own way.
One can always count on Real Vision to provide a deflationist view on things and last week was no exception. The inflation-trade is-dead trophy for the week goes to Alfonso Peccatiello, publisher of the Macro Compass. In a high-quality interview with Jack Farley, the fixed income-focused analyst makes the case for transitory inflation, including some of the usual arguments such as demographics. While he could end up being right, the cornerstone of his thesis rests on the assumption that QE does not really matter because banks are not lending all that much. However, consumers appear to be taking on more debt again, and it is consumers who are the marginal buyers of consumer goods. So, we shall see.
Commercial bank consumer loan growth is positive again (year-over-year)
Meanwhile, Peter Boockvar continues to believe that inflation is not transitory, and he was back on INK Ultra Money Free Thursday to defend his view. We tend to agree with his hypothesis that the rally in bonds was funds trying to get ahead of the Fed's expected taper announcement. That leaves us wondering what the bond bulls will do if that announcement is delayed (perhaps indefinitely).
In contrast, the housing market is forcing the Bank of Canada's hand. As investors expect a tapering announcement shortly, Canadian 10-year bond yields have nearly closed the gap with US Treasuries. Who is shorting Canada now?
Ultimately, we are watching the insiders, and, so far, we are not seeing the type of selling we would expect if we were at the end of the inflation cycle. The Gold/Silver Ratio also remains in its range. As such, we are sticking with our G-economy bias.
Our video of the week featuring Terra blockchain founder Do Kwon is a must-watch for those following Intellabridge (INTL). Intellabridge is building its KASH consumer finance application on the Terra network. Our last update on KASH was here on May 30th, and INTL has advanced more than 100% since that report. A key offering of KASH is exposure to Terra's high-yielding stablecoins such as UST which is an algorithmic coin. UST relies on features that provide an incentive for arbitragers to keep the UST valued at US$1. The video addresses the risks surrounding this type of coin. The KASH team has also put out a Medium post on the topic. For a general overview of stablecoin risks, see the July 4th Coinbureau video.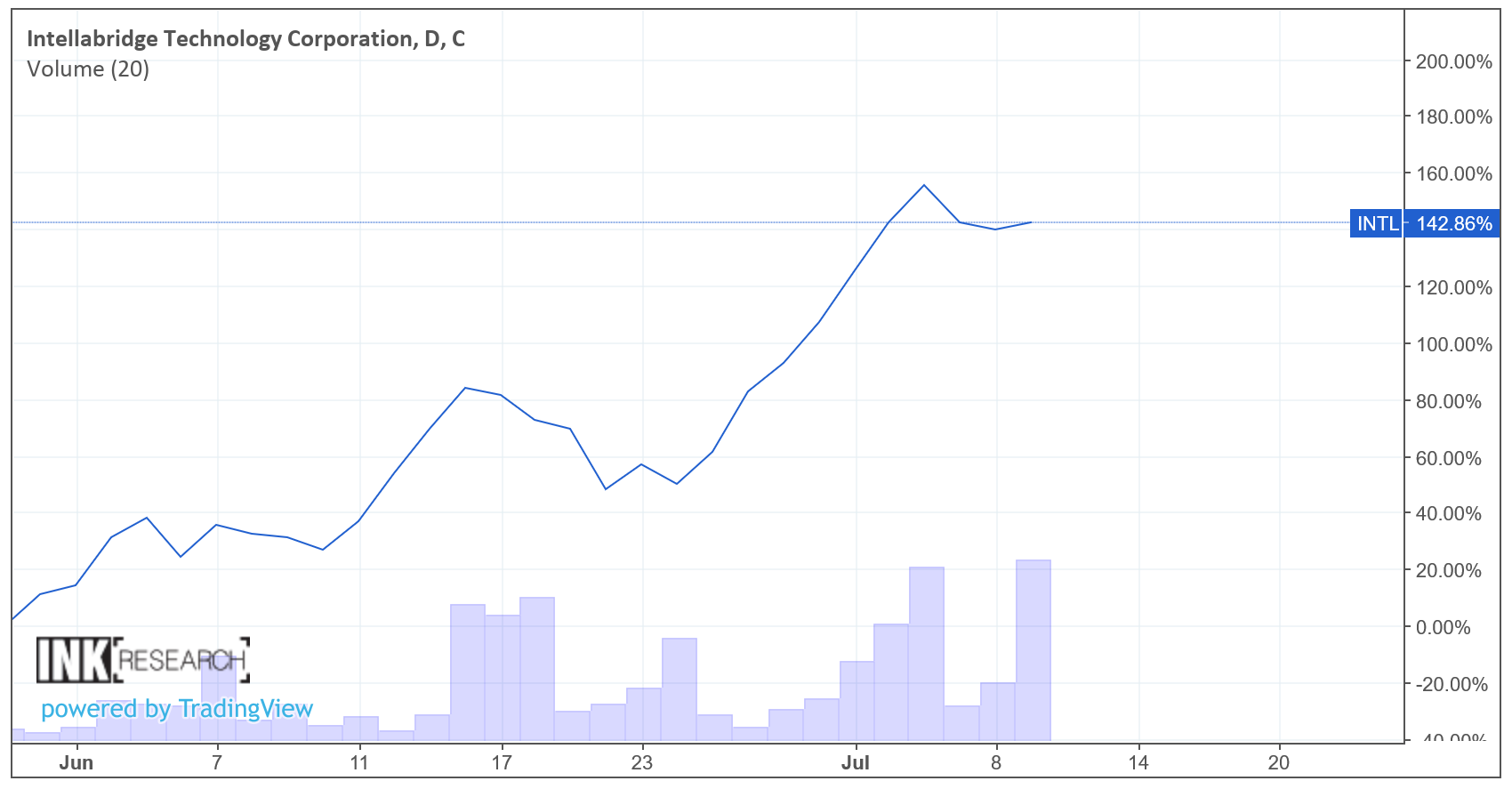 Intellabridge is up 142% since our May 30th Insights
There are risks with any so-called stable investment, including T-bills which can have their value decreased by inflation given the minuscule returns offered. For many investors, that will be an acceptable risk-reward trade-off knowing they are likely to lose only a few percent a year in real terms. For those who prefer a higher return, additional risk is required. KASH is focused on targeting overseas markets such as Turkey where investors may not have ready access to US Treasury bills and similar instruments. It will be fascinating to see if investors in those markets accept the risks and returns being offered by KASH versus staying put with the status quo. The stock price seems to be suggesting KASH is on to something.
Finally, in a fast-moving presentation, Francis "Macro-sniper" Hunt gives us his take on precious metals and bitcoin. He is not afraid to call a top, but that is not what he is doing right now for either silver or bitcoin.
Disclosure: One or more INK employee holds Intellabridge.
| | |
| --- | --- |
| Top 3 Gainers Last Week | Top 3 Losers Last Week |

Returns are as of the last trading day of the previous week.
Featured Clip
Do Kwon co-founder and CEO of Terraform Labs
How can algorithmic stablecoins avoid the so-called "death spiral?" Do Kwon, co-founder and CEO of Terraform Labs, and José Maria Macedo, managing partner at Delphi Labs, come together to discuss Terra's potential solution. Kwon believes an algorithm alone cannot maintain the peg. A stable demand base is needed as well. In order to accomplish this, Kwon claims there must be robust use cases providing the utility for a proper network to grow. Join him and Macedo to learn all about the exciting developments at Terraform Labs. Filmed on June 30, 2021.
Insider of the Week
INK Canadian Insider Index
1 Year Total Return Performance




Historical Performance

Annualized Total Return as of July 9, 2021 04:49 pm

| | |
| --- | --- |
| 1 Year | 71.84% |
| 3 Years | 9.82% |
| 5 Years | 10.73% |
| 10 Years | 9.15% |
To start receiving a PDF version of this newsletter by email select it in your
alert settings
. If you do not have an account, join us
here
.