Insiders tread cautiously as stocks go on sale
March 5th, 2020
Over the last week, Canadian mid-cap stocks as tracked by the INK Canadian Insider (CIN) moved from a 52-week high set February 21st into correction territory, with the Index ending Friday at 1,095.92. That worked out to a 10.4% drop for the week. The coronavirus-related sell-off was so strong last week that not one stock in the 50-stock INK CIN Index finished the week ahead. The only other time the Index fell more in a one-week period was in the two months following the September 2008 Lehman bankruptcy that kicked off the great financial crisis.
Waiting for sentiment indicators to peak as that would signal a potential bottom
While the drop has been sharp and a technical rebound is due, insiders are not signalling that the bottom is in yet. For that to happen, we would need to see a peak in our INK Indicator which tracks the number of stocks with key insider buying versus those with selling. While the indicator has moved back above 100%, it has not clearly peaked. A similar situation is unfolding on the Venture Exchange.
Nevertheless, there has already been some highly notable insider buying in certain companies. We have been highlighting some of them in our morning reports this week. In our Top 40 report released Thursday, we were surprised to see a number of Venture-listed stocks outside of the mining area making the list as they traded at or near their 52-week highs over the past week. The INK Top 40 is a great resource during times like these to help identify potential opportunities as investors sell into panic-like conditions. If you are not already a member, get full access to INK Research premium videos and core reports as well as Real Vision videos by joining us.
Click here to join us and use coupon code LION20 for 50% off annually on a Canadian Insider Club Ultra membership (this week only).
The decision of whether to buy a stock that has gone on sale in a general market sell-off is always a difficult one to make because there is always the risk of further mark-downs. That is why keeping an eye on the INK Indicator can be very helpful as it can signal if a bottom or at least a significant floor may have been established for stocks. We are in uncharted waters for stocks. In the days ahead, we will be taking our cue from insiders and right now that means proceeding with caution.
| | |
| --- | --- |
| Top 3 Gainers Last Week | Top 3 Losers Last Week |

Returns are as of the last trading day of the previous week.
Featured Clip
The political clouds are rolling in over BCE (BCE) stock. INK Research explains why investors should take note in this video summary of a report that was distributed to INK subscribers and Canadian Insider Club members on February 24th.
Insider of the Week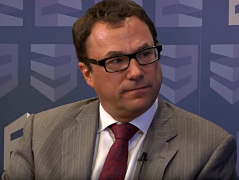 Michael Cooper, President of Dream Unlimited (DRM) and Chairman and CEO of Dream Office REIT (D.UN)
Michael Cooper's Dream Unlimited is the top-performing stock in the INK Canadian Insider Index and is up 60% over the past 6 months while Dream Office REIT is up 31% in the past 6 months and closed Wednesday 53 cents off its 52-week high of $36.80.
INK Canadian Insider Index
1 Year Total Return Performance




Historical Performance

Annualized Total Return as of March 5, 2020 04:49 pm

| | |
| --- | --- |
| 1 Year | -0.41% |
| 3 Years | 0.27% |
| 5 Years | 2.67% |
| 10 Years | 6.88% |
To start receiving a PDF version of this newsletter by email select it in your
alert settings
. If you do not have an account, join us
here
.