Insiders are getting bullish on inflation
May 22nd, 2020
Will it be a government-led inflationary G-economy or a debt-saddled deflationary D-economy bust in the months ahead? The answer could help determine which asset classes perform the best in the years head. Under a D-economy, we would expect to see defensive investments like bonds and gold do relatively well. Under a G-economy, gold and stocks could also thrive along with silver and equities.
We are finally starting to get a medium-term bullish pro-G-economy signal from Canadian insider sentiment. Our 60-day INK Market Sentiment Indicator is now forming a bullish pattern. It has clearly peaked, suggesting that stocks may have established a strong base of support over the past few months. However, it is not a complete all-clear as our short-term 30-day Market Sentiment indicator appears to be bottoming out.
Generally, when an indicator bottoms, it is signalling a low in insider buying. That typically happens near share-price peaks. As such, we expected continued volatility with some hard times ahead for stocks in the short-term as they try to move higher. That said, we expect our 60-day signal to eventually prevail. As such, we would view any meaningful pullback as a potential buying opportunity for companies with mostly sunny or sunny INK Edge outlooks.
We also detect support for the inflationary case in the quarterly rebalancing of the INK Canadian Insider (CIN) Index. We will be releasing our spring presentation for the quarterly rebalancing of the mid-cap oriented Index over the next few days. In the presentation, we document how the vast majority of the names in the equally-weighted index are geared towards a G-economy. Of course, a G-economy is not a guaranteed outcome. However, should one evolve, insider stocks are offering investors exposure to the potential upside of an inflationary market.
Meanwhile, to protect against the still significant risk of a D-economy, we are keeping some dry powder in the form of cash, gold, and digital currency.
Pan American Silver and Orla Mining from the Top 3 Gainers listed below both joined the Index in the rebalancing which took effect last Friday.
| | |
| --- | --- |
| Top 3 Gainers Last Week | Top 3 Losers Last Week |

Returns are as of the last trading day of the previous week.
Featured Clip
Gold vs Bitcoin as a Store of Value
In his latest Howe Street interview, INK CEO Ted Dixon gives his take on the recent discussion between Raoul Pal of Real Vision and Michael Novogratz of Galaxy Digital (GLXY) about bitcoin being a store of value.
Insider of the Week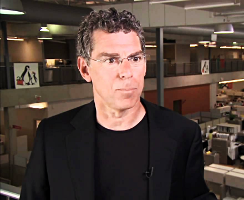 Mitchell Goldhar, Chairman of the Board of Trustees of SmartCentres REIT (SRU.UN)
INK Power player Mitchell Goldhar has been shopping. He spent more than $4 million picking up units of SmartCentres REIT last week as it traded below $19. He is the largest insider equity holder at the REIT with an estimated 36.00% of units outstanding.
INK Canadian Insider Index
1 Year Total Return Performance




Historical Performance

Annualized Total Return as of May 22, 2020 04:49 pm

| | |
| --- | --- |
| 1 Year | -18.51% |
| 3 Years | -7.36% |
| 5 Years | -2.12% |
| 10 Years | 5.03% |
To start receiving a PDF version of this newsletter by email select it in your
alert settings
. If you do not have an account, join us
here
.