Insider stocks soar into year end
December 19th, 2020
Our progressive energy investment theme received a boost this week when the Canadian government unveiled more details on its climate plan. In an encouraging sign, the nuclear industry was not left out in the cold as the government reiterated its support for small modular reactors (SMR) on Friday. In fact, Canadian Natural Resources minister Samus O'Regan said, "We don't see a path that we can reach net zero by 2050 without nuclear", according to the Globe and Mail.
The news comes as uranium stocks such as Energy Fuels (EFR) set 52-week highs during the week. We will have to see if this represents a change in the long-term trend for uranium miners or another false dawn. The commercial viability of SMRs has yet to be established, so they will not provide the industry with a quick fix. However, they could play a supporting role in helping craft a more positive narrative for the industry that has been in the dumps since the Fukushima Daiichi nuclear disaster in 2011.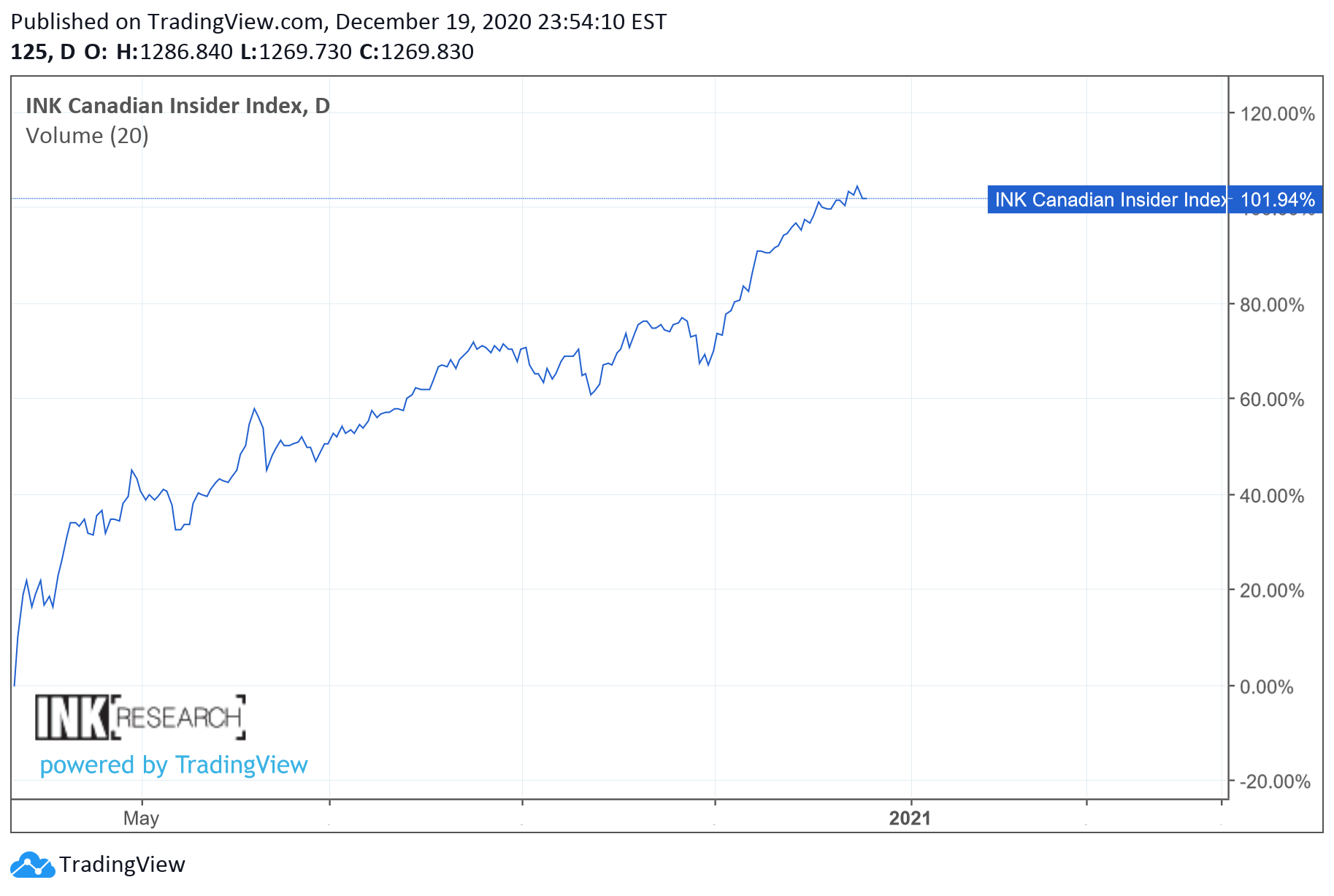 The INK Canadian Insider Index has more than doubled from the March low
Looking beyond uranium stocks and our progressive energy theme, momentum in Canadian insider stocks as measured by the INK Canadian Insider Index continues. The Index has doubled from its March 23rd low. The doubling of the Index was the lead topic in the insider Howe Street podcast which aired December 17th. With inflation expectations remaining firm, we believe there will be many opportunities to make good money in the Canadian market during 2021. However, in the short-term there are risks, including the perception of political gridlock in Washington. While that may have been a benign state of affairs two decades ago, we see it as a major risk in today's pandemic and debt-plagued global economy.
We are not the only ones concerned about stocks at current levels. Real Vision regular Mike Green explains why he is worried in his free Daily Briefing appearance Thursday. He also makes the case against bitcoin. Investing legend Sam Zell also gives us his take on bitcoin in a Friday appearance on INK Ultra Money. While the billionaire real estate developer is skeptical about bitcoin and Tesla (TSLA) stock, he is bullish on big-city office space.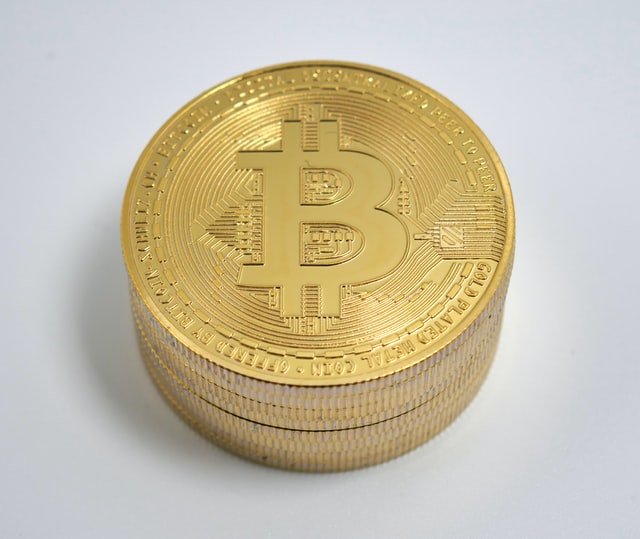 Two bitcoin bears on Real Vision: Mike Green and Sam Zell
Meanwhile, in the Daily Briefing on Friday Raoul Pal provides a mirror image of Zell when it comes to bitcoin. Pal remains bearish on just about everything except bitcoin which has been making new all-time highs. Litecoin has also been rallying and we provide three possible reasons why in the INK Chat #innovation-crypto_blockchain channel Saturday. All INK Research and Canadian Insider Club members are eligible for an invite to INK Chat. If you have not ready registered, check your inbox for an invite or contact us and we will send it to you again.
Later this weekend, we will be posting our INK Edge movers of the week in INK Chat, which will include a junior mining stock that leads us to an undervalued opportunity. Watch for our report in the #stock_ideas channel.
| | |
| --- | --- |
| Top 3 Gainers Last Week | Top 3 Losers Last Week |

Returns are as of the last trading day of the previous week.
Featured Clip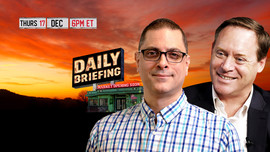 Mike Green is worried
Mike Green of Logica Capital Advisors nailed it on INK Ultra Money in the early spring when he appeared on Real Vision and told bearish Raoul Pal that US markets were likely headed to new all-time highs relatively soon. He made his prediction based on his assessment of the size and behaviour of passive investors. Now, he is worried that stocks are vulnerable. He also explains his bearish take on Bitcoin.
Insider of the Week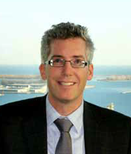 Edward Kernaghan
Contrarian investor Edward Kernaghan is now in the money after betting on Exco Technologies (XTC), where he is a director. Over the past two years, he picked up 2,047,100 shares of the company in the public market at an average price of $6.90. On Friday, the stock closed at $9.05 yielding him 31% return before dividends.
INK Canadian Insider Index
1 Year Total Return Performance




Historical Performance

Annualized Total Return as of December 18, 2020 04:49 pm

| | |
| --- | --- |
| 1 Year | 10.90% |
| 3 Years | 2.23% |
| 5 Years | 7.52% |
| 10 Years | 6.95% |
To start receiving a PDF version of this newsletter by email select it in your
alert settings
. If you do not have an account, join us
here
.