As INK Edge oil stocks soar, we are releasing all our outlooks
September 19th, 2021
Oil & gas stocks were the big winners in the INK Canadian Insider (CIN) Index last week as reported in the table below. We will have more to say about the Energy sector in a moment. First, we have big news about our Top Movers Report.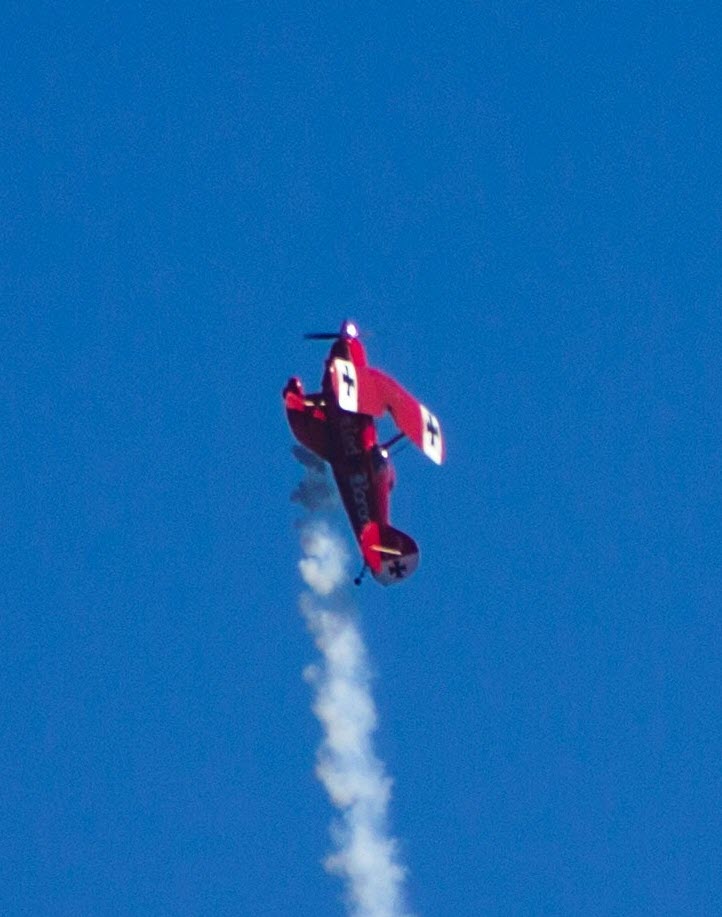 Top Movers now includes outlooks for all INK Edge stocks (photo: Clement Filize)
Starting with our September 18th edition, the report is called the INK Edge Rankings & Top Movers Report as it includes all the INK Edge outlooks for Canadian stocks in our coverage universe. The format is now in excel instead of PDF so that our members can sort the filings based on criteria such as sector, market cap, price, and outlook category. The workbook is formatted in a way that makes it suitable for printing into a PDF for those who prefer that format. Members can continue to download the report in our #stock_ideas channel.
As for some of the top movers over the past week, BELLUS Health (BLU) climbed our INK Edge rankings as the stock rallied on the back of clinical study news. Top movers up the rankings this week also included a gold miner that may be starting to benefit from a turnaround strategy that now sees the stock paying a monthly dividend.
With the full INK Edge universe set now included, there is now even more reason to download our weekly report. As a reminder, INK Edge outlook ranking categories (Sunny, Mostly Sunny, Mixed, Cloudy, Rainy) are designed to identify groups of stocks that have the potential to out or underperform the market. However, any individual stock could surprise on the up or downside. As such, outlook categories are not meant to be stock-specific recommendations. For a refresher on the INK Edge outlook, check out our FAQ#5 on INK Research.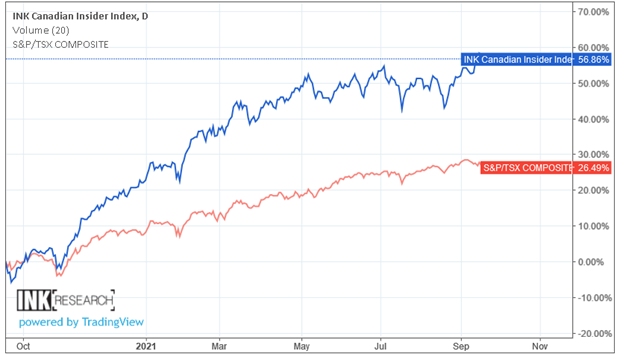 The INK Cdn Insider Index leaves the TSX Composite in the dust this past year
The INK Edge outlook can be used to help build diversified portfolios that we expect will outperform the broad market over 6 to 18 months. You can see the track record of the INK Edge by looking at the INK CIN Index which is constructed using INK Edge rankings. Over the past 10 years, the INK Canadian Insider Total Return Index has advanced 177.6% versus 125.9% for the S&P/TSX Composite Total Return (live INK CIN Index calculations started in November 2014).
Of course, past performance does not guarantee future results and going forward a lot will depend on the inflationary environment. INK Edge signals work best when inflation expectations are on the rise. On that front, the current environment is a good one to put the INK Edge process to work, keeping in mind that with any process there will be inevitable periods of ups and downs.
We see the Fed as the biggest downside risk. If the central bank embarks on monetary tightening soon, a deflationary scare could rock markets. Under such a scenario, we expect the INK Edge would struggle until the Fed is forced to reverse course and inject the monetary system with even more liquidity.
To access the INK Edge Rankings and Top Movers Report which we strive to release every weekend in #stock_ideas, you will need to be registered for INK Chat and have your registration approved. If you are a paying member of INK Research or Canadian Insider you can start the registration process here. If you are not a member, please join us first before attempting to register.
Elsewhere on the INK platform this week, China was in focus. On Friday, in a free Real Vision Daily Briefing, Jim Bianco provided us with his take on the implications for a potential Evergrande bond default. Earlier in the week on September 14, Real Vision threw some red meat to the China bears when Kyle Bass interviewed Perth Tolle, founder of Life + Liberty Indexes. Our interview of the week brings together two thought leaders, Mike Green who has had a bearish bias towards China and Louis Vincent Gave, CEO of Gavekal Research, who has been a bull. It is a fantastic interview where the two find plenty of common ground.
Our runner-up for video of the week was from the crypto space where, on September 17th, Exodus Wallet provided a nifty take on Solana-based Audius and how it is disrupting the music business. Exodus reports that successful artists including  Katy Perry and Steve Aoki are backing the project. It looks like Spotify (SPOT) and other centralized subscription services are becoming increasingly vulnerable. A key takeaway for us is to be wary of any bullish thesis on Apple (AAPL) based on recurring services revenue.
The music business is about to be disrupted (again)
Finally, getting back to energy stocks, the sector remains at the head of the pack in terms of opportunity in Canada. Stocks from the sector made up half our September Top 40 Report, Running into fall with some energy. Most of the energy names were traditional oil & gas stocks, but we also saw participation from the uranium industry. This time, the uranium rally appears to be durable.
| | |
| --- | --- |
| Top 3 Gainers Last Week | Top 3 Losers Last Week |

Returns are as of the last trading day of the previous week.
Featured Clip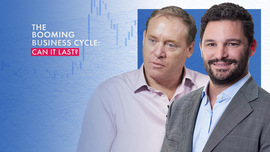 Green versus Gave on China
Mike Green sits down with Louis Vincent Gave, CEO of Gavekal Research, to examine the political and economic climate of China. They look at China's 'outsized' role in the world and what impact joining the WTO had on the Chinese nearly two decades ago. The conversation also looks to the future and the possibility of a digital currency in China in time for the Beijing Olympics. Gave now lives in British Columbia, although he expresses a bit of buyer's remorse (spoiler: it is not about the home prices).
Insider of the Week
Baytex Energy CEO Edward LaFehr
Alberta oil exploration company Baytex Energy (BTE) has been one of our top-performing morning report stocks over the past 6 months, up about 96%. CEO buying is one of the reasons why the stock has been hitting our screens as recently as last week. Cash flow is on the rise along with insider buying, a nice combination. Meanwhile, LaFehr appears to be taking the company's climate change responsibilities seriously with the company exceeding its emissions intensity reduction targets as of its latest ESG Report. Continued progress on the environmental front could help give the stock a fighting chance to boost its valuations which are currently dirt cheap by most historical standards.
INK Canadian Insider Index
1 Year Total Return Performance




Historical Performance

Annualized Total Return as of September 17, 2021 04:49 pm

| | |
| --- | --- |
| 1 Year | 60.69% |
| 3 Years | 13.13% |
| 5 Years | 10.83% |
| 10 Years | 10.75% |
To start receiving a PDF version of this newsletter by email select it in your
alert settings
. If you do not have an account, join us
here
.