The inflation shadow
October 24th, 2021
US earnings season is about to get into full swing. This quarter, however, conference calls will likely be just as important as press releases as investors listen for clues as to whether a company has a winning or losing hand  in the current inflationary environment. On Thursday, we heard Tommy Thornton on the Real Vision Daily Briefing give us his take on the Tesla (TSLA) earnings call plus his views on small caps. On Friday, we were treated to an appearance by Jim Bianco on the RVDB who gave us a more macro-oriented view on inflation and its implication for the Fed. He also discussed the impact of the new bitcoin futures ETF in the US.
Our video of the week is a master class in gold stock investing from two legends in the business, Rick Rule and Ross Beaty (see below). A runner-up for video of the week honour goes to the Coin Bureau for its comprehensive look at the non fungible token (NFT) market. It is a fantastic video both for those who trying to get their heads around the space as well as seasoned crypto investors.
The Coin Bureau NFT framework
INK 3.0: Bridging the commodities and digital divide
We will be updating our progress on our INK 3.0 project here each week. Our priorities right now are to add a bit more granularity to the meta-map we introduced on October 3rd, finalize the tokenomics and strategy for our Viva community token, and continue the development of our NFT strategy.  We are designing Viva as a reward and utility token. Viva will be used to reward members who help to build out INK 3.0 tools and who generate community value. We have no shortage of tools and features that are in the development queue, many of which have been requested by our members. But, we cannot get to them all with our current resources. So, instead of INK building everything in-house, we hope to take a more decentralized approach in rolling out new and leading-edge features. Our current priorities are to recruit more software developers, particularly those who are able or interested in programming in Rust or Solidity as well as INK 3.0 ambassadors who are willing to recruit more contributors into our community. Eventually, Viva will offer a way to access certain INK 3.0 features.
Our NFT application will be our first application in what we envision being the INK 3.0 metaverse. Our initial objective with NFTs is to bridge the divide between Canadian resource development and the evolving digital world. It is an exciting time, and we are excited about the opportunity that we believe INK 3.0 can offer our INK Research community in the months ahead.
| | |
| --- | --- |
| Top 3 Gainers Last Week | Top 3 Losers Last Week |

Returns are as of the last trading day of the previous week.
Featured Clip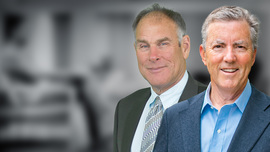 Rick Rule and Ross Beaty
Raising capital for small companies is a difficult and time-consuming process. Legendary entrepreneur Ross Beaty, chairman of Equinox Gold, emphasizes the importance of having tenacity and adaptability to change strategy when things don't pan out. From a lifelong journey of building up businesses and investing, he chats with his long-time friend and fellow investor Rick Rule, president and CEO of Rule Investment Media, to share the lessons Beaty learned in the energy and mining space. The pair examine the changing capital and scale requirements of companies today in a market where long-term value creation is of utmost importance. Filmed on October 6, 2021.
Insider of the Week
Amar Doman (via LinkedIn)
On October 20th, we featured Tree Island Steel (TSL) in our morning report. Executive Chairman Amar Doman was buying, but that really was nothing new. Mr. Doman has shown many times on our screens over the years buying shares in both Tree Island Steel and Doman Building Materials Group (DBM) where he is board chairman and CEO. Growing profitability was the other development that caught our attention at TSL. The company has demonstrated some success at managing costs, no small accomplishment in today's inflationary environment. Meanwhile, the building materials insider has taken on a new growth project this year. In August, he became the owner of the BC Lions football club. On that front, we wish him all the best, particularly given our bias for the home team. Go Lions!
INK Canadian Insider Index
1 Year Total Return Performance




Historical Performance

Annualized Total Return as of October 22, 2021 04:49 pm

| | |
| --- | --- |
| 1 Year | 64.30% |
| 3 Years | 18.19% |
| 5 Years | 12.05% |
| 10 Years | 11.80% |
To start receiving a PDF version of this newsletter by email select it in your
alert settings
. If you do not have an account, join us
here
.