Holding pattern, but what's next?
March 11th, 2019
After an impressive run in the first two months of the year, stocks now look like they have levelled off into a holding pattern. Mid-cap oriented stocks, as tracked by the INK Canadian Insider (CIN) Index, lost their battle with technical resistance at 1,160 last week to finish lower Friday at 1,135.41, off 1.9% for the week. In addition, the two key macro indicators we are following, insider sentiment and INK CIN performance versus large-cap stocks, both shed their bullish disposition, at least on a short-term basis.
With respect to insider sentiment, the INK Indicator, which tracks stocks with insider buying and selling on the TSX, is still above the 100% level, which means there are still more companies with key insider buying than there are with selling. Although that remains a bullish long-term signal, the indicator appears to be levelling off. Such bottoming behaviour often takes place near significant resistance points. Consequently, the indicator is suggesting that the 1,160 area may be a tough nut to crack for the INK CIN Index in the short-term. Meanwhile, over the past month, the INK CIN Index (+0.6%) is underperforming the large-cap oriented S&P/TSX 60 Index (+1.7%). Investors have swung back to preferring the perceived relative safety of more liquid, bigger names.
The question now is whether stocks are set to break out or break down from their holding pattern. At this point, we would exercise caution before adding to additional positions.
At the sector level, insider sentiment in the Energy sector is signalling potential short-term softness along with the broad market, and our Technology indicator has slipped significantly over the past month. As such, we have downgraded the broad Technology sector to fair value based on insider sentiment. In sectors that are fairly or overvalued, we prefer stocks that have sunny outlooks as opposed to taking on broad sector exposure. Industrials is one area that offers some optimism. Two of the larger companies that have seen some decent size buying are bottler Cott (Mostly Sunny; BCB) and out-of-favour printer Transcontinental (Mostly Sunny; TCL.A).
Please remember that INK Edge outlook ranking categories (Sunny, Mostly Sunny, Mixed, Cloudy, Rainy) are designed to identify groups of stocks that have the potential to out- or under-perform the market. However, any individual stock could surprise on the up or downside. As such, outlook categories are not meant to be stock-specific recommendations. For background on our INK Edge outlook, please visit our FAQ #5 at INKResearch.com.
| | |
| --- | --- |
| Top 3 Gainers Last Week | Top 3 Losers Last Week |

Returns are as of the last trading day of the previous week.
Featured Clip
King dollar is no friend of the bull market
In his March 8th evening broadcast, market historian Bob Hoye reveals two big concerns right now for stocks:
Falling US dollar short-term rates in London (LIBOR)
Renewed strength in the greenback
He worries that falling LIBOR may foreshadow broad economic weakness. In terms of the US dollar, his outlook is for general greenback strength. This could be a big problem for share prices because he suggests that the dollar is not a friend of the bull market.
Insider of the Week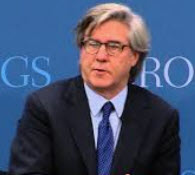 John L. Thornton
While Barrick Gold (ABX) CEO Mark Bristow has been in the news over the past two weeks as the company made a run at rival Newmont Mines (NEM), a longer-term development at Barrick has been the emergence of a culture of equity ownership. The cult of ownership is the work of Non-Executive Chairman John L. Thornton. While he likely has been at work behind the scenes in the recent Newmont saga, he has been front and centre in pushing greater insider ownership by employees at the firm. He has been leading by example, spending more than C$30 million buying Barrick shares in the public market over the past year.
That has led to strong insider commitment at the firm and prompted us to issue a short-squeeze warning last week. If Monday is any indication, the squeeze might already be on the way with Barrick shares up 2% even as gold retreated.
INK Canadian Insider Index
1 Year Total Return Performance




Historical Performance

Annualized Total Return as of March 11, 2019 04:49 pm

| | |
| --- | --- |
| 1 Year | -9.13% |
| 3 Years | 6.40% |
| 5 Years | 3.69% |
| 10 Years | 14.32% |
To start receiving a PDF version of this newsletter by email select it in your
alert settings
. If you do not have an account, join us
here
.