The Great Bear bull spark
December 12th, 2021
Due to staff holidays over the holiday season, this will be a shorter newsletter than usual today and it will be the last for 2021. The conversation continues on INK Chat. If you are an INK Research or Canadian Insider Club member please register if you have not already so you can take advantage of additional reports such as our weekly INK Edge Rankings and Top Movers worksheet that we post in our #stock_ideas channel every weekend. To Register, look for INK Chat after logging in in the top navigation bar and click on the Register drop down box.
With precious metals and crypto currencies struggling over the past few weeks, we heard two thoughtful views of what 2022 could bring for those alternative asset classes. On December 9th, John Kaiser on Howe Street's Discovery Watch made the case that the Kinross (K) bid for Great Bear Resources (GBR) marks a turning point for the junior market. It is one of his best episodes full of actionable insights. Listen to it on Canadian Insider: 
The Great Bear junior mining bull market in 2022?
On the crypto front, Raoul Pal suggested Friday that rising inflation is serving as a headwind for increased adoption as investors have less discretionary cash to place into the space. He also sees the same dynamic at work in the economy.
Meanwhile, back in the real economy things are a bit of a mess. At least that is the picture that Tony Greer and Doomberg paint in our clip of the week which takes a deep and fascinating dive into the state of commodities markets.
Viva 3.0 update
We are continuing to optimize the performance of the Viva NFT platform being built on the Solana network. Work also continues on setting up a Discord server which we hope will help attract a new generation of investors into the resource space.
| | |
| --- | --- |
| Top 3 Gainers Last Week | Top 3 Losers Last Week |

Returns are as of the last trading day of the previous week.
Featured Clip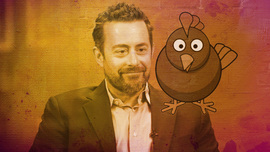 Doomberg's Commodity Warning
Tony Greer goes deep into the global consequences of commodities with Substack star Doomberg. The green chicken explains how deeply interconnected commodities markets are, pushes back on the ESG movement, and says nuclear energy has gotten a bad rap. "Energy is life," says the blogger, who warns that power shortages and inflated food prices may be bringing us to the brink of catastrophe. Doomberg and Tony also delve into market consequences from the Omicron variant, and Tony reveals why he's starting to fill his garage with emergency supplies.
Insider of the Week
J. Paul Rollinson (Image via Kinross)
The Red Lake gold district got a shot in the arm in December when Kinross made a takeover offer for Great Bear Resources. As John Kaiser explains in Discovery Watch, there may be more to this move than a play for the prospective Dixie gold project. Has Kinross CEO J. Paul Rollinson provided a spark to light up the junior mining space in 2022? We will have to see. In the meantime, we note that Mr. Rollinson holds just over 2.4 million Kinross shares which is a positive signal for the company he leads.
INK Canadian Insider Index
1 Year Total Return Performance




Historical Performance

Annualized Total Return as of December 10, 2021 04:49 pm

| | |
| --- | --- |
| 1 Year | 43.63% |
| 3 Years | 22.77% |
| 5 Years | 11.12% |
| 10 Years | 11.15% |
To start receiving a PDF version of this newsletter by email select it in your
alert settings
. If you do not have an account, join us
here
.