As goes crude, so goes the reflation trade
December 12th, 2019
Crude oil managed to hold firm last week in the face of OPEC related headlines and move higher this week even in the face of large inventory builds. The Canadian Crude Oil Index ETF (CCX) is up about 25% over the past six months but it is off the highs of early September. In contrast, Canadian energy stocks have not done as well, with the iShares S&P/TSX Capped Energy Index (XEG) up about 3% over the past 6 months, albeit oil & gas stocks in general are well off their late August lows. Moreover, the XEG has been rallying this week, helped by news of more Federal Reserve liquidity pumping into the end of the year. The ETF is challenging to overtake its 200-day moving average once again this year. Will it be three times lucky? We will have to wait and see. With Federal Reserve standing by to inject billions of dollars into the global financial system over the next few weeks, we believe that oil patch stocks may have global liquidity flowing in their direction. Fed generosity could help explain why the oil market shrugged off a surprise jump in US inventory builds on Wednesday. Generally, rising inventories tend to be more of a problem when financial conditions are tightening. Right now, we have just the opposite happening with the Fed expanding its balance sheet at a rapid pace via commodity-friendly T-bill purchases.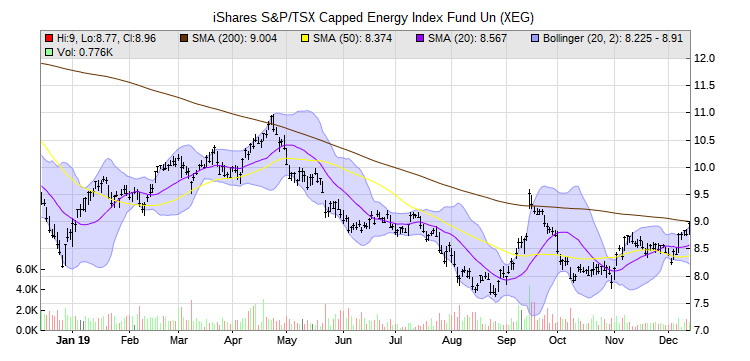 Three times lucky for Canadian energy stocks?
As goes oil, so will go our theme of a return of global inflation for 2020. If crude slips from here, as could still happen given seasonal pressures, inflation-sensitive Canadian stocks will likely find it hard to keep their traction heading into the new year. Based on insider sentiment, we believe any pullback should find some initial support around 1,154 on the INK Canadian Insider Index. That was the low for the second half of November and coincided with a peak in insider buying as tracked by our INK Sentiment Indicator which hit 150% on November 21st. At that point, there were 1.5 stocks on the TSX with key insider buying for every one with selling. Often, insider buying will peak near notable lows, and those lows can serve as support bases going forward.
Until the Fed switches to a more hawkish stance, we believe commodities should find some support. Any broad commodity stock sell-offs likely represent buying opportunities for those with three to 12-month time horizons.
| | |
| --- | --- |
| Top 3 Gainers Last Week | Top 3 Losers Last Week |

Returns are as of the last trading day of the previous week.
Featured Clip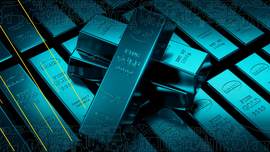 Golden Opportunities from "Midas" - Real Vision (free video)
Dr. Thomas Kaplan who is a major shareholder in NovaGold Resources (NG) argues that the macro and micro stars are aligning for a golden opportunity in gold over the next five years. Drew breaks down Kaplan's conversation with Dan Tapiero to dig up a few nuggets of wisdom.
Canadian Insider Club Ultra members have access to all premium videos from Real Vision and INK Research. If you are not an Ultra member of the Canadian Insider Club, join today and save $99 on an Ultra membership every year (until you cancel) by using coupon code BLACKBOX at checkout (valid only for new Club memberships).
Insider of the Week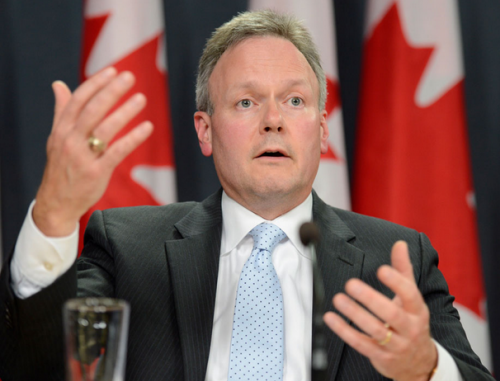 Bank of Canada Governor Stephen Poloz
This week, Stephen Poloz announced that he would be leaving the Bank of Canada when his term expires in June. He will leave the job as one of the few central bankers in the developed world to have actually met his or her inflation target. It came with a big cost, however, as his loose money policies helped to create an environment where two of Canada's largest cities, Toronto and Vancouver, experienced out-of-control home price inflation at one point or another. History will decide whether hitting the 2% inflation target or housing unaffordability and massive household debts define his legacy.  In the immediate term, we can probably expect a period of stability out of the central bank as it will probably take a major change in economic data trends for him to raise or lower rates ahead of his successor.
INK Canadian Insider Index
1 Year Total Return Performance




Historical Performance

Annualized Total Return as of December 12, 2019 04:49 pm

| | |
| --- | --- |
| 1 Year | 14.90% |
| 3 Years | 1.84% |
| 5 Years | 5.66% |
| 10 Years | 8.38% |
To start receiving a PDF version of this newsletter by email select it in your
alert settings
. If you do not have an account, join us
here
.