Is global growth in better shape than the US market suggests?
May 13th, 2019
On Friday, we announced the results of the semi-annual rebalancing of the INK Canadian Insider (CIN) Index. The biggest shift occurred in the Consumer Cyclicals area where the allocation will drop to 14% this Friday. This is down from 20% at the last rebalancing in November. The other noticeable drop is taking placing in Basic Materials which will have a 10% allocation compared to 14% at the last rebalancing. The big loser within the Basic Materials sector is the gold group which will see three stocks leave. However, insiders are not giving up on the mining group as two gold stocks, Barrick (ABX) and Kirkland Lake Gold (KL), will remain and will be joined by two copper miners, Eros Copper (ERO) and Lundin Mining (LUN).
On balance, investors have pulled in their economy-sensitive bets slightly with the allocation to the four most economy-sensitive sectors, Energy, Basic Materials, Industrials, and Consumer Cyclicals, dropping 6% to 56%. Utilities will move up to 6% from 2% six months ago. Interestingly, within the Financials, insurance stocks were the big winners with three new names arriving Friday: Great-West Lifeco (GWO), Manulife Financial (MFC), and Sun Life Financial (SLF). With equal allocations to Utilities and insurance stocks, insiders are hedging their bets on the long-term rate outlook.
The tilt away from the consumer comes even as last week offered the first positive sign towards global growth in a while. Although the INK CIN Index fell 0.1% last week, it significantly outperformed the large-cap S&P/TSX 60 Index which dropped 1.4%. The fact that the mid-cap-oriented INK CIN Index was able to win a week dominated by trade war headlines is encouraging, particularly given the reappearance of copper miners in the Index. These developments may be providing an early indication that China stimulus is starting to kick in.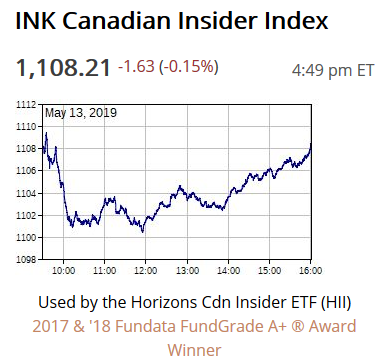 On Monday the INK CIN Index shrugged off most of the weekend bad news
This week is also off to a relatively good start with the INK CIN Index dropping 0.2% Monday compared to -2.5% for the S&P 500 on Monday. Something appears to be simmering beneath the trade war headlines. INK CEO Ted Dixon tackles what might be going on in the weekly featured broadcast highlighted below.
INK CIN Index Rebalancing and the INK Edge Outlook
Every November and May we rank all the names in our INK CIN Index stock selection pool (about 700 TSX-listed names) using our rules-based INK Edge outlook process which looks at a stock's value, insider commitment, and price momentum. For existing Index constituents, they must rank in the top 30% of all stocks in order to stay. Those that fail to meet the threshold are replaced with the highest-ranking stocks not already in the index. For more on the Index's methodology and a complete list of rebalancing adds and drops visit https://index.inkresearch.com. Live INK CIN Index performance stated on November 14th, 2014. The INK Canadian Insider Index is used under a license with INK by the Horizons Cdn Insider Index ETF (HII), a 2017 and 2018 Fundata Fundgrade A+ award winner.
INK Edge outlook ranking categories (Sunny, Mostly Sunny, Mixed, Cloudy, Rainy) are designed to identify groups of stocks that have the potential to out- or under-perform the market. However, any individual stock could surprise on the up or downside. As such, outlook categories are not meant to be stock-specific recommendations. For background on our INK Edge outlook, please watch our short video or visit our FAQ #5 at INKResearch.com.
| | |
| --- | --- |
| Top 3 Gainers Last Week | Top 3 Losers Last Week |

Returns are as of the last trading day of the previous week.
Featured Clip
INK CEO Ted Dixon tackles bitcoin vs. gold and China vs. USA
In his bi-weekly Howe Street interview, Ted Dixon discusses
How shorts are betting against Canadian housing Equitable Group and other stocks
The recent dump gold campaign by Grayscale
How the PBoC has been preparing the Chinese economy for a trade fight for the past year while the Fed has been doing just the opposite
Insider of the Week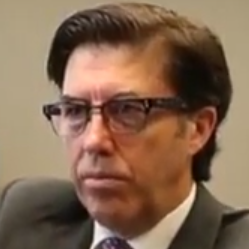 Element Fleet Management CEO Jay Forbes
Since Jay Forbes took the helm of INK CIN Index member Element Fleet Financial (EFN) on June 1st of last year, the stock has jumped more than 70%. Some of the gains came last week as the company posted after-tax adjusted basic Q1 EPS of $0.21, up from $0.17 in Q1 2018. The company also raised its guidance for 2020.
Before heading up EFN, Mr. Forbes was the President and CEO of Manitoba Telecom Services.
INK Canadian Insider Index
1 Year Total Return Performance




Historical Performance

Annualized Total Return as of May 13, 2019 04:49 pm

| | |
| --- | --- |
| 1 Year | -12.94% |
| 3 Years | 4.09% |
| 5 Years | 2.21% |
| 10 Years | 11.48% |
To start receiving a PDF version of this newsletter by email select it in your
alert settings
. If you do not have an account, join us
here
.