Glass half full or half empty?
March 18th, 2019
We are getting mixed signals regarding whether or not the year-to-date high of the INK Canadian Insider (CIN) Index of 1,163.76 set on March 1st represents a short-term or longer-term top. Last week, the Index (-0.6%) underperformed the large-cap S&P/TSX 60 Index (+1.0%). Generally, investor preference for the perceived relative safety of large-cap stocks is a concern about the broad outlook for stocks, suggesting that the global economy glass is half empty. However, in this case, there may be some special situations at play allowing for a glass half full perspective.
About a quarter of the underperformance was due to the dismal showing by index dog Dorel Industries (Mixed; DII) which dropped 20.7% after cutting its dividend and failing to keep up with changing consumer tastes. Air Canada (Mostly Sunny; AC) was a clear case of a company-specific situation negatively impacting the index. The stock fell 4.5% on news of the grounding of its 737 MAX fleet in response to the Ethiopian Air crash last week.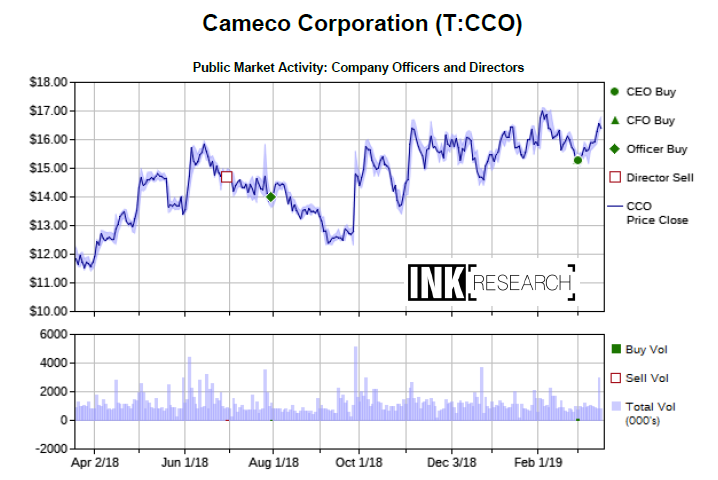 Cameco was the top INK Cdn Insider Index performer last week, up 6%
With company and industry-specific news driving many of those INK CIN Index laggards last week, we are reluctant to read too much into the outperformance of large caps. Meanwhile, our INK Indicator which tracks insider sentiment towards TSX-listed stocks is starting to act a bit better. The indicator has moved down which suggests momentum may be returning to the market. As INK CEO Ted Dixon explained in the opening segment during his March 14th Howe Street broadcast (see Broadcast of the week) our sentiment indicators tend to fall in the early stages of a healthy rally as it reflects a pickup in expected insider profit-taking on the back of broad share price appreciation. When an indicator stalls, it can reflect a loss of momentum and potential peak in stock prices. While it may sound counter-intuitive, seeing the indicator tick down from the 100% level is a positive sign suggesting momentum may be returning back to the market.
Perhaps, stocks are getting a boost from a pickup in US money supply momentum. In the Fed's last report, annualized rates of M1 and M2 growth have been stronger over the past 3 months on an annualized basis, up 6.9% and 5.6% respectively than the year-over-year numbers of 3.8% and 4.2% (shown in table below).

Once the INK Indicator moves below 60%, we will start to worry that the rally has become excessive. At that point, there would only be 6 stocks with key insider buying for every 10 with selling. Monday was a glass half full day, with the INK CIN Index rebounding strongly, up 0.9% ahead of large caps and even US stocks.
INK Edge outlook ranking categories (Sunny, Mostly Sunny, Mixed, Cloudy, Rainy) are designed to identify groups of stocks that have the potential to out- or under-perform the market. However, any individual stock could surprise on the up or downside. As such, outlook categories are not meant to be stock-specific recommendations. For background on our INK Edge outlook, please visit our FAQ #5 at INKResearch.com.
 
| | |
| --- | --- |
| Top 3 Gainers Last Week | Top 3 Losers Last Week |

Returns are as of the last trading day of the previous week.
Featured Clip
In his most recent Howe Street broadcast, Ted Dixon explains why it is a good sign to see insider sentiment falling as stocks start to gain momentum, and also why it is a bad sign to see sentiment stalling. In the interview he also tackles:
What insiders are saying about recession risk
The gloomy outlook for Canadian railway stocks
Why despite the misery in the oil patch, stocks in the group look attractive
For stocks to broadly move higher, Dixon suggests a big gust of speculation will be required.
Insider of the Week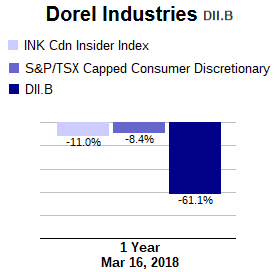 Lead Director of Dorel Industries: Maurice Tousson
According to the April 9, 2018, Dorel Industries Management Information circular (MIC), Maurice Tousson is the Lead Director on the board. How many common shares of the company does he hold? A whopping 1,301. Perhaps we should say a woofing 1,301 because if we had a dogs of the INK CIN Index, Dorel would be a prime candidate for the kennel. The stock is off more than 60% over the past year, and last week the company slashed its dividend in half.
A year ago, Mr. Tousson was also chairman of US-listed David's Tea (DTEA), a position he no longer holds. For those not familiar with the DTEA story, the stock price chart for the company is worth a thousand words. In terms of Dorel, if he stays for another term, we hope he pulls out his pocket book and buys some company shares in the public market in a significant amount. We could also hope that he gets some help on the board with new independent directors that have global retailing experience. The 2019 MIC should be out soon. It would be nice if shareholders were treated to a positive surprise after the bad news so far this year.
As a general note, when we discuss insider share ownership, we do not count rights such as DSUs as common shares.
INK Canadian Insider Index
1 Year Total Return Performance




Historical Performance

Annualized Total Return as of March 18, 2019 04:49 pm

| | |
| --- | --- |
| 1 Year | -9.21% |
| 3 Years | 6.53% |
| 5 Years | 3.63% |
| 10 Years | 13.53% |
To start receiving a PDF version of this newsletter by email select it in your
alert settings
. If you do not have an account, join us
here
.